Knowing that the saying 'you're only as good as your last job' is entirely accurate in the construction arena, TJ Hall's business is driven by its determination to offer the highest levels of quality, service and value, whatever the size of a project
Hard work pays off
Knowing that the saying 'you're only as good as your last job' is entirely accurate in the construction arena, TJ Hall's business is driven by its determination to offer the highest levels of quality, service and value, whatever the size of a project
Established in 1996 by Tom Hall and his son Gordon, TJ Hall was brought to life on the sound principles of quality of work, attention to detail and putting the customer first at all times. Since
then, it has built itself upon a solid foundation of success through customer satisfaction, which is only possible through the existence of a high degree of honesty, integrity and trust. Headquartered in the East Midlands – but operating on a national basis throughout the UK and across Ireland, TJ Hall acts as a principal contractor for an extensive list of customers including both public and private organisations in the commercial, industrial, healthcare and education sectors.
TJ Hall initially specialised in providing partitions and suspended ceilings. Now the expertise extends to a full turnkey solution, covering a range of building and renovation services including new warehouse construction, fit out of a bare shell, refurbishing existing premises, office fit out, dilapidations and restoration projects. The company stands out amongst its field of competitors because of this willingness to be flexible and undertake projects across such a broad spectrum.
Identifying the opportunities and acting on them, has been what sets TJ Hall apart. Following the mantra, if you want something done properly do it yourself, in 2015 TJ Hall took the game-changing step of acquiring one of its trusted electrical contractors, creating its own sub-division, TJ Hall Electrical, and it has not looked back since, subsequently introducing its own Mechanical and Flooring businesses.
"As well as broadening the TJ Hall offering this has helped to ensure that the business remains financially secure," explains TJ Hall's Managing Director, Gordon. "This has given us greater control over projects that we undertake, and the unique way in which we have structured the company has undoubtedly helped to create better results for our clients and brought in return business."
TJ Hall's success also came as a result of its decision to go in a different direction to your traditional contractor and approach end users directly. "Some of our first customers included the likes of Williams Formula 1 and British Aerospace, so these were companies that we reached out to in order to price their work," Gordon details. "Over time, this client list expanded and our track record for focusing on quality, certainty of delivery and guaranteed cost prompted strong word-of-mouth referral."
They say that variety is the spice of life, and that certainly rings true when looking at some of the many different projects that TJ Hall has undertaken in its lifetime. From local schools and sports clubs, hospitals and airports, MoD work, to major office fit outs in the City of London, the company has done it all, and was even responsible for building the very first Big Brother house for production company Endemol ahead of the start of the now iconic reality television series!
"A lot of companies get to a stage where they are turning over big numbers and decide they do not want to touch jobs under a certain value, but that is something we will never do," Gordon declares. "We know that we have the skills, expertise and capability to take on a job, whether it is valued at £1500 or £10 million, but most importantly, we know that a small job often has the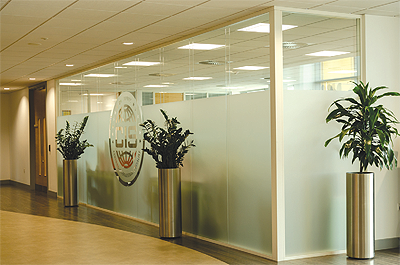 potential to lead to bigger, future work, as has proven the case for us." This claim is backed up by hard evidence, as 18 years ago TJ Hall installed a door set for DHL and recently completed a 7000 square metre office fit out at the DHL East Midlands Airport facility. Undoubtably this ongoing relationship with DHL has helped to propel the business to another level, and this success has fuelled a desire for continued growth: "One of our goals as a business is to take it to an annual turnover of £100 million in the next five years, all while retaining the same degree of profitability and staying true to the high standards of quality t at we hold ourselves to now," Gordon says. "Perhaps the trait that is at the core of all that we have achieved to date is the fact that we do exactly what it says on the tin, so to speak. We are always honest and straight with people, we don't over complicate things, and our doors are always open. At the end of the day, what has served us so well is the fact that we deliver on what we promise, and what we deliver is quality!"
In order to drive the business to the next level, Gordon's eye for quality workmanship has ensured that he has been extremely careful about the talent that he brings into the business. He is always keen to look after his team, and everyone knows that his exacting standards must continually be adhered to. The proof is in the pudding, as time and time again clients ask for the same personnel to run their projects.
The first example of a large project would be the development of an in-flight food facility at Heathrow Airport for DHL, and in collaboration with British Airways, which took place in 2010. "This particular undertaking required the full refurbishment of an existing building, and the construction of a new office and administration centre, all to be completed in an extremely tight time scale," Gordon adds. "Through careful planning and the efforts of our people, this £9 million project was completed in just eight months, and in the process really propelled TJ Hall to another level."
Several complex and challenging schemes have since followed, although TJ Hall still takes great pleasure in completing the smaller projects in the same vein, Gordon is quick to point that there is no room for complacency, and personally demands that the same standards are adhered to on all forthcoming projects.
TJ Hall
Services: Commercial construction