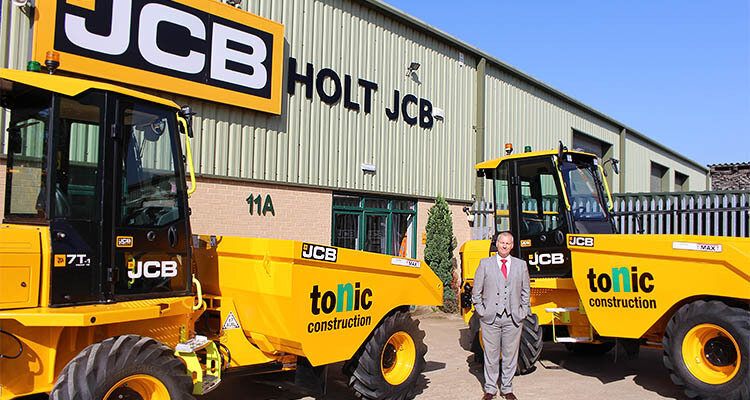 Tonic Construction revolutionises workplace protection with innovative solutions
As one of the most respected civil engineering and groundworks contractors in the UK, Tonic Construction Ltd (Tonic) has experienced remarkable growth and significant success. Offering a comprehensive range of services including project management, engineering, surveying, estimating, plant hire, property development, and industry training, Tonic brings together a diverse skill set to deliver exceptional results. Over the past 20 years, the company has established strong and enduring relationships within its supply chain. CEO, Tony Iles, tells us how the business came to be what it is today.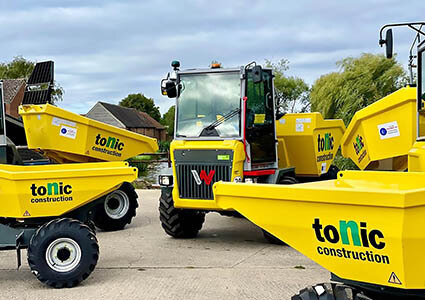 "In 1999, my wife and I established the company, and since then, we have sustained steady growth year-on-year. Our motto has always been 'price it right, do it right and you should make a success of it.' Of course, throughout time, we have encountered our share of challenges. The impact of the 2008 financial crash had a huge impact on the residential housing sector, presenting significant obstacles. Furthermore, we faced a heart-breaking setback in 2016 with a fatality occurring on one of our sites, marking an all-time low. Subsequently, we had the pandemic to contend with especially due to the full PAYE structure we operated with at that time, which proved to be a massive disadvantage for the business. Several of our competitors relied on subcontracted labour, a practice which made it easy to lay off workers during challenging periods. In contrast, our employees were at home on furlough, all while continuing to accrue holiday pay, even though the company was not earning any money. Those were undoubtedly challenging times, and we now must deal with our next issue as the government is playing political football with the national housing sector. This development is expected to introduce significant turbulence to our industry over the next few months," he explains. Throughout a dynamic history full of ups and downs, Tonic has successfully established long-term contracts with several prominent national housing companies, management contractors, and local authorities in the southwest since 2013. Presently, the company owns over 75 per cent of its plant fleet, which enhances on-site reliability and operational efficiency.
Driving improvements
Tony describes Tonic's approach to dumper safety, which has become a key focus and distinguishing feature for the company. "Respect for both our clients and employees is inherent within our company. However, what truly sets us apart, is how we respond in times of adversity. We come together as a cohesive unit, which was evident in our response to the tragic fatality that occurred in 2016. This event led us to take decisive action not only to enhance dumper safety within our own business but also to drive improvements throughout the entire UK construction sector. Our commitment to collective resilience and our proactive efforts have made a significant impact on dumper safety, benefiting not only our company but also the wider industry.
"Ensuring the safety of our employees has always been a top priority for us. However, 2016 served as a stark reminder that circumstances cannot always be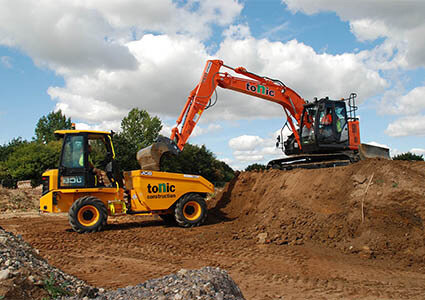 predicted or controlled. Specifically, the industry has now become more conscious of the problem of dumper roll-overs. This heightened awareness is largely due to the implementation of safety features in modern dumpers, which prevent them from being restarted after tipping over. Additionally, the visible damage to the cabs serves as a clear indicator of such incidents, whereas in the past, it was common for individuals to simply right the overturned dumpers and resume work without reporting the occurrence. Thus, our company had been faced with the issue of dumper safety, albeit only becoming fully aware of it if an injury or worse occurred. As a response, we took decisive action by eliminating conventional open top dumpers on our sites. One of my proudest accomplishments to date is spearheading the development of the publicly available industry standard (PAIS) for dumper safety in the UK. It brings me great pride to witness cabbed dumpers exclusively being used on building sites and motorway works, as I am aware that without the actions taken in 2017, this would not have been the case," he proudly informs.
Navigating challenges
In the face of a substantial labour shortage that significantly impacts projects and businesses in the construction industry, Tony shares how this issue has impacted Tonic's business. "Previously, we made efforts to maintain a continuous presence of apprentices within our business. However, we encountered a recurring challenge where competitors would entice these apprentices with significantly higher wages upon their completion of training at Tonic. Consequently, we found ourselves in a situation where our efforts seemed futile. At one point, we were known as 'Tonic training' within the local area, as we would provide training while other companies reaped the benefits! It became evident that unless everyone invests in training the next generation, we will continue to fight a losing battle. This is only exacerbated by the government's lack of focus on the housing crisis, resulting in various associated issues. During periods of slowdown, investments in training are often halted, leading to a subsequent shortage of skilled labour when activities pick up again. Consequently, labour rates have become unsustainable for many construction companies," he concludes.
Looking to the future, Tonic aims to navigate the challenges of the housing crisis and labour shortage by prioritising training investments and advocating for government action.
www.tonicconstruction.co.uk