Boasting an enormous in-stock availability of tools and trade supplies, Toolstation has developed an impressive network of branches all over the UK, which allowed the company to finish 2017 with a record turnover of £300 million
Tools, supplies and service to the trade
Boasting an enormous in-stock availability of tools and trade supplies, Toolstation has developed an impressive network of branches all over the UK, which allowed the company to finish 2017 with a record turnover of £300 million
Toolstation is rightfully claiming to be one of the fastest growing retailers to the trade in the UK. Founded in 2003 and headquartered in Bridgwater, Somerset, the company now operates over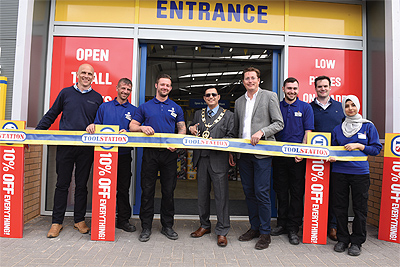 300 branches across the country. In 2017, it reached a benchmark turnover of £300 million for the first time in its history. In the 15 years of its existence, Toolstation has never stopped building upon the foundations it had laid out at its inception – to offer a comprehensive range of tools, accessories and building supplies to the trade, self builders and home improvers.
"We have over 11,000 trade quality products stocked in branch and over 2000 more online, and we are constantly expanding our product range, by introducing new trade brands our customers have been asking for," Managing Director, James MacKenzie notes, telling us the story of the supplier's remarkable rise. "Part of our recent success has been formed by the development of our range. Adding thousands of new products this year, with a particular focus on plumbers and electricians, has led to existing customers spending more, because of our enlarged offering. We want to have a real depth of our current product categories, so that customers can get the full range of, say, power tools or screws, if they like."
The gradual configuration of a wide network of branches covering the whole of the UK is another important piece of the jigsaw. Toolstation opened its 300th branch in Eastleigh in February 2018, and just three months later, the number of stores has grown to 312, with the business' ambition to open a total of 40 new locations this year, creating over 280 jobs in the process. "We have opened an average of 30 new branches every year for the last ten years," James points out, "we are opening a new store practically every week. It is really all about convenience to our customers. The combination of a vast branch network and the consistency and reliability of product availability, makes our proposition a really strong one. The fact that we have a ten minute click & collect service really adds to the customer experience, as clients can order what they need online and pick it up from their selected branch within ten minutes."
This being said, digitalisation has played a significant role in Toolstation's proposition. "We have been developing our digital presence, because this is what our customers need from their suppliers. They want to shop wherever they are, by simply using their phone, so we give them the ability to do so. Our ambition is to continue strengthening our online channel, and we are going to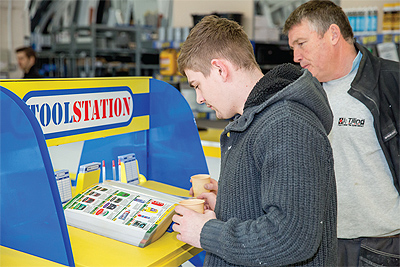 launch our brand new website this summer, making it even easier to buy this way," James announces.
Key advantages
He goes on to pinpoint the speed with which staff in each branch process every delivery, "Our service is exceptional," he marvels, "as 85 per cent of our branches have their deliveries overnight. We are totally focused on getting them on the shelves as quickly as possible, so products are ready for when our customers come in, especially as the majority of our branches open at 7am. We understand that a lot of our customers are dealing with jobs where not every eventuality can be planned, so this same day capability along with the depth of our ranges cover most trade's requirements effectively and efficiently.
"This year, we are about to move our order cut-off time from 8pm to 9pm, Monday to Friday, which means that orders placed by 9pm can be delivered to UK addresses on the next business day, what's more orders over £10 qualify for free delivery. We are also exploring launching Sunday delivery this year. Our branches are open during the weekend, but there are still customers who want to get their tools delivered to a given address and have expressed interest in deliveries on a Sunday," James explains.
"I would single out pricing as one of our key advantages that keeps us abreast of competition. We are a low-cost business and we have been able to consistently offer some of the lowest prices in the market to our customers since we have started trading," he maintains. "It is also worth mentioning that we always have a fixed price, so there is no haggling when a customer comes in. Furthermore, we are going to launch a trade credit card in June, which will offer up to 116 days of interest-free credit. I believe, this is a really compelling proposition for our business customers that will strengthen our service further."
Ambitious plans
Toolstation's successful exploits have garnered a couple of industry awards, too. Which? presented the tools supplier with its 'Retailer of the Year' prize for a second time in a row in 2017, and Toolstation has been shortlisted again for the 2018 edition of the awards. "It is a nice recognition and a real testament not just to our pricing and the availability we are able to offer, but to our overall service, too," James comments.
As he has already discussed some of the key areas of improvement the company has set its sights on, James shares his long-term vision for the business: "We know we can get to 500 branches in the next few years. There are plenty of opportunities in the market and we are keen to make the most of them." Blending an extensive range of products, quick order processing and delivery, low prices, efficient digital customer experience, and determination for continuous improvement, there is little doubt that Toolstation will keep continuing to grow at an exceptional rate.
Toolstation
Services: Supply of tools for the construction industry