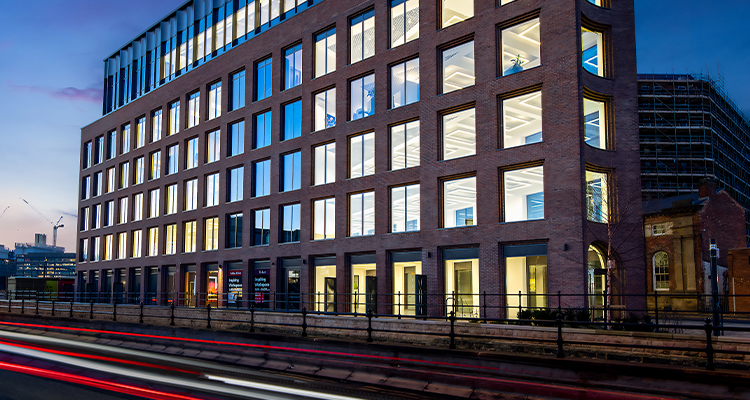 Meet Specialist Glass Products, the company providing glass for iconic UK projects.
From airports and train stations to shopping centres and iconic buildings like The Shard, you may have noticed a steadily rising trend in glass-fronted shops, restaurants, and offices over the last decade or so.
Huddersfield-based company, Specialist Glass Products (SGP), is a specialist manufacturer of curved and flat glass for bespoke applications. By heating, bending, toughening, and laminating glass, the business delivers toughened glass solutions across the UK; an operation that continues to result in tremendous growth, continuous investment, and a healthy pipeline.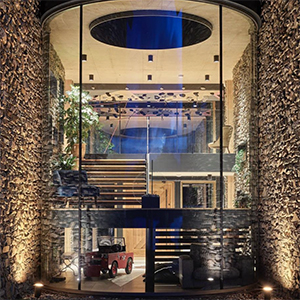 "We started the business in 2003, meaning this year is our 20th year of trading," Andrew Taylor, Managing Director of SGP, opens proudly. "It all started from the ground; I originally worked for a glass merchandising company, but after leaving in 2000, myself and two friends, one of whom remains in the business, began our own glass manufacturing operation.
"Our first key products were curved glass and laminated glass, which we still offer today alongside our bespoke solutions," he continues. "As we've grown, our product offering has evolved to include standard glassware, panels, and greenhouses, as well as glass bridges, floors, and staircases."
The company's ability to identify and subsequently fill a gap in the market for toughened and laminated glass was a significant catalyst in its growth. "We'd always done standard glazed glass for shopfronts, but for curved glass, it is heated to 630 degrees in order to be bent," Andrew recalls. "This meant we had to laminate the glass afterwards, a process that very few companies could offer."
"As the usage and requirements of additional safety features in glass changed and grew in the early 2000s we began laminating free issue glass for several large toughening companies, as well as buying toughened glass in for laminating for ourselves.
"As our requirements grew, we invested £1 million in our own Glass toughening equipment in 2007," he adds, "which made us one of only a few companies in the UK that could toughen and laminate glass in house.
"Today, our production capabilities have evolved, producing flat glass as large as six metres by three metres, and curved glass at five metres tall by 3.2 metres around the bend. Then, of course, we can double glaze and laminate it."
Alongside its growth, SGP's portfolio has expanded to include impressive projects, such as Hendricks Gin Palace, Wembley Stadium, innovative glass signage for the Transport for London's Elizabeth line, and a plethora of private homes, some of which have featured on popular television shows including Grand Designs.
Keen to tell us more, Andrew details: "We worked on Wembley Stadium in our youthful days as a company, completing all the internal glass used for the balustrades, staircases, and public areas."
Among its work on private home renovations, it provided glass for a project that featured on Channel 4's Grand Designs, resulting in an appearance on the show. Having received praise from the show's host, Kevin McCloud, the company played a key role in the renovation with its large, curved glass units forming a curved wall.
"We also had a visit from George Clarke in 2021, who spent half a day filming for his show, Amazing Spaces, in our factory in Milnsbridge, Yorkshire," Andrew explains. "It was for a particular project that included a glass floor, so the filming crew captured the process of manufacturing multiple layers of glass to ensure the strength and safety of its structural framework.
"More recently, we've been engaged with a large project for the new Elizabeth line in London. Due to the intricate specifications like the logo and colours, it's been a lengthy process but one of which we are incredibly proud.
"We've also just supplied all the curved glass office partitions in the new Bloomberg building in London and completed a large atrium project in Goldman Sachs' London base," he adds.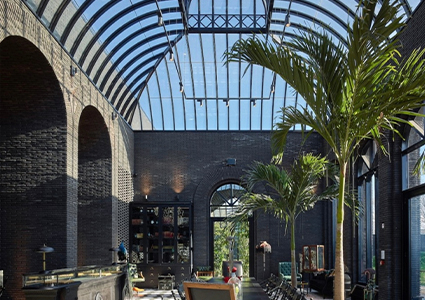 "We're currently involved with an interesting project to provide curved laminated glass panes for the Edinburgh Botanical Gardens. The building contains around 5500 pieces of glass, two thirds of which are curved, hence why we were chosen to complete the project.
"As a building that will house hundreds of plants, this is a unique project that requires specific insulated glass because standard laminated glass blocks UV light, preventing plants from growing. So, the glass for this project must be strong enough to uphold the structure, but still allow UV light to come through; and we're the only company in the UK that can bend and then laminate the panels with the special interlayer required."
In terms of investment, SGP has focused much of its attention on a state-of-the-art facility in Yorkshire, as well as new, upgraded machinery. "We've recently installed an additional automated cutting line and a lot more processing equipment to enhance our production capabilities," says Andrew.
"I never envisioned that we'd be as successful as we are; I started out thinking that if I enjoyed the job and made a decent living, then I'd be happy," he reflects. "It wasn't that I didn't want to be successful, but more that I never envisaged it to happen to the extent it has. Each time we saw an opportunity, we've always seized it and risen to the challenge, growing, and evolving along the way."
Andrew concludes: "In terms of the future, we're hoping to follow a similar trajectory as the last couple of years, with steady sales growth, more interesting projects along the way, and very little change to our current staff."