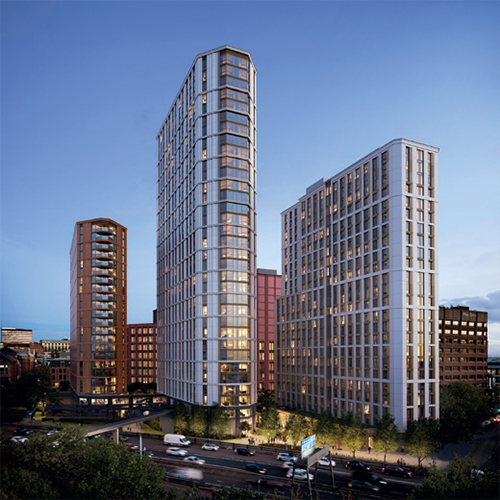 The 2.8-acre strategic site, which has been used as a car park since the pools' demolition in 2009, has been the subject of much scrutiny around its development potential due to its gateway location.
DLA Architecture has designed the much-anticipated landmark development on behalf of Lisbon Street Developments, a joint venture partnership between Marrico Asset Management and Helios Real Estate.
Plans for Lisbon Street include two BTR residential towers of 33 and 22 storeys offering 629 apartments, a 24-storey student accommodation building with 548 bed spaces, a 15-storey, 120 key aparthotel with 22,000 sq ft of co-working office space & 131,000 sq ft of Grade A office accommodation, along with further retail and leisure provisions. The plans also include improvements to the existing pedestrian and cycle way to the edge of the site.
Construction is ear-marked to commence in spring 2022.