Transforming the construction arena
Jackie Maginnis, Chief Executive of the Modular and Portable Building Association (MPBA) was certainly ahead of her time, not only as a high-profile woman in construction but also in promoting the benefits of advanced building technologies. With a long and illustrious career, for over 50 years she has been involved in construction related businesses. With a mission to develop a wider understanding of what can be achieved using volumetric modular construction, Jackie considers recent industry events.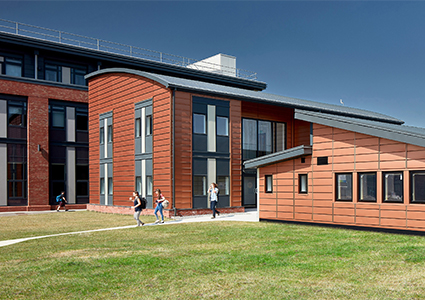 Scanning the headlines, you could not fail to notice that some relatively new entrants to the volumetric modular industry are facing challenging times. But the outlook in mature commercial markets is more positive, driven by increased demand in the healthcare and education sectors. Many consider Modern Methods of Construction (MMC) to be relatively new, but this transformative technology has evolved over many decades.
It is hard to believe that industry pioneers in the volumetric sector such as Wernick® Group have been around since 1934. Not long after other major players in today's industry joined the ranks, with the foundation of Portakabin in 1961, followed by Elliott Group (Algeco) in 1963, Pickerings in 1969 and Thurston Group in 1970.
So how have these companies stood the test of time? There is not one simple answer. But in the main it is down to developing technical solutions to overcome inherent industry issues whilst also having a keen eye on the future and anticipating what is coming down the track.
A simple but effective tactic
It is universally agreed that a robust and regular pipeline of work is essential to ensure that the overheads incurred in running the high-tech manufacturing facilities associated with offsite construction are covered. Planning ahead for the peaks and troughs is essential. This can be managed in various ways, but experienced operators have a simple and effective tactic. By using a series of interconnecting factories, manufacturing facilities can be expanded at times of high demand and closed off if a project for example, suffers planning delays.
Another strategy is acquisition and investment
Portakabin has recently confirmed the acquisition of healthcare modular buildings specialist Darwin Group. The companies say the move will offer significant benefits to healthcare providers across the UK. The acquisition was driven by a shared belief that every patient should have access to world-leading healthcare facilities that empower clinicians and the broader healthcare system to deliver exceptional care.
And whilst Legal & General (L&G) has made the decision to close its modular housebuilding factory citing the impact of the pandemic and planning delays – Aviva Capital Partners (ACP) is investing £20 million into TopHat. This equity funding will support TopHat's major new factory in Corby and the creation of 1000 new jobs. The factory, anticipated to operate from summer 2024, has been designed to be capable of manufacturing 4000 ultra-low carbon homes a year and will be Europe's largest modular housing factory.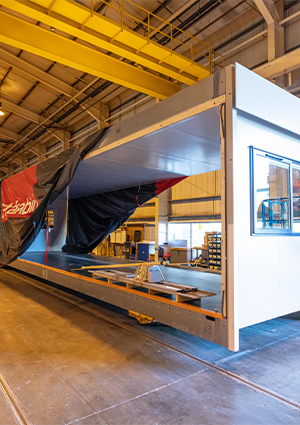 The answer to the UK housing crisis
Fast-build modular homes are certainly one of the answers to the UK housing crisis. The quality, energy efficiency, speed and sustainable manufacturing processes achieved in a factory environment are difficult if not impossible to replicate using a traditional site-based construction approach.
Taking a long-term view, ACP states that this investment was driven by the sustainability credentials of TopHat's low-carbon homes. In 2025, compliance with the UK Government's Future Homes Standard will become mandatory. Its aim is to ensure that new homes built from 2025 will produce 75-to-80 percent less carbon emissions than homes built under the current Building Regulations. UK housing stock's operational emissions is also vital for the UK to meet its legally binding net zero targets and modular homes can provide a fast and effective solution.
Evidencing value
Pre-Manufactured Value (PMV) is another driving force in the specification of volumetric technology in public projects – particularly in the healthcare and education sectors. PMV is a core metric for measuring the level of MMC in a project and is central to the UK Government's procurement programmes. To secure a contract, suppliers are required to show that pre-manufacturing will account for at least 70 per cent of their construction cost, which plays to the strength of a volumetric modular approach.
Transformative technology
The MMC sector for category one (volumetric) and category two (panelised systems) is an interesting place to be. The levels of investment and innovation are astounding and as with any transformative technology, there will be hurdles to overcome. Our industry unlike others, has nothing to fear from the legislation surrounding the predicted Future Homes Standard and the road to achieve net zero targets in commercial buildings is a well mapped route.
The MPBA and our members firmly believe that the benefits of manufactured buildings begin in the factory, continue on to the construction site and last through the lifetime of the building.
The Modular and Portable Building Association
www.mpba.biz
The Modular and Portable Building Association plays a key role in supporting all sections of the industry. Leading best practice principles, the association is represented on many committees for the benefit of members. Most importantly, the MPBA ensures evolving government policies and decisions are not made on behalf of the construction industry without due consideration for the impact they may have on the volumetric modular sector.