When it comes to the sale and distribution of building materials, the name Travis Perkins stands out as a mark of distinction. The Contracts division is a major contributor to the Group's success
Legacy of excellence
When it comes to the sale and distribution of building materials, the name Travis Perkins stands out as a mark of distinction. The Contracts division is a major contributor to the Group's success
Astalwart name in the history of the UK construction sector, Travis Perkins plc (the Group) can trace its origins back to 1797 and the foundation of the Benjamin Ingram company. Its astonishing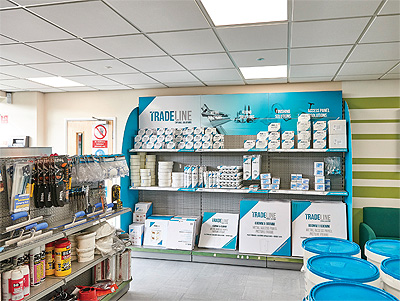 pedigree has been established thanks to a policy of steady organic growth and prudent acquisitions, which have resulted in, over the course the last two centuries, an evolution into the UK's largest product supplier to the building, construction, and home improvement markets.
Today, the Group reaches its customers through over 2000 branches and stores across the UK, and overall is comprised of more than 20 different businesses, divided into four divisions. Encompassing companies with both a common customer type and service requirements, the General Merchanting, Consumer, Plumbing and Heating, and Contract Merchanting (Contracts) divisions were created in 2014, as the Group realised that the decision-making processes needed to be closer to the individual businesses. The new Divisional structure put the crucial support functions closer to the business units, which resulted in increased efficiency and more streamlined administrative and policy-making procedures.
Contracts division
Of the four business segments, the Contracts division was established as a one-stop-shop for larger contractors, and brought together three businesses (BSS, CCF and Keyline) that now have a total of 170 branches across the UK. The assembly of these three companies into one division enabled the Group to offer a comprehensive range of products to customers, and assist them with technical issues in design, specification and installation.
Looking more closely at each of these three entities in detail reveals more about their individual operations and the plans that Travis Perkins has for them going forward. BSS Industrial is a specialist distributor of pipeline, heating and mechanical services, and operates from 59 branch locations and two DCs; Magna Park and Cross Point. What sets BSS apart is the ability to provide customers with £50 million worth of stock and delivery options that no other supplier can offer, as well as guaranteeing next day delivery from 7am when ordered from a BSS or Hire-It branch before 5pm. As part of its strategy, BSS is continuously developing its industrial product offer and improving its logistics efficiency in order to create additional improvements in range, service and technical support to its customers.
Recognised brands
The second element of the Contracts division trilogy is CCF, a distributor of insulation, dry-lining and partitioning. For CCF, the strategy is focused on providing national coverage through its branch network, expanding the range of products offered to customers not previously served by the Group and developing a significant presence in commercial interior partitions through its Sektor brand. What makes CCF stand out is its ethos of evolution, which has seen it take the opportunity to grow in dry lining and insulation, to the stage where it is today competing for the top spot, raising itself from fourth position.
Making up the final component of the Contracts Division is Keyline, a heavyside and civils merchant. The development plan for Keyline has seen it reconfiguring its estate to operate from lower cost sites, with excellent access to the road network, given the high proportion of its customers who require speedy delivery of products. Travis Perkins has focused on establishing Keyline as the
leading civils and drainage and heavy building materials supplier in the UK, and part of this included a rebranding of the business and a focus on ensuring that all branches have the fullest range possible.
Focus on the customer
It is apparent that Travis Perkins maintains a focus on developing and improving each of the individual companies that make up its vast strength, and the third quarter trading results of 2017 showed continued strong growth across all businesses in the Contracts division; evidence that the strategy is garnering good results. The results showed that BSS, CCF and Keyline all demonstrated good growth and strength of new residential house building and pass through of cost price inflation).
2018 is set to witness a renewed focus on the customer proposition and an ever-watchful eye on innovative new products to stock. There will also be a renewed energy for staff training, apprenticeships and skills enhancement for the workforce, with plans to operate an academy for Keyline, CCF and BSS to train colleagues and develop future managers. By embedding technical training deeper into the business, Travis Perkins is able to develop the leaders of the future, a critical business necessity, given the current need for essential skills in the construction sector across the board. There is also a major focus on maintaining existing supplier relationships to give security and reliability; in addition to developing new supplier partnerships, which is a continuous process requiring strict levels of quality, availability and consistency.
Organic growth
These levels of excellence in product supply are essential to the Contracts division, as its customers are typically large developers, main contractors and commercial subcontractors, and a vital element of maintaining their repeat custom is adherence to strict quality criteria. Thanks to its exemplary performance as a division, Contracts has been involved in the majority of the significant commercial and infrastructure projects in the UK, including Crossrail, the construction of the Sir Francis Crick Institute and the Shard, as well as new road infrastructure, power generation construction, public service infrastructure, and commercial and high rise residential construction and refurbishment projects.
As we enter the next stage of expansion for Travis Perkins it is clear that the Group has high expectations for all of its Divisions. Having grown primarily through large acquisitions over the last decade, the Group is now focusing on organic growth, which it plans to achieve by extracting value from the companies it acquired, investing in more compelling customer propositions, optimising its network and using its scale advantage to improve returns for shareholders. Now firmly established as the UK's biggest building and DIY network, the Group has created a legacy of excellence and a name in the market that represents reliability and tradition, at the same time as innovation and forward-thinking. It is a combination that has raised the company to the heights of the market, and one which should sustain it for another two centuries of amazing achievements.
Travis Perkins
Services: Product supplier to the building, construction, and home improvement markets