With a history of supplying building materials to the trade for more than two centuries, the Travis Perkins Group is now one of the largest suppliers to the UK's building and construction industry
Setting the foundations
With a history of supplying building materials to the trade for more than two centuries, the Travis Perkins Group is now one of the largest suppliers to the UK's building and construction industry
With the largest building merchant and home improvement network in the UK, the company has more than 1900 trading locations nationwide, providing in excess of 250,000 products to trade professionals and serious DIYers. The product range is extensive, and includes building materials, landscaping, plumbing and heating, kitchens and bathrooms, timber and sheet materials, dry lining and insulation, painting and decorating, doors and joinery and hand and power tools.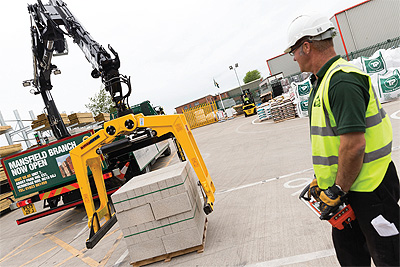 Established from a merger in 1988 between Travis & Arnold and Sandell Perkins, the organisation boasts some of the industry's leading brands, including Travis Perkins, Keyline, City Plumbing Supplies, Wickes, Toolstation, BSS, CCF, Benchmarx and PTS. The company has enjoyed consistent growth despite market fluctuations, which is due to its continued investment in customer proposition and product innovation. Furthermore, the Group boasts an industry leading strategic network of local branches, stock availability and clear, competitive trade prices; customers can open an account and benefit from prices that offer the best deals on the products they buy the most. Furthermore, reliable, knowledgeable, friendly staff are on hand at all branches and stores, ready to offer the best service and expert advice for the largest and smallest of jobs.
Determined to lead the way in delivering building materials to those who need them, the Travis Perkins Group has achieved this through an awareness of market trends, high quality employees and embracing the latest technology. This strategy has proven highly successful, and the Group is looking forward to continued success as the recession starts to weaken and the housing market gets back on track in 2014, as group commercial director, Travis Perkins plc, Ian Preedy, explains: "The main reason for this growth is new-build residential house building. A strong set of numbers for new hous
He continues: "We are starting to see an optimism in consumer markets as we look ahead to next year, as we know there's usually a nine-month time lag between housing transactions and the consequent up spend from consumers as they start to embark on home improvements. The strength of housing transactions is an important indicator for us, and so we are encouraged by this increase in consumer demand."
A recent surge in mortgage approvals, housing transactions and positive results from house builders has helped the UK's housing market recover from its previous slump. Part of the reason for this positive kick-start is the government's 'help to buy' scheme, which enables house buyers to secure financial help if they live in England and can't afford to buy a home. It is open to both first-time buyers and home movers on new-builds worth up to £600,000. "The government's help-to-buy-scheme has helped in two ways. First, by providing access to funding for homeowners who wouldn't have had access to it before and second, by driving confidence in the market. As a Group, we are fully prepared for this growth in demand as we have a number of different operating businesses working together to support other brands in the Group, so our businesses stay strong and healthy," comments Ian.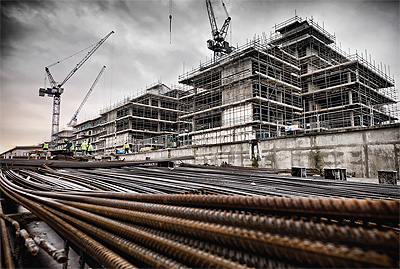 Following a boost in orders, the company is anticipating a steady increase in demand for its wide range of products over the next three to four years. "The increase in demand we see closely aligns to the stages a house goes through as it's built. For example, below ground drainage, bricks and blocks are the first products that go into building a house and these are the first markets to have recovered. For the first time in ten years, we're seeing the upsurge in demand in this area, and so we're working hard with those on the supply side to ensure that the confidence we're all seeing sustains," says Ian.
A very clear indicator that the economy is developing positively is the major contract awarded to Travis Perkins by Crest Nicholson in September 2013, a contract that sees Travis Perkins as the sole supplier of building materials as Crest Nicholson begins construction of over 500 homes during 2014.
With sophisticated forecasting, the Travis Perkins Group has been discussing the market with its suppliers to ensure all levels of service and products are available in line with the expected upsurge. On top of that, the company aims continually to expand its branch network, with a particular focus on its distribution capability. "We are recruiting at the moment, a drive which supports our own well-established management training scheme. Next year, we plan on increasing investment in both our management and graduate training schemes to help us better face the constantly evolving challenges in our sector," says Ian.
Looking ahead, the Travis Perkins Group also sees emerging trends in how products are being bought, either via mobile technology or via the internet, and is aiming to use its direct sourcing capability to invest more heavily in these areas to differentiate itself in the market. Meanwhile, the company also aims to significantly invest in developing its own brand products, like its work wear 'Scruffs', commercial lighting brand 'Defender' and fixings brand 'Bullet', all of which have seen strong growth. With so much opportunity in the housing and repairs and maintenance markets coming up, the future for Travis Perkins plc looks positive as it continues to invest in its company to improve services and products for existing and future customers.
Travis Perkins
Services: Builders merchants