In recent years Travis Perkins has been investing in improving its customer propositions and optimising its network of stores and branches
A united division
In recent years Travis Perkins has been investing in improving its customer propositions and optimising its network of stores and branches. Over £200m of capital has been deployed during 2015 with the Contracts Division benefitting from investments to better track new construction projects and to provide a more integrated, customer focused service
Renowned as one of the biggest suppliers in the UK, the FTSE 100 listed Travis Perkins has 19 industry-leading brands in its portfolio, an excess of 100,000 products available to trade professionals and a turnover in excess of £6 billion.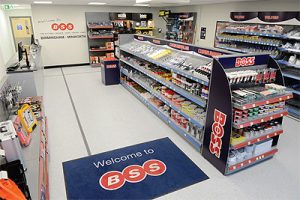 Keen to strengthen operations in all areas of the group, Travis Perkins made the strategic decision to realign its businesses into four divisions at the beginning of 2014: General Merchanting, Consumer, Plumbing and Heating and Contract Merchanting. Comprised of businesses with both a common customer type and common service requirements, the divisions have put vital support functions closer to each business unit, which in turn has increased efficiency in making decisions.
As one of the four business segments, the Contract Merchanting Division brings together BSS, CCF and Keyline, the three businesses that supply products to high spec construction firms and project contractors. As a division, it has been involved in the majority of major commercial and infrastructure projects in the UK, such as Crossrail and iconic buildings such as the Shard. Since the restructure of the group in 2014 the division has been evolving, says Frank Elkins, divisional Chief Executive Officer of the Contract Merchanting Division: "Within CCF we have seen an opportunity to grow in dry lining and insulation; if you look at our position in the market 18 – 24 months ago we were at number four in the market place but we are now a strong number two.
"We see opportunity to continue to grow, which is why we had 32 branches at the start of the year following major expansion of eight new branches during 2015; these new branches are in Aberdeen, Colchester, Crawley, Didcot, Gloucester, Manchester East, Northampton, and Redruth. This expansion is part of our strategic objective to be an hour from any site covered by local branch network and is also why we have further plans to expand in 2016 and 2017. Our proposition is to be close to our customers locally and to understand their needs and requirements so we can be their destination of choice for ceilings, partitions, dry wall and insulation."
Previously not well known for insulation distribution, CCF has also boosted its reputation as a destination of choice for insulation services by having a comprehensive product range readily available from stock and ready for delivery nationwide, competitive prices, deliveries you can depend on and a reliable service from a friendly and knowledgeable team. Alongside these developments, the company has also launched its own ceiling range Sektor to complement its partitions offering and been training its internal and external personnel in insulation as well as their technical expertise in partitions.
Meanwhile, Travis Perkins has continued with its strategy of making Keyline the leading civils and drainage and heavy building materials supplier in the UK, as Frank explains: "We have rebranded the business and also focused on ensuring that no matter what branch our customers go to, there will be a strong range of products available; in line with this, we have developed some new supplier partnerships with companies such as Polypipe. We also acquired Rudridge in February 2015 from the two owners, Alan and Rob, who have since stayed on in the business and helped it grow with us. This acquisition has given us a stronger presence in the southeast as Keyline wasn't well covered in this area but the four Rudridge branches have been a great fit for us and have progressed very well."
The final part of the Contract Merchanting Division, BSS Industrial, a specialist distributor of pipeline, heating and mechanical services, already has a strong presence with 61 branches spread across the UK. Because of this, the division has consolidated to one branch in Leeds while also opening a new 45,000 square foot facility on the side of its industry-leading Magna Park National Distribution Centre (NDC) in Leicestershire. The latter development provides customers with a whopping £50 million worth of stock as well as delivery options that no other supplier can offer, with guarantees of next day delivery from seven AM when ordered from BSS or Hire-It branch before five pm. "This additional space enhances our central distribution operations as we have 15,000 product lines distributed out of Magna Park on a next day basis; it is a fantastic service," enthuses Frank.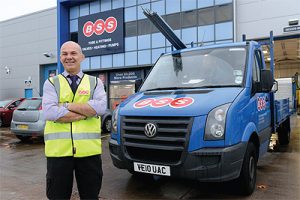 On top of this, an engineering assembly station and machine workshop has been developed to ensure seamless product delivery as well as enhanced product testing capabilities; these developments mean customers get faster dispatch times across a range of grade A, fully machine-conditioned stock and 'to order' items. To complement these developments, the company has focused on enhancing its IT capabilities with new systems and applications, as Frank notes: "We brought the Project Tracking System onto a Google platform two years ago, which means we can collaborate and share information throughout the division; we have also developed other tools such as the quote management system, which allows us to download all of the quotes from our points of sale system. This allows us to provide information to the customer via a tablet or phone."
While these improvements are integral to ongoing growth, Frank says the company is also continuing to focus on enhancing its safety culture: "To us the concept of safety within the workplace is never a completed job as we want everyone within the business to go home safely at the end of the day. Because of this, we are looking at the root cause as to why accidents happen as it is easy to blame people when things go wrong. Also, from a cultural point of view we are driving for equal responsibility so all colleagues are aware of safety and look out for one another. Although we have made strong progress we will never become complacent and will continue to invest in the safety arena."
Alongside the many steps forward that the Contract Merchanting Division has taken to further cement its leading reputation in the market, the company is also securing its future through creating its own training development programme and management apprenticeship. "Our industry is not good at recruiting the next generation coming into the business but as a Group, as well as within this division and business unit we have spent a lot of time and energy on our trainee scheme. We have also looked at technical training and have developed an academy in Keyline, CCF and BSS to help train and develop both our colleagues and our future managers. For us this means we are embedding technical training deeper into our business as we develop our leaders of the future."
Having covered all angles for future growth, the future looks positive for Travis Perkins and the Contract Merchanting Division as it continues to lead the way in delivering building and DIY products to its broad customer base.
Travis Perkins
Services: UK's leading timber and builders' merchants