TRM's innovative piling solutions have been helping clients save money and reduce installation times for 30 years and the company is showing no sign of slowing down
Holding strong
TRM's innovative piling solutions have been helping clients save money and reduce installation times for 30 years and the company is showing no sign of slowing down
Tiroler Rohre (TRM) was first founded in Austria in 1947 for the production of ductile iron pipes for a range of industries around Europe. Years of investment into manufacturing capabilities and development of products f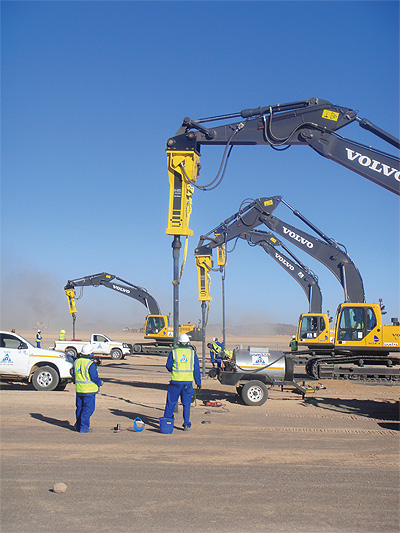 ollowed and in 1986 the company began production of its ductile Iron piles, which have since been installed on numerous projects around the world. Thanks to the combination of high corrosion resistance with quick installation times, TRM's piling systems have become an established economical alternative within the global construction industry.
"There are a number of features that set the TRM systems apart in the market," begins UK and Ireland Sales Manager, Neville Wood. "Chief amongst these is the sustainable way we manufacture. All material used is recycled and comes straight into the factory through a direct rail link, so we are able to keep our carbon footprint down. Each pile is then manufactured and installed in five metre lengths, and has been designed so that if a section length is cut down, the left over can be reused, rather than wasted. We are also able to install using an excavator so there is often no need to lay an expensive piling mat, which keeps the cost and installation time low for our clients."
A unique Plug&Drive© system – which provides a fast, forcelocking connection of individual pile tubes without the need for any specialist tools or welding – low vibration driving and selfproving characteristics, plus the elimination of spoil also add to the fast and cost effective advantages of TRM's piling system. "We are often able to drive up to 400 metres of piles a day, which is generally about four times faster than a standard piling machine for similar sized systems," Neville points out.
On top of this success story is the high impact resistant material used to create the lightweight, ductile iron piles. Through a complex process of heat treatment in a 40-metre oven a compound layer of oxidised iron is formed, which stops any oxygen reacting with the pile itself. Due to the high carbon and silicon content of the raw material, taken exclusively from the recycling industry, plus this protective layer, the resulting nodular ductile iron has a higher corrosion resistance than steel. "Our piles even resist the highly variable weather conditions here in Austria like rain, snow or heat, without showing notable signs of corrosion," Neville says.
The ductile iron piles have an excellent impact resistance making them perfect for driving in with high-performance hydraulic hammers with no risk of overstraining. Quality checks take place throughout the manufacturing process, with quality assurance covering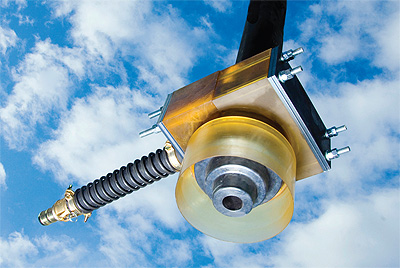 everything from the chemical composition and the mechanical parameters to the dimensions. Accreditation-wise all activities are certified to EN and ISO 9001 standards. A large stock capacity also ensures short notice delivery to projects around the world.
Celebrating its 30th anniversary this year, TRM's ductile pile systems have been proven on projects around the world, from Pakistan to Syria and Egypt. Current major markets include Germany, Austria, France, the UK, Australia and South Africa, and Neville points out that demand in the USA is also increasing rapidly. "The market conditions around the mglobe are generally strong, and this year we are performing better that expected," he goes on to say. "This is allowing the company to invest more and more into new markets such as the UK where I have been taken on to develop the TRM name and get it more widely known amongst major companies. It's about letting people know of the many advantages in terms of operational, economic and ecological performance and the fact that we now have 30 years of proven experience is a big part of being able to do this."
Over the coming months and years TRM has a clear growth strategy. Thus for the next year the goal is to more than double sales volumes on the last, increasing from 300 tonnes a year to 800 tonnes in the UK and Ireland. Neville highlights that an increase in renewable energy projects around the world, such as solar programmes in South Africs, provide a unique opportunity for the company's competitive solution and ensuring its reputation is upheld and widespread will be key to capitalising on this. The company will also be looking north, into Scandinavian markets in the near future.
With 30 years of proven success in the market, there is no doubt that TRM brings to the construction industry a unique solution that is able to compete on price and performance in a range of applications around the world. An exemplary approach to sustainable production and the constant development of innovations that help drive down cost and installation times for its clients has been, and looks set to continue being, a major part of this achievement.
TRM
Services: Specialists in the manufacture and installation of ductile cast iron piles