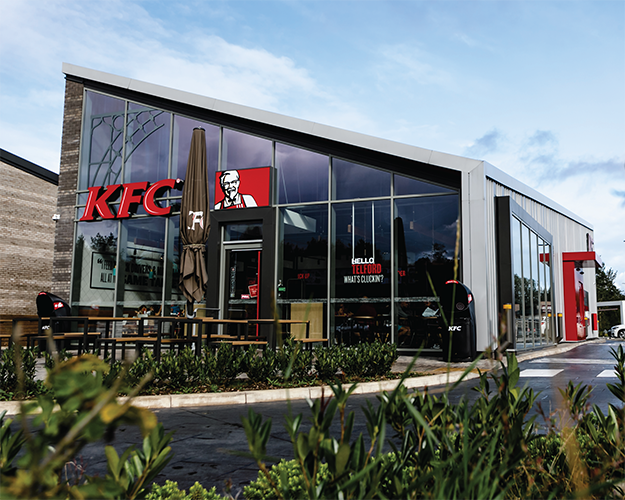 Trojan Construction Management
The trojan force
Off the back of securing its largest contract to-date, Trojan Construction Management discusses the drive-through boom that's creating a stir among international fast-food giants
It's been ten years since Trojan Construction Management (Trojan) was first formed back in 2012. A successful decade, the company enjoyed two consecutive listings among the 50 fastest-growing companies in Wales, and has now established itself as a specialist in the design and construction of drive-through units for the food, retail and commercial sectors, with a series of high-profile clients including KFC, Starbucks and Taco Bell. It's a niche market, with unique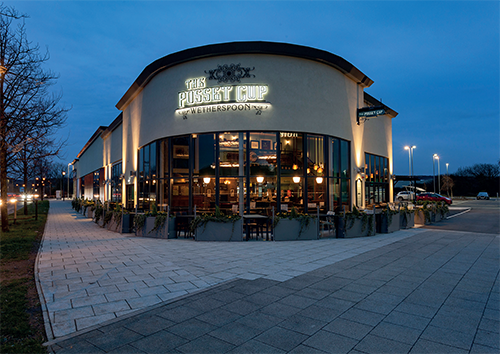 challenges.
"Our projects aren't straightforward by any stretch," says David Thomas, Construction Director at Trojan. "You're working to rapid timescales of 16-to- 17 weeks at the most, building predominately on brownfield sites that require remediation, or which require the demolition of existing buildings. At Trojan, we have the know-how to turn these sites around very quickly, while delivering the standard of quality expected among major brands."
In January 2022, the company announced a new £3.8m project for the development of a site in Christchurch, Dorset. Including outlets for Burger King and Costa Coffee, it's the company's largest contract to-date. "The developer approached us two years ago on the basis that our drive-through experience aligned perfectly with the brands they had in mind for the site's front-end," David recalls. "We took on the entire build, including the trade counters at the rear of the site, working closely with the developer and their project team, holding weekly virtual design meetings and preparing over 30 cost plans, and value engineering solutions to fit within their budget. We started onsite in October 2021, with the project scheduled for completion in July of this year.
"The Christchurch development means a lot to our business in terms of the reputation and trust we've built within the industry," he goes on. "It's rewarding to know that a very large developer felt they could come to us with a project of that size. It was a fantastic way to mark our tenth anniversary."
Trojan has also recently set to work on a two-storey drive-through unit for Canadian multinational fast food chain Tim Hortons. "We're already on-site, expecting to complete the project in June," confirms Shaun Welsh, Director at Trojan. "Located in Manchester, it represents the first step in what is an aggressive expansion strategy for Tim Hortons. Similarly, we're noticing a number of other brands entering the UK market, with the likes of Popeyes, Wendy's and Five Guys all looking at drive-throughs. Their interest is a clear signal of the appetite within the UK for this revolutionary American concept."
Working with household names can be a daunting prospect, but Trojan isn't fazed. "As with any client, if we want them to keep coming back, we have to deliver," David insists. "We're highly flexible when it comes to working with developers and franchisees to get their restaurants and coffee shops open earlier. For instance, we always allow our clients to start fitting-out while we're building, so that as soon as we've finished, the whole unit is ready to go. That benefits the developer, because they have their store open and they're receiving rent five weeks ahead of schedule, and the franchisee profits too – because they're open and trading."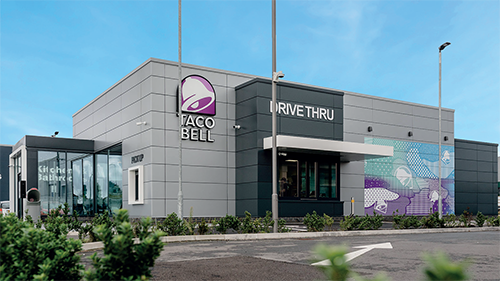 It's an approach that has borne fruit in terms of attracting new business. "When a developer, who perhaps hasn't built one of these drive-throughs before, strikes a deal with a Costa or Starbucks, they'll turn to them for advice," David continues. "Nine times out of ten, those franchisees will recommend Trojan.
"Likewise, brands themselves will come to us for cost and construction advice prior to their designs actually going out to market," Shaun notes. "We're currently working with KFC as they pursue carbon neutrality across their future sites, advising them with regards to the incorporation of sustainable materials. As a company, we're conscious of the waste that arises from our construction projects. In 2022, we were proud to announce that we had achieved 96.5 percent recycling across all our sites since our launch ten years ago.
"In the example of our Christchurch development, the site was previously a building owned by the Office of National Statistics," he adds. "We crushed the demolished material from that, utilizing it as part of our build. It's not something we've begun recently, or because it's fashionable; sustainability has always been at the forefront of our thinking."
No discussion about construction is complete without an acknowledgement of the recent challenges facing the industry, with the protracted Brexit saga followed shortly after by more than a year of pandemic-induced disruption. But against the odds, the outcome for Trojan has been overwhelmingly positive. "In 2020, we were shut down for an initial 12 weeks," David reflects. "But that's nothing compared to the huge growth we've seen since, particularly within the drive-through sector, which managed to remain open for a far greater portion of 'lockdown' compared to conventional hospitality. As a result, drive-throughs became viewed as somewhat of a safe bet for developers.
"Our 2021-22 turnover rose £4m on that from two years before, to £10m," David tells us. "For the coming year, that amount has already been secured. This year, if we had the ability to take on everything we're being asked to do, we could easily treble or quadruple that total."
There's a note of caution, however, as recent events in Europe impose yet more uncertainty. "Who knows what's going to happen as a result of the war in Ukraine," David remarks. "Fuel prices are already rocketing. If people are struggling to pay their rising bills, they won't be taking luxury trips to drive-throughs. We expect those issues to be compounded by the government's ban on 'red' diesel, due to come into force this April. As well as the likely increase to our costs, there could be issue of potential theft. As a result, there have been a number of petitions and lobbies seeking to prompt a U-turn."
"We'll also face challenges when it comes to sourcing our materials," Shaun indicates. "We shifted to Siberian Larch a couple of years ago, after forest fires prompted Canada to stop exporting timber. As the situation with Russia develops, we may well have to look at yet another alternative."
Amid the uncertainty, however, Trojan remains upbeat. "When we set the business up ten years ago, we didn't know it was going to get to this size," David concludes. "We remain a relationships-based business, with an open culture. That's reflected in our approach to customers. Our challenge is to maintain that, growing within our means, and preserving our quality and reputation."
Trojan Construction Management
www.trojan-cml.com
Services: Drive-through, industrial and retail construction