With roots dating back more than a century, since 1998 TROX HESCO Schweiz AG has been part of the TROX GROUP – a world-leader in the development, manufacture and sale of ventilation solutions
The art of handling air
With roots dating back more than a century, since 1998 TROX HESCO Schweiz AG has been part of the TROX GROUP – a world-leader in the development, manufacture and sale of ventilation solutions
Since the company was established in 1863 as H. Hess & Cie, TROX HESCO Schweiz AG (TROX HESCO) has built a reputation as an industry-leading partner in the development, manufacture and sale of components, appliances and systems for ventilation applications. The business was founded in the municipality of Dürnten as a locksmith's workshop, producing door and window fittings and has since adapted and grown into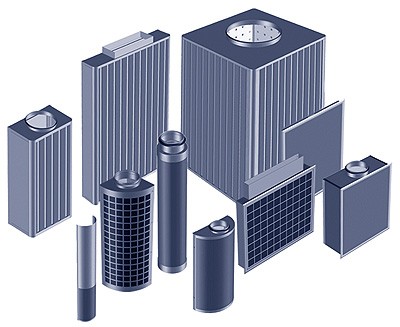 a successful venture.
"TROX HESCO is a 152 year old Swiss company, which makes it very special as many companies have not existed for such a long amount of time. The development of the business has been the result of having in all these years a management team that was able to adapt its sales and production capacity to address existing market conditions," explains Managing Director, Christian Frei. "Sixty-five years ago the decision was taken to work within the ventilation market, through the manufacture of air ventilation components and the business has continued to evolve in this sector. Presently we have a stable head count of around 120 employees in Switzerland."
Today TROX HESCO delivers its products and solutions mainly to local companies and contractors but also globally to large businesses. The applied TROX production system excels through the application of advanced high-tech equipment that fulfils the highest demands of both the company itself and its clients. This allows it to develop solutions that are of outstanding quality as well as being energy efficient. TROX HESCO works in close collaboration with its suppliers to jointly develop and configure dedicated equipment that meets the demanding requirements of the company's customers.
"We are very proud of the way that we develop new products to be ahead of the market and the company's ability to manufacture these in-house which results in being able to offer a complete range of products ranging from air handling units to air outlets, including VAV controls, fire dampers and many more," says Andri Nicolai, Head of Business Development. "We maintain a comprehensive range of standard solutions and are also able to create tailored solutions from this base."
Christian adds: "We are a trendsetter that provides innovative products, systems and services in ventilation and air conditioning. We also have a lot of internal competences in offering expert consulting and service. This applies to training; we have a number of people ranging from clients to engineering houses that come to TROX HESCO for training in the application of our products. We are a Swiss manufacturing company that embodies high product quality, reliability and rapid, on-time delivery times."
The latest product releases of TROX HESCO include the residential air control unit (THWLB- C), which is a compact air control unit for distributing centrally prepared air as required in any residence like office or apartment buildings. Built-in supply air and extracted air controllers achieve the required volume flows in any living area and moreover, reduce the noise level. "The TH-WLB-C is a special system for the regulation of air," Christian says. "This means that clients are able to manage the desired temperature and air condition in their office or living room. This is an important product because we were able to reduce its size without compromising its efficiency or acoustic protection. It is a compact product that is still able to deliver exactly what the client needs."
TROX HESCO also manufactures displacement flow diffusers that have been developed specifically for air supply in displacement flow ventilation systems. These displacement flow diffusers are not inductive and therefore used where good ventilation efficiency is very important for ensuring optimum thermal comfort in work areas and occupied spaces. A wide range of different shapes and cover designs ensures that they can be effectively integrated into the interior design. Displacement flow diffusers are placed in prestigious projects around the world, like the new government building in Ankara, as well as in many airports.
To allow the company to develop bespoke air ventilation systems and to provide the most effective and relevant components, TROX HESCO also employs consultation and close dialogue with potential and existing clients to arrive at the best solution. "Part of the company's service offering is to provide our clients with consultancy over the phone," elaborates, Head of Procurement, Bernardo Agostini. "Customers ask for our support and we can give them the best information so that they get the right technical solution. We can also develop a tailor-made solution for a customer's specific building. This leads to better results and is an integral role of our sales staff."
The development of these products in standard and bespoke configurations ensures that TROX HESCO maintains a leading position in the manufacture and supply of ventilation solutions. "Our vision is to solidify the company's position as a leading supplier and manufacturer in building technology for user friendly and energy-efficient systems designed to enhance the safety and ensure well-being in rooms for all kind of properties,"
Christian concludes. "As long as we remain flexible and reliable, TROX HESCO will continue to add value to both its customers and its own employees."
TROX HESCO Schweiz AG
Services: Develops, manufactures and sells components, appliances and systems for ventilation applications