Hard work pays off
Offering one of the widest selections of quality plant equipment and operational support services in the UK, Tru7 has become a go-to partner within the construction and civil engineering niche
The name Tru7 is born from luck. Seven years ago, Guy Nicholls founded the plant machinery and equipment specialist and chose that name because seven is his lucky number. He even admits to being rather superstitious about it.
However, one thing is certain: the success that has followed Tru7's founding has nothing to do with luck. Rather, as he will be first to admit, everything that the company which Guy now serves as CEO for has achieved comes down to something much simpler: hard work.
After selling a previous, successful business, Guy was left in limbo due to a non-compete clause from the buyout. In the background, however, the wheels kept turning. That is when, after two-and-a-half years of brainstorming, Tru7 was born.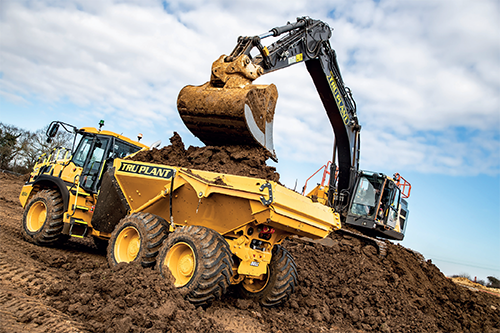 "It started off as a recycled tipper business," Guy remembers. "We had some very heavy equipment that we rented out and, slowly but surely, things got busier and busier. Matching the demands of our customers, we started offering various different types of plant equipment and just expanded the business from there. Today, we have more than 2000 items available to hire. Needless to say, we are very busy."
When you consider that Tru7 recycles more than 75 percent of Suffolk's construction and demolition waste alone, that does not entirely come as a surprise. "We see about 10,000 tonnes of aggregates recycled and versioned every week," comments Guy. "In 2017, we bought a demolition company to branch out. Then, in early 2021, we signed on a ready-mix concrete business, which is on course for pouring around 130,000 cubic meters of concrete in its first year of business, and that now operates at three different sites. Starting from September we will also begin our work in ground stabilisation, and we are currently busy amassing a team to lead on that endeavour."
Tru7 stands out for many reasons. As Guy has pointed out, to start with, it has numerous divisions operating under its flagship banner. TRU Plant, for instance, offers one of the UK's widest ranges of premium plant hire and equipment: excavators, dumpers, dozers, dump trucks, rollers, crushers, screeners, loading shovels, bowsers, lighting towers, and dust suppression – the list goes on.
If something is needed, then chances are that Tru7 will have it; if it does not, then chances are that it will be able to procure it. Other brands that operate under Tru7's name include TRU Mix, TRU Agg, TRU Earthworks, Tippers R Us and Clarke Demolition Company.
For Guy, however, what makes the company stand out is not so much the scope of services as it is the base portfolio of machines that it is equipped with. "We run the most modern fleet of trucks and plant in the UK," he states. "There is nobody even close; our average tipper truck is less than six months old – and that is the same with our mixer trucks. They are all brand new, and we like to keep them that way. In fact, we have already signed off our 2021-plate models and purchased newer ones.
"We have a fantastic senior management team, and we have worked together for a number of years," he goes on. "The company is all about looking after people: both our employees and our customers. The entire business is based upon them. We do not come second. If there is a problem, then we will tell the customer before they tell us; if we make a mistake, then we turn it around and make it right. We do not mess about. That is how it used to be 40 years ago; however, that model of work seems to have been lost. Today, it is all about profit and what figures the company had for this quarter. Yes, we have to focus on that. But, for us, it is all about service. There are no two ways about it."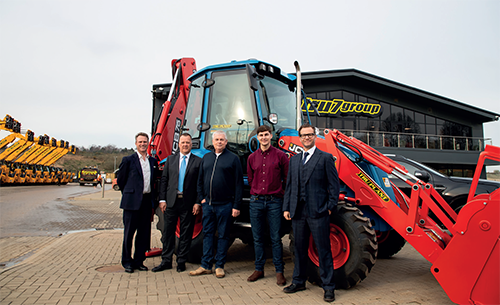 Though, as Guy suggests, that model might be how things were done four decades ago, it is certainly still working. Indeed, Tru7 has grown year-on-year since 2015 and, in the last 12 months alone, has seen its turnover rise by a whopping 44 percent.
"The pandemic forced a lot of businesses to slow down or to stop entirely, but we are not going to slow down, and we are definitely not going to stop," affirms Guy. "We have invested a lot of money, and we only ever offer our customers the best equipment that is available. We do not do things by halves. Most companies rent out cheap trucks or dumpers and they will send those same units out for over ten years. Whereas we are already selling our one-to-two-year-old models off because we strive to always have the newest pieces of kit in our collection. That might affect our profits, but it is also my hobby. I find joy in seeing the latest model turn up on site covered in our logos – that and, of course, all the plaudits we get from our customers.
"We are able to procure these latest models through our successful commercial relationships," he adds. "For instance, we have always had a working relationship with Volvo UK, but by being a good, communicative partner, that relationship has only got stronger over the years. So, as a result of that, we now have many Volvo trucks and excavators. In the last three-to-four years, moreover, we have partnered with Komatsu, bringing on board their line of intelligent dozers. Consequently, Tru7 now stocks the largest and youngest fleet of them in Europe. We also work closely with Thwaites, who, without a doubt, make the best dumpers that money can buy. However, all relationships have their problems. Machines have problems, too. People often let themselves down when these issues arise. If there is a problem, then it needs to be sorted out right away. That is our philosophy, and we only work with people who share it. It has served us well thus far."
Tru7 has also received plaudits from the local communities it helps through financial donations and sponsorships. Loyal to its East Anglian roots, the firm has raised significant funds since its founding for organisations such as St. Elizabeth Hospice, GeeWizz, the Motor Neurone Disease Association, and the East Coast Hospice. It also sponsors the Ipswich Witches and the Sheffield Tigers Speedway Team.
"We give well over £100,000 to charitable causes every year," reflects Guy. "We turned over £75 million this year and next year that figure will be closer to £100 million. It goes without saying, then, that we are very lucky people. We know this, and that is why we want to give back. If anyone here has a baby, then I immediately give them £100 out of my own pocket and tell them to buy the child a premium bond. My father always did that with his employees, and I have carried that tradition on. If someone gets married, for instance, then I will also lend them my Rolls Royce for the wedding."
As has been made abundantly clear throughout the course of our interview: hard work pays off. "We started Tru7 with nothing," concludes Guy. "In fact, for the first two years, we worked out of three shipping containers that we had converted into tiny offices. Reflecting on those times keeps you grounded. It also reminds you there is only one way to go: up. I cannot tell you what our future holds. One thing I can tell you, however, is that we will never stop. We will never stop working hard, and my son, Jake, who now serves as Managing Director at Tru7, will continue that legacy."
Tru7
https://tru7.com/
Services: Plant machinery equipment and operational support services