A leading, multi-disciplinary construction company based in the west of Scotland, TSL Contractors has been offering a range of integrated services to a varied client base for the best part of 40 years
Constructive thinking
A leading, multi-disciplinary construction company based in the west of Scotland, TSL Contractors has been offering a range of integrated services to a varied client base for the best part of 40 years
When James and Audrey Knight established Torosay Sandpit Limited, Mull and Iona's first quarrying company, in 1979, even they probably couldn't have envisaged the transformation it would undergo over the next four decades. In the years that followed, the company would gradually add further services and capabilities to its portfolio, including a haulage and plant hire service, the supply of ready-mix concrete, an expansion into civil engineering, and the building of its own workshop to carry out plant and goods vehicle maintenance. Then, in 2001, the company would make its first foray into the building sector, officially becoming known as TSL Contractors Limited (TSL) in the process.
Whilst its capabilities may have evolved over the years, what has remained consistent is that the company has been a vital service provider to individuals, businesses and organisations in the west of Scotland. Today, TSL operates from four locations, in Mull, Oban, Fort William and Arrochar, and boasts a broad customer base that includes national contractors, large public and private sector clients and numerous individuals.
"We are essentially still a family business, operating with the same values, professionalism and commitment to the local community that we have held for almost 40 years," begins Company Principal, Andy Knight. "We are proud of the incredibly diverse customer base that we have and we make it a point to engage constructively, honestly and transparently with all of those with whom we work, getting a clear understanding of their requirements in order to deliver quality services at reasonable prices."
In the last decade in particular, TSL has expanded organically by continually exploring and identifying new market opportunities, and by adding further construction related services to its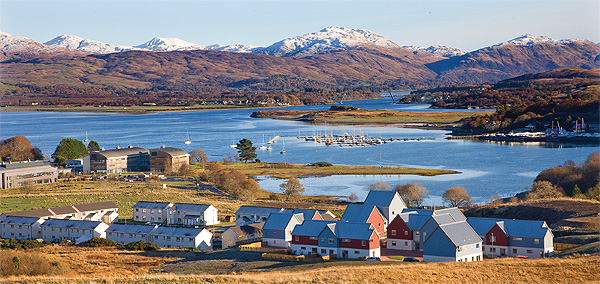 offerings. Recent additions include the formation of Mobile Concrete Solutions (MCS), a mobile concrete batching facility providing on-demand concrete anywhere in the country in 2012, and the establishment of Skyhook Helicopters in 2014. In the case of the former, MCS was set up as a 50/50 joint venture with Breedon Aggregates (Scotland) Ltd, the UK's largest independent aggregate company, whilst central belt based Skyhook Helicopters has proved both versatile and adept at "accessing the inaccessible", as the company's fitting strapline goes, by transporting underslung loads by air to serve businesses working in the most remote and inhospitable locations, where land based transport is either impractical or impossible.
"When it comes to our growth over the years, we have always looked to align TSL with the gaps or opportunities we identify within the marketplace that we believe to be both worthwhile and complementary to our core offering, as was the case with both MCS and Skyhook," Andy explains. "Both of these particular ventures have since proven to be very successful in their own right, becoming important parts of the business by not only being used internally on complex contracts that TSL has undertaken itself, but by also contracting out their respective services to third parties. The diversity these entities give TSL also helps to provide the business with a much more stable financial platform and a greater flexibility to take on our own challenging projects."
Projects undertaken by TSL over the years extend into a number of fields, from civil engineering contracts, involving piers, bridges and water supply infrastructure, and community buildings, to social housing developments and bespoke dwellings. The company has also displayed considerable expertise when it comes to delivering hydro-electric schemes. In fact, TSL has the distinction of being the lead contractor on the largest hydro project to take place in Scotland in recent times, the Pattack Hydro Project.
"The Pattack Hydro Project is a 5MW scheme located on the Ardverikie Estate near Loch Laggan", Andy explains. "This was a significant project for us, involving a lot of mobile batching and pipeline installation, including a 6.5-kilometre pipe used to transfer water from a large dam to the powerhouse, and is definitely one of our most notable and rewarding accomplishments in terms of the way we engaged with the client. We were contracted by the developer Gilkes Energy and worked very closely with their project managers throughout to deliver the desired end result both on time and to budget. We take pride in our ability to nurture constructive, supportive and symbiotic relationships with all our clients in the pursuit of a shared end goal and in this particular project we demonstrated, to ourselves as much as anyone else, that TSL is more than capable of running a project of this scale."
Future hydro projects feature heavily in TSL's list of forthcoming work, with the company partnering with SIMEC Green Highland, formally Green Highland Renewables, on several different contracts due to commence in the coming months in the Oban and Lochaber areas. In addition, the company has a number of housing and construction projects that will continue to progress to plan, as will phase two of its refurbishment of the iconic Iona Abbey on the Isle of Iona, one of the oldest Christian religious centres in Western Europe.
Perhaps understandably, enquiry levels for TSL's services are in good health as we head towards 2019, and the company now hopes to capitalise on this interest further still with the appointment of a new Managing Director, Ian Lumsden. "Ian joins TSL from Balfour Beatty's North Scotland business, where he worked for almost 25 years," Andy states. "Ian brings with him a wealth of experience, exciting new ideas and a strong commercial background, which will definitely strengthen our construction management capabilities going forward. We also believe that Ian's appointment will help to open the doors to more opportunities in fields such as the healthcare and education sectors, which are two areas of particular interest for us.
"We have invested heavily in our management structure in recent times, and 2017-18 has been something of a period of consolidation for TSL. With many of the key elements now in place, we can look forward to pushing on in the coming years towards our aim of being a £30 million business, recognised more than ever before for our ability to take on and consistently deliver high value contracts across varying industries."
TSL Contractors
Services: Integrated construction services