For over 160 years Tuchschmid has provided industry-leading solutions for unique construction projects
Tradition & innovation
For over 160 years Tuchschmid has provided industry-leading solutions for unique construction projects
The company is one of the most modern steel and metal construction companies in Switzerland. Considered a pioneer in the Swiss steel construction market, today the firm retains an outstanding reputation, which gives it a strong base on which to build its future.
Although Tuchschmid works as a specialist construction company, the key product that it sells is expertise. With a history of family ownership dating back to 1849, the company is able to demonstrate a catalogue of successful projects and a universally regarded level of experience that distinguishes it from competing organisations. "Tuchschmid has continuously developed and improved since it was founded, and we now are specialists in challenging steel and glass and metal projects at home and abroad," confirms managing director Tobias Hohermuth. "One of our success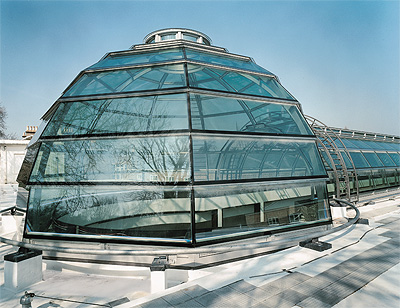 factors has been to deliver innovative ideas and process solutions that address technical problems. We are very innovative and this was the key to success in the past and will be into the future. A pioneering spirit is embedded in our culture and furthermore, as a cost-driven business we always try to do things more effectively and intelligently.
Tuchschmid is renowned for the capabilities that it offers across several different areas. "Our skills in metal and glass reflect that we are not a basic construction company, but nor are we an engineering company, we are somewhere in between," said Tobias. Its competencies include planning, production, installation and maintenance, which cumulatively have enabled the company to deliver stunning steel and glass structures, skylights, halls, bridges and even artworks and several other developments.
Within the UK the company has participated in many high-profile projects. A few examples in London are at the Royal Botanic Gardens Kew as well as at the former Millennium Dome (now the O2 Arena) and the entrance to the crypt of St. Martin in the Fields at Trafalgar Square. This was a technically challenging project as it called for the construction of a pavilion comprised of two intersecting glass circles, which formed the structural base. The crown of the pavilion was a ten-ton stainless steel double domed roof that was solely supported by the 4.59 metre high curved glass wall below.
The execution of projects involving some of the UK and Europe's most prestigious public spaces naturally requires first-rate engineering and architectural knowledge. With this in mind Tuchschmid works in close association with engineers and architects to ensure that all of the materials and techniques that it supplies are suitable and properly installed. "We always work with our clients to ensure there is a full understanding of what they want," says Tobias. "We work with the architect or engineer to help develop structures and are respected by them because they know that we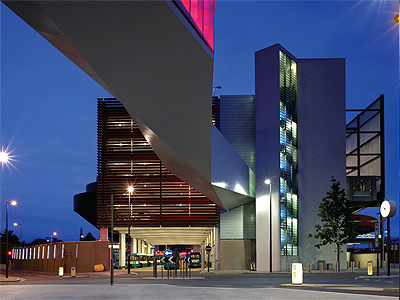 have experience and bring added value to the project. There are often very many specific fabrication challenges associated with the design that we are able to address, so together we can develop some very impressive, unique structures."
These projects reflect the turnkey nature of the services that Tuchschmid is able to supply as Tobias is quick to point out: "We work with steel and architectural metal, steel is more closely related to the load bearing elements of the structure while architectural metal is more on the cladding and decorative side. Most companies can offer either one or the other of these services but we can offer both to a very high standard. This provides a huge advantage to the client as they are avoiding the complication of dealing with multiple companies for the same project."
As well as its excellent track record and extensive portfolio of landmark projects, Tuchschmid maintains an uncompromising eye for quality to ensure that its clients are satisfied first time, every time. All of its planning, fabrication and installation teams are based in its facilities in Switzerland. When the time comes for products to be installed at the project location, the company will send its own team to carry out the work. "We have a very keen interest in doing everything ourselves," says Tobias. "We believe that projects should be carried out in-house as this reduces the need for interface between multiple contractors, and this means we can operate much more effectively."
As 2014 draws on and the construction industry begins to recover from the impact of the global financial downturn, Tuchschmid is ready to recover the ground that was lost post-crash as Tobias concludes: "Today the volume growth is looking good and the trends appear to be positive. We sell in a niche market and this means that the increase in construction in general may not reflect what projects we will be asked to participate in. But there are definitely more projects on the market now and we would be very happy to build more in the UK!"
Tuchschmid
Services: Steel & metal construction