Tunnelling and Underground Space Association
With the tunnelling industry undergoing a global revival, the International Tunnelling and Underground Space Association (ITA) is continuing to support and encourage those in the industry while also promoting the economic, environmental and social benefits of utilising underground space
Ground-breaking developments
With the tunnelling industry undergoing a global revival, the International Tunnelling and Underground Space Association (ITA) is continuing to support and encourage those in the industry while also promoting the economic, environmental and social benefits of utilising underground space
Formed through the initiative of 19 nations in 1974, the ITA has developed considerably over the last 40 years to ensure a strong platform is provided to its 75 member nations that allows them to work together in a way that promotes the advances of tunnels and underground space. Any independent nation, many through the medium of a national organisation, can become an ITA member nation, while corporations and individuals can also participate in association activities when they become an affiliate member. So far, ITA has gathered 300 corporate or individual affiliate members, with some of these becoming prime sponsors or supporters.
Committed to sharing knowledge that will benefit newcomers to the industry, ITA has large associations in locations such as the UK, France, Italy and China where a notable amount of tunnelling developments are taking place. Discussing the growth within the tunnelling industry on a global scale since the association was previously featured in Construction & Civil Engineering magazine in December 2016, Tarcisio Celestino, President of ITA-AITES, comments: "I would say that the growth of the market that was around five per cent per year is progressing to at least two times more than in the overall construction market. This is due to tunnelling projects taking place in every country across the world. China, which is by far at the forefront of tunnelling projects, continues to have a tremendous need for transportation, for which it is building thousands of kilometres of high speed railway lines and metro networks in smaller cities with less than four million inhabitations. Meanwhile, in Europe, particularly in the UK, France, Norway and Turkey, the tunnelling industry is booming and will continue on at this pace for the coming years."
Another notable area of growth is Nigeria, which has been admitted as the 74th ITA member nation, the first sub-Saharan country to join ITA. With a population just shy of 200 million, which is anticipated to reach more than 400 million in 2050, the use of underground space for water, sanitation and transportation is an absolute necessity for Nigeria. "With the admission of Nigeria, ITA will continue to promote the use of underground space in that part of the world," says Tarcisio.
With significant growth set to continue within the tunnelling industry, ITA is in the process of updating the ITA strategy and has a number of strategic goals defined: to consolidate/activate member nations, particularly newly joined member nations; improve communications and functioning of working groups and committees, expand industry relations, encourage knowledge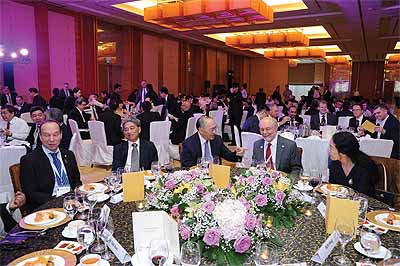 sharing through education and training; expand the activities of the ITA Young Members Group, promote the use of underground space and improve the communications towards member nations, the industry and public.
Additionally, the organisation has remained focused on its vision of constructing tunnels, on time, to budget and with no casualties in the face of price-conscious private investors, with little experience of the tunnelling industry, entering the arena. Discussing the importance of risk assessment and maintaining high standards throughout a project is Tarcisio: "Risk management has made tremendous progress in the last two decades. ITA is proud to have contributed in publishing different reports and guidelines that are being followed all over the world. The result has been very good in terms of decreasing incidents. But of course, there is always space for improvement and our different working groups and committees are striving to take into account all of the new knowledge in regularly updating and informing the tunnelling industry.
"Our industry is always challenged because its specificity is to be able to cope with the ground that is never known at 100 per cent when you start building a tunnel. Therefore, the industry needs to be innovative and must always progress in order to be able to build tunnels safely and at a reasonable cost."
Looking forward, the organisation has the third edition of the ITA Tunnelling Awards taking place in November 2017; taking place in Paris, it has received more than 70 candidacies for the nine categories from 28 countries. "During the summer of 2017, the panel of judges selected three to four finalists in each category, presenting projects and initiatives from all over the world. We expect a very successful edition, as the awards ceremony and conference will be held during the AFTES (French Tunnelling and Underground Space Association) congress."
With the use of underground space becoming increasingly more necessary, ITA will continue to help its 75 member nations to develop their activities, share knowledge and promote underground space as a safe and reliable solution. "As ITA we need to support our members and present good and successful projects and initiatives," Tarcisio concludes.
ITA-AITES
Services: Supports and encourages the tunnelling industry and promotes the use of underground space