By Alasdair Stables.
UK construction has seen significant growth in over the past 12 months, with the industry expected to add more than £12bn to Britain's economy over the next two years, according to research conducted by the Construction Products Association, and sector growth estimated to increase by 23 per cent at the end of 2018.
As a result of this upward turn, there has been increased demand for simple and timesaving solutions that can be tailored towards each project and help contractors meet tight deadlines. Pre-assembled and transportable formwork has played an important part in some of the past year's biggest projects.
Regeneration
In recent years we have seen a gradual rise in the regeneration of inner city areas, which includes London Dockland's new residential development, New Providence Wharf, as well as ambitious projects taking shape after years in planning with the Queensferry Crossing a perfect example. Each of these projects has one thing in common: a need to conduct a smooth execution of all working operations.
Using the correct formwork and scaffolding solution is key to the success of a project. All of our solutions are tailored to our customers' needs, meaning that contractors can receive equipment on-site that provides the right solutions no matter what the size and scale of a project. Pre-assembled equipment, for example, ensures that no time is lost in erecting and dismantling supportive formwork, a great benefit when it comes to managing manpower and meeting tight deadlines.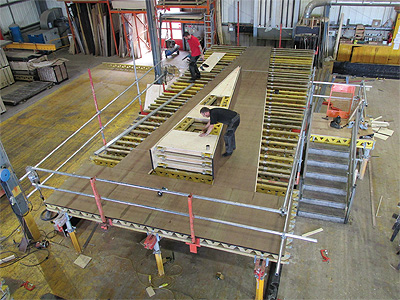 Birmingham city centre – new car park and retail space
To overcome tight working conditions, PERI supplied its MULTIPROP table system, which was pre-fabricated off-site at its Rugby depot. This meant that the MULTIPROP tables were delivered to site ready-to-use. In total 124 tables were fabricated off-site and easily moved from floor to floor using PD8 trolleys.
The MULTIPROP legs and frames were already in position when the ready-to-use tabletops were delivered to site. This demonstrates PERI's technical expertise and unique resources, which were not matched by any other formwork supplier working within restricted spaces.
New Providence Wharf, London – new residential tower block
This build used a complete range of PERI equipment, including its RCS-C climbing system with TRIO Panel Wall Formwork, which has all been engineered towards construction specifications. This meant that time was saved and safety was assured by achieving greater support from the formwork as the tower progressed in height on the construction of the 45-storey residential tower.
Pre-assembled and transportable formwork elements such as slab tables, special column formwork, architectural fair-faced formwork or customised formwork, have become very popular. PERI provides these services within its state-of-the-art assembly halls at its head office in Rugby. Here, highly qualified personnel work with optimally designed machines and equipment to ensure cost-effective solutions for even the most unusual architectural requests.
The assembly service PERI provides offer several advantages, including the reduction of mobilising equipment on site, ideal for locations such as city centres where space can be limited and, in some cases, storage non-existent. The Midlands-based fabrication service means clients save time and labour costs as no site assembly of equipment is necessary, and customers can order the products on a 'just in time' basis. This approach has been welcomed by many inner city project managers, as well as infrastructure builds where space is a constant obstacle when planning the solution.
With having the formwork pre-fabricated at PERI, costs can be monitored closely and quality assured under controlled conditions, which cannot be replicated on site. A further important advantage is the increase in safety, as the equipment is being assembled by PERI experts. Therefore, it's no surprise that we are seeing more firms approaching us for economical optimal system equipment for each application and we predict that the demand for such services will continue to set us apart from the competition.
Alasdair Stables is Managing Director at PERI Ltd UK. PERI offers a comprehensive product range and has vast experience in the development and manufacture of formwork and scaffolding systems tailored to customers' needs. As well as materials, PERI also provides a comprehensive range of services, including site assistance and an assembly service, which has seen many projects combat challenging conditions and save resources.
For more information, please see www.peri.ltd.uk