Unlocking the golden thread
Awareness and usage of Building Information Modelling (BIM) has accelerated dramatically in recent years. Research shows that the adoption of BIM has risen from 13 percent in 2011 to 71 percent in 20211, with another quarter planning to implement it within the next five years.
BIM is revolutionising the way we build, providing the tools needed for more efficient planning, design and building processes. As adoption has increased, the technology has also developed to support the evolving needs of the industry, with platforms now more sophisticated than ever before.
The evolution of BIM technology has coincided with the tightening of building regulations, with emphasis placed on the 'golden thread' approach outlined by Dame Judith Hackett in her report, 'Building a safer future'.
She recommends the introduction of a 'golden thread' as a tool to manage buildings as holistic systems, and allow people to use information to safely and effectively design, construct and operate their buildings.
Essentially, the 'golden thread' is both the information that allows you to understand a building, and the steps needed to keep both the building and people safe, now and in the future.
The third and latest update to the 'Building a safer future' report evaluated the progress made by the built environment industry towards achieving positive changes in culture. It concluded that meaningful, lasting change requires visible leadership and collaboration, with transparency and responsibility central to all decision-making.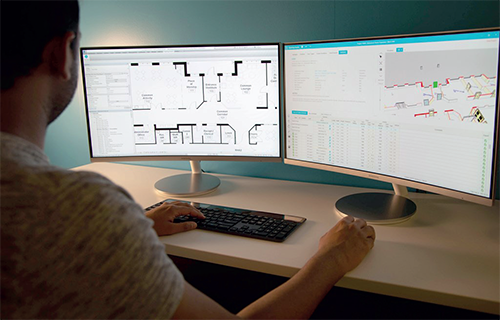 BIM has the ability to create greater transparency and produce this 'golden thread' of information, allowing building elements such as doorsets to be managed through a single platform – from specification to installation and ongoing inspection.
BIM applications also help to lock in positive behaviours from the very start of a project and support an increase in trust and confidence that safety is paramount throughout a building's specification, construction and maintenance.
BIM integration with design software
With this in mind, ASSA ABLOY's Openings Studio™ BIM application integrates with design software to create and visualise openings for complete door, frame and hardware schedules and specifications.
This enables seamless extraction of door design intent and all relevant interfaces to assist fabricators to seamlessly develop complete door requirements that meet building regulations.
Product information, performance data and budget information are captured within the BIM design environment, and through real time, collaborative working, these designs can be validated for compliance, functional performance, and aesthetics plus presented as 3D views that can be fully re-integrated into the overall project design.
With linked internal systems, ASSA ABLOY use this final schedule of information to manufacture the complete doorset solution including the leaf, frame and all specified hardware.
This is a unique collaborative tool for all project stakeholders, helping to minimise costs and streamline the data sharing process throughout the entire project lifecycle – from the initial design, right through to construction, delivery, asset management and beyond.
A holistic solution
An extension to Openings Studio™ has recently been developed, which offers a mobile app that directly accesses this data for use during the door installation process, ensuring full validity of the finished product prior to project completion.
Finally, the app offers an easy to use 'check box' system to carry out and capture detailed inspections based on the specific details of each door included in the schedule.
This report validates if a door has remained compliant, or identifies what elements need to be corrected or replaced to return the product to the standard required, providing full traceability and ownership of all changes at all stages.
This means the doorset is managed as a holistic compliant solution – meeting the expectations outlined by Dame Judith Hackett. Most importantly, it connects all components of the doorset through a single platform, and eliminates the risk that doors are pieced together as an assembly of parts from various sources or maintained and repaired as a collection of individual parts.
Safety and culture change are everyone's responsibility, and in order to combat the fragmented landscape we have at the moment, we need to implement more collaborative ways of working, and BIM could certainly be the key.
1 NBS Digital Construction Report 2021 – www.thenbs.com/digital-construction-report-2021

Paul Thompson is BIM Manager for ASSA ABLOY Opening Solutions. The Project Specification Group, a unit of ASSA ABLOY Opening Solutions UK & Ireland, supports architects, property developers and design-led contractors at every stage of a building project. Working across all major vertical sectors, it has a tailored range of solutions, combined with design capability and market knowledge to support clients from conception to completion.
For more information please see: www.assaabloyopeningsolutions.co.uk/specification.