Vandersanden Group's commitment to customer satisfaction, innovation and highly advanced production capabilities is securing its position ahead of the market
Brick by brick
Vandersanden Group's commitment to customer satisfaction, innovation and highly advanced production capabilities is securing its position ahead of the market
Vandersanden Group started life in 1925 in the small backyard of Jaak Vandersanden in Spouwen, Belgium. From humble beginnings, equipped with only a field kiln and field press where bricks would dry under shelters, the company has steadily grown into one of Europe's biggest suppliers of bricks. The acquisition of Euceram and Mosabrik brickworks in the 80s and of two Huwa plants in Hedikhuizen and Spijk in the early 2000s quickened the pace of expansion. Today, the Vandersanden Group produces around 350 million bricks and turns over 100 million euros a year courtesy of four production sites in Belgium and the Netherlands.
Today's business centres on a wide-ranging portfolio of brick products from traditional masonry blocks to paving bricks and bricked panels, all falling under the well-known Vandersanden, SIGNA,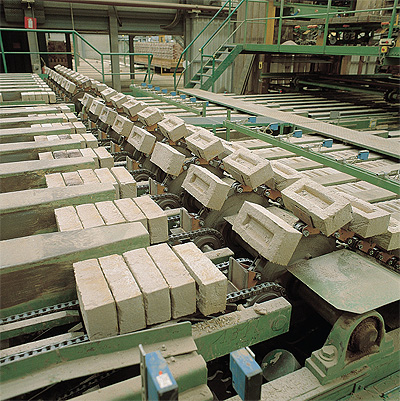 E-Board, E-Brick, Huwa, and Zero brands. "Thanks to this broad offering combined with our highly advanced production facilities we are a very flexible company," explains Operations Director, Bart Van Winkel. "We work across a number of sectors in a range of markets and we try to ensure we give the best service possible to each. We're very open, and whilst our high quality systems can't always compete on price, we occupy a strong position because of our focus on customer relationships and making sure they are secured for the long-term."
Innovation sits at the heart of Vandersanden Group, with a variety of solutions being marketed to help customers from independent DIY consumers right up to professional contractors. It distributes E-Brick and E-Board products, for example, which combine high-grade exterior wall insulation technology with a flexible brick aesthetics. Both offering similar properties, E-Brick is a ready-made system perfectly suited to professionals to install on major projects. E-Board, on the other hand, is aimed towards less skilled home improvers, giving them the ability to create their own functional insulating walls.
Then there are Huwa's paving bricks of which the company produces 75 million a year at its Spijk plant. Using robotic and high-tolerance heat-treating processes, the brand offers a full range of colours and pattern arrangements and can deliver direct to site for easy installation. SIGNA products also make use of robotic technologies to ensure high quality and robust solutions. Vandersanden brick slips are glued to a weather-resistant Rockpanel ready to be installed in a building project. By working closely with architects and clients alike, Vandersanden is able to create a vast range of possibilities when it comes to brick patterns. "The only limit to what we can do with SIGNA is the imagination of the designer," Bart highlights. "Before, we would only produce small panels, 1×1.5m, but we have recently completed a project that required us to produce much larger, wall height panels for a six-storey building project in Antwerp. This meant that we could clad the building with bricks in two days and has opened up the opportunity to develop a larger prefabricated market – it's all about finding out what our customers need and developing our innovations to match."
Demonstrating this commitment to innovation but also to the high quality standards that have afforded Vandersanden with its reputation, this strategic move for SIGNA has prompted further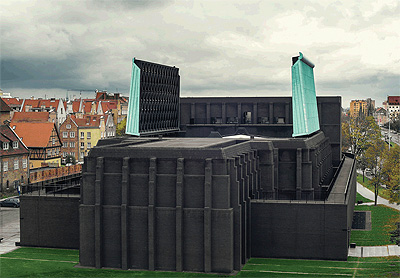 investment into its facilities. With the need to make much larger panels than before, it is now critical that the company can maintain a high degree of control over its gluing process. "If we are going to be cladding tall buildings safely, we need to be absolutely sure that a brick will not fall off and therefore we have invested heavily into making sure we have the right level of control over the gluing process and the right quality control measures in place to produce these results consistently," says Bart. "As such, more robotic lines have been installed, as these are the only way we can ensure the levels of control and precision required."
With such a broad range of products and solutions in place across the business, and with such an exemplary commitment to its customers and users, Vandersanden Group can bring to market a complete package. It recently supplied facing bricks and pavers to the new Shakespearean Theatre in Gdansk, Poland, for example, which in April 2016 was awarded the prestigious Architzer A+ jury prize in the hall/ theatre category. Set amongst a town predominantly made up of red brick, the theatre's strikingly clean black appearance was made possible thanks to Vandersanden's high degree of colour consistency which allowed the walls and floors to seamlessly blend together.
Continuing this commitment to customers will undeniably remain core to Vandersanden's business as it moves forward. Bart highlights a continued effort to talk to customers to understand their needs and tailor its service accordingly, and the company invests heavily into its own people to ensure this service is uniform across the group. "The future will also be about diversifying even further when it comes to innovation," he says. "As a family owned business we do not have an aggressive growth strategy driving us. As long as we can create a sustainable and profitable business in the long-term, performing well for our clients and staying ahead of the market with new products and developments is our top priority."
Vandersanden Group
Services: Manufactures a wide range of brick products