Responsible for some of the most iconic structures around the world, leading ETFE cladding specialist Vector Foiltec is committed to offering more for less
Building the icons
Responsible for some of the most iconic structures around the world, leading ETFE cladding specialist Vector Foiltec is committed to offering more for less
In 1982, Dr Stefan Lehnert developed a technique capable of welding large sheets of ETFE (ethylene tetrafluoroethylene) and the market for building cladding systems opened up. "The company basically invented a way of cladding buildings with ETFE," explains founding partner and managing director, Ben Morris. "Essentially it is a clear polymer that doesn't degrade under ultraviolet light – it's quite an unusual technology but we hold the world's expertise in it, having developed all the major innovations." With a strong technological background driving the company forward, it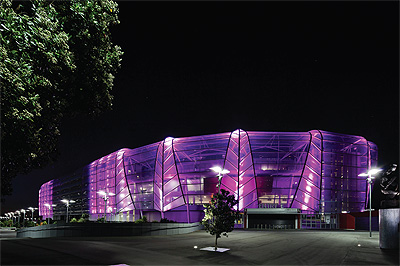 was the Eden Project work in 2001 that catapulted Vector Foiltec and ETFE technology onto the global stage. Now, with innovation at its core, the company has been involved in some of the world's most iconic buildings including The Watercube on Beijing's Olympic park and the world's largest spanning dome over Singapore's national stadium.
The case for ETFE technology is in its versatility and cost effectiveness. "The technology comprises of two or more layers of this UV stable, clear polymer," outlines Ben, "and we inflate the gaps between them with air, thus creating a insulated duvet keeping the building warm, or cool as required. We can treat any of the skins with printed radiation treatments, so you can essentially design the cladding to perform whatever function you want. For instance you can keep the sun out, you can keep the heat in, keep IR or UV out – you can manipulate its performance. By printing on more than one layer, and then moving the layers towards or away from each other with air you can create a skin that reacts and changes to climate. So on a shady day it will let in more light and on a sunny day it can provide some shading."
Parallel to this are the advantages of using the material as an alternative to other building materials. Ben continues: "The nice thing about what we do is that we can deliver a higher performance than similar technologies, like a glazed roof for instance, for less money. When you build anything you are using a limited amount of resources and what is good about this technology is you can cover huge areas with cladding that is less than a millimetre thick in total, so you're using very little material to achieve a huge amount of work. Quite often we can reduce the amount of steel that has been designed into the scheme by sometimes as much as 50 per cent. The technology enables one to spread building movement across the skin rather than concentrating movement joints at cladding panel perimeters. This has enabled us to develop the concept of the soft skin, which spreads building movement across the entire envelope load sharing rather than having to engineer for point loads. This enables the whole surface to load share which can dramatically decrease the amount of steel structure that is needed to keep a building up."
One particularly successful market for Vector Foiltec is in stadiums. "It is a very interesting market because they are very big national, and often international, icons," highlights Ben. The business has a presence at most major sporting venues across the world including Beijing and Sochi Olympic parks, Baku's European Games 2015 stadium and Singapore National Stadium. The latter highlights a particular innovation for the company as it incorporates televisual technology into the cladding by enabling vast images to be projected onto the material. "It creates a vast visual experience, which is what you want with a big crowd of people and it very much enhances the atmosphere in the stadium," Ben adds.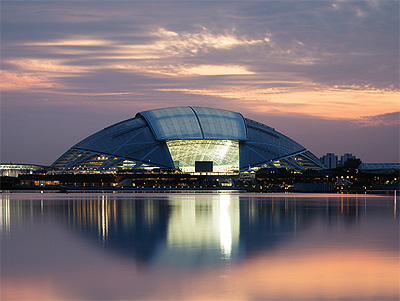 Another significant market for the company is dealing in hot, harsh climates in the Middle East and South East Asia. "These are places where people often don't go outside and there isn't really a public realm like we have in Europe because it's so hot and dusty," says Ben. "We've been building some very big shopping centres which are more like total towns with cafes, bars, playgrounds, restaurants, cinemas and so on. We're beginning to see the rise of the enclosed city in hostile climates. We've built four now around the world including the big cable net structure of the Khan Shatyr entertainment centre in Kazakhstan, Parkview Green Fang Cao Di in Beijing and The Avenues in Kuwait."
Vector Foiltec currently undertakes around 90 per cent of all ETFE projects in the world, but competition is intensifying making trading conditions tough. However, as Ben points out: "We've dealt with it by becoming more and more efficient. We make our own machinery and welding equipment, and have got by far the most efficient factory in the industry. Also, because we're processing so much material we can always beat a competitor on price." With such an international presence, the recent economic downturn in Europe and the USA did not have an impact on the company's activities, yet it still made an effort to improve efficiencies to meet client demands and deliver projects more quickly.
Looking forward Ben remains keenly aware that the market is largely unsaturated, and therefore there is a huge amount of opportunity. "It's really a case of getting the message out and making sure people are aware of what we can do," he concludes. "The vision is simply to continue our growth, and continue to give exceptionally high levels of service and performance to our clients. They are the heart of this business, and our commitment to them has meant that we have earned a lot of loyalty."
Vector Foiltec
Services: Leading ETFE cladding technology company