With unrivalled expertise in the application of ETFE technology, Vector Foiltec is currently expanding its engineering capacity to take on increased demand across the world
Pioneered to last
With unrivalled expertise in the application of ETFE technology, Vector Foiltec is currently expanding its engineering capacity to take on increased demand across the world
Vector Foiltec began life when its founder Dr Stefan Lehnert developed an innovative technique capable of welding large sheets of ETFE (ethylene tetrafluoroethylene) back in 1982. Since then the market for the cladding system has grown rapidly with many iconic projects demonstrating the technology, including the Eden Project, The Watercube on Beijing's Olympic park and Singapore's national stadium. Since Construction & Civil Engineering last spoke with the company mid-2015, demand for the technology and Vector Foiltec's expertise has continued to grow and the company has recently completed major projects at Manchester's Victoria Station and the massive redevelopment of Birmingham New Street station.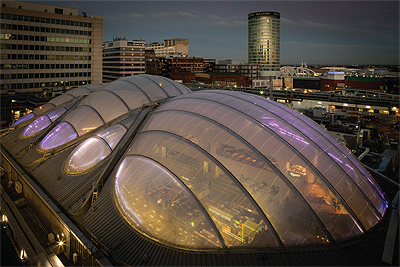 It is not just the aesthetic appeal of ETFE technology that is facilitating this growth, but also the environmental and cost factors involved. Philipp Lehnert, Global Business Manager of Vector Foiltec, explains that as the need for more energy efficient and green building concepts rises, ETFE is becoming more favourable within the market. "The flexibility and versatility of the technology means that we can provide an answer to virtually any requirement surrounding solar heat gain, insulation, flexibility and so on," he says. The material is also fully recyclable and is able to save a lot of structural weight in the final construction.
"As the market grows we are of course encountering more and more competition," Philipp continues. "However, none of the other companies have the long standing expertise and experience that we have been able to develop for ourselves over the 33 years since conceiving the technology and systems around it. When it comes to specific and complex engineering challenges it is this unrivalled expertise and experience of application, not just a theoretical knowledge, that has enabled us to succeed."
Vector Foiltec is very much the pioneer of ETFE structural technology and, thanks to a strong and dedicated team of engineers who are able to think outside of the box, continues to innovate new application, print and foil techniques. Unfortunately, with competition increasing Philipp notes that the company has been forced to withdraw from some tendering processes due to aggressive price strategies by competitors. "Once a project drops below a certain price it can no longer comply with our company values of high quality, expertly engineered solutions and sustainability," he explains. "However, we often find that we are approached at a later stage to remedy the problems that have occurred with cheaper solutions because whilst a competitor might have the knowledge of ETFE technology, they haven't the experience that we have."
Perfectly illustrating this ability to overcome complex engineering challenges, Vector Foiltec was part of the transformation of the former Olympic Stadium, located in London. "The main challenge here was that we had to build the ETFE cushions on to a pre-existing steel structure," Philipp outlines. "This meant that we had to build the penetration points into the cushions and to do this we developed a very unique but demanding mock up system at our manufacturing facility. This way we could test everything and find the most suitable way to deal with every aspect from on site welding, to the penetration point rings, and the inflation of the cushions. It was a very good example of a sophisticated project where our engineering expertise was put into practice."
Similar levels of complexity were met at both the Manchester Victoria Station and Birmingham New Street projects, which both involved the engineering team working closely with its supply partners to have the technology smoothly follow the complex geometries of certain structures."We never approach a project focused solely on the ETFE technology," notes Philipp. "It is important that we can understand the project as a whole so that we can make sure our solutions meet the requirements of the client and their desired purpose for the building. This way we are able to work with other construction partners to create the best end product."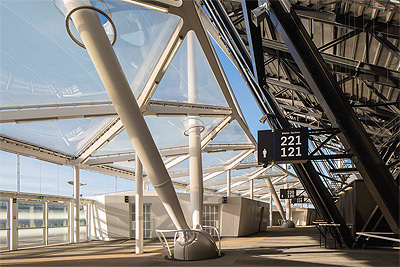 Facilitating the delivery expertise is a very robust and cutting edge engineering capacity. "Alongside off-the-shelf software, we also have a lot of self-developed software and programmes that can optimise the design process and its interface with the production capability,"Philipp continues. "The first welding machines we used for ETFE were originally developed by us as well and this allows us to approach the market very freely when there are very few standard solutions. It is crucial here that we have a good understanding of the machinery we are using so that we can utilise it to weld very sophisticated geometries." Committed to continuing this pioneering presence amidst a growing market, Vector Foiltec is currently in the process of expanding its engineering capacity to cope, and is also focusing on maintaining its training programme as one of the only bodies capable of providing this knowledge to engineers.
Developing the capabilities and capacity within the business will be key to Vector Foiltec taking advantage of the growing opportunities in the construction industry around the world as it moves forward. Philipp points out that the need to create open public spaces in geographies with harsh climates is a growing market, and the company has helped create various shopping centres and public spaces in places like Kuwait and Kazakhstan, thanks to the thermal and lighting qualities of ETFE technology. A growing business in the refurbishment of schools and other institutes is also a key opportunity and is where the company is able to develop a solid base for more standard solutions.
As the original pioneers of ETFE technology it really is little surprise that Vector Foiltec remains the leading contractor for the innovative material. However, it is its consistent dedication to expanding its engineering capacity and delivering truly iconic and incredibly complex solutions that has helped cement this. As architecture demands more and more aesthetically pleasing and flexible solutions, whilst also adhering to tighter and tighter sustainability targets, ETFE remains a leading solution and Vector Foiltec's unrivalled ability to deliver looks set to define its future for years to come.
Vector Foiltec
Services: Globally leading experts in ETFE cladding technology