Portfolio of protection
Verisure UK is Europe's largest domestic alarm provider with more than 3.7m customers in 16 countries
Can a company deliver a feeling? When looking at the operations of Verisure UK, then certainly the answer is yes. "Our main service is 'peace of mind'," agreed Kevin Croft, Operations Site Director. As the leading provider of professionally-monitored smart alarms to residential and small business customers across Europe and Latin America, Verisure UK delivers that feeling of safety, either in the home or workplace, and provides the comfort of knowing that these places are being protected. "We monitor our customers' alarms systems 24/7, and offer fully covered maintenance to ensure they have a perfectly working alarm system at all times," he added.
The company is primarily in Kevin's words a 'service company' – the product is an enabler of the service, so it does not simply 'sell alarm systems' but rather uses state-of-the-art, and in many cases, leading edge technology in order to provide a full service to its customers. In fact, it is this technology that sets Verisure UK apart from the competition, and Kevin shared some details of just how innovative and interesting its equipment can be. "One key differentiator is our anti-jamming technology," he said. "Professional burglars can jam alarms using an easy to obtain signal jammer. We have an exclusive agreement with a provider of an ultra-narrowband network that cannot be jammed. This technology ensures that we have continuous connection to our customers alarm system and can react in all cases.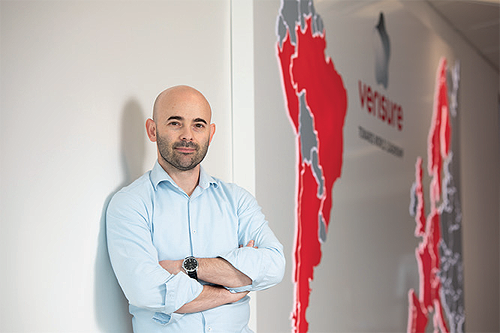 "Another of our key product differentiators is the ZeroVision smoke barrier that completely obscures the sight of a burglar forcing them to leave the property without being able to steal anything," he continued. A simple and yet sophisticated option, the ZeroVision alarm is only activated remotely after the company verifies there is an intrusion by professionals from its NSI-gold certified Alarm Receiving Centre, eliminating the risk of false alarms. Once the alarm is activated, the device expels a dense, bothersome fog that will generate a zero-visibility situation in only a few seconds, impairing the burglar's vision and protecting the premises until the police or guard arrives.
The company also has access to integrated, award winning cameras, thanks to the acquisition in 2020 of the European operations of Arlo. "These enable us to review live video footage in the event of a real incident, giving our monitoring team further information to make the best decisions in each case and dispatch a guard or emergency services as soon as possible," explained Kevin. "Unlike many of the alarm providers in the market (who buy 'off-the-shelf' hardware) we have exclusive agreements with our product suppliers and a dedicated R&D team constantly working to bring new technologies to the market. We work very closely with our suppliers to design, develop and produce quality products that are purpose built for our system. We are constantly working on improving the technology to stay one step ahead of the professional burglars."
As Kevin noted, maintaining a forward vision and anticipating what is needed next in the world of safety and security is a big part of Verisure's operation, and it frequently adds to the range of products in its portfolio of protection. "Later this year we will be launching a completely new product suite that has been designed to combine all the best attributes and features of our current product ranges," Kevin revealed to the readers of CCE. "We will also expand this to include new products that incorporate Arlo cameras to provide functionality not-yet available from any alarm system provider."
Elaborating on that point, Kevin noted that today Verisure UK has photodetectors that allow it to see a series of still images when a device is triggered. "Soon, these will be replaced with video detectors, giving us the ability to review photos and videos live during real incidents," he elaborated.
While Verisure UK may offer the most sophisticated technology, there is still a prevailing human element to its operation, and Kevin quotes the company CEO who summed it up as 'we are people protecting people'. "This is a powerful sentiment that conveys the idea that our employees are just as important to us as our customers. Without top notch employees, we cannot provide best-in-class service to our customers," he emphasized.
Therefore, it naturally follows that attracting the best talent in the market is important to Verisure UK – not just through the creation of Grade-A office environments such as its new Centre of Excellence (COE) in Newcastle, but also through highlighting that what it does really matters – in many instances, its work has saved lives through the interventions it has been able to take. "In many more cases, we have stopped intrusions and thefts and protected the safe space that each one of us has in our own home. That means we prevent that sinking feeling we get when someone has been in our private space and the emotional trauma when sentimental items (like jewellery) have been taken," said Kevin.
"Another driver is that we offer employees a real opportunity for a long-term career. Our MD started out as a salesman, and our COO started as an operator in technical support. We have already promoted employees in the new COE (after only 13 months) to Team Leaders. As the company continues to grow and expand, more opportunities will be available for supervisors, managers and even directors. We always prefer to promote internally if possible and generally only reach out to the market in cases where we aren't able to promote from inside," Kevin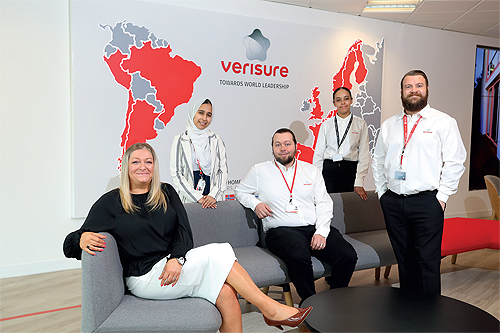 disclosed.
This level of exceptional customer service has to be maintained at all times, to address the growing numbers of clients that Verisure UK serves. "In 2007, we reached one million customers, two million in 2015, three million in 2019 and we will hit four million this year," said Kevin. "Customer satisfaction is at the centre of everything we do. We send out customer surveys after each interaction (call to customer service, alarm triggers, maintenance visits and so forth) to gauge the level of satisfaction in all departments. We use the feedback from these surveys to continually improve our service as well as effectively dealing with cases where things don't go as smoothly as intended. We have recently kicked off a project to implement a system that provides this survey data in live time – so we can get responses from an interaction yesterday and be in a position to take action today. One of our goals is to have a five-star rating on Trustpilot (currently 4.5 stars) and we will not stop until we achieve it."
Given this dedication to both employees and clients, when Covid-19 arrived, Verisure UK had to ensure that it was protecting everybody and this required real leadership. "During the height of the pandemic and especially during the periods of lockdown, our Management Team acted with extreme agility to navigate the constantly changing regulations and guidelines," Kevin pointed out. "We did have a period where we had to put some employees on furlough but for most of the year, we continued to hire new people, train them and get them 'out in front' looking after our customers. Due to the nature of our business (24/7 monitored alarms), we had no choice but to step up and ensure that our growing portfolio of customers was still protected.
"In all of our directly customer facing roles, we started providing PPE to ensure both customer and employee were as safe as possible. In our offices, we implemented every feasible step to keep our employees safe and healthy. This included sending some employees to work from home, spacing out employees who had to work from the office, installing screens around desks, mandatory wearing of masks when moving around the office, increased cleaning and fogging and weekly rapid testing to all employees on site."
This hard work was rewarded, as in the UK, the business managed to exceed its pre-Covid budget and grow the company faster than expected. "This is a testament to the resilience of our business model, expertise and experience of our management team and strength of our employees," credited Kevin.
Having seen the figures and listened to Kevin's description of this thriving business, it is no surprise to learn that Verisure UK is currently the fastest growing security company in the UK, and its ambition is to be the largest within the next five years. "Outside of the UK, we will continue to expand into new countries and further develop our geographic footprint in Europe and Latin America," added Kevin. "We have over 20,000 employees across 16 countries, and have recently been adding one new country per year. Our rate of growth is increasing, and while it took us 19 years to hit one million customers, maybe in the next five years we will have exceeded ten million customers across all of our geographies!"
With such ambitious plans on the agenda, Kevin concluded with some thoughts on one of the biggest challenges that the organisation is facing – human capital. "We have no other restrictions on our growth," he said. "We have a constant need to find talented and dedicated people to come and work with us. All our vacancies are available on our website (https://careers.verisure.co.uk/). We would love CCE readers to apply and come work with the largest provider of peace of mind in Europe."
Verisure UK
www.verisure.co.uk
www.arlo.com/en_gb/home
Services: Domestic alarm provider