By merging long-term experience with innovation, ViaCon Group delivers competitive advantages to customers requiring corrugated steel structures and geosynthetics in road, rail and landshaping projects
Structured growth
By merging long-term experience with innovation, ViaCon Group delivers competitive advantages to customers requiring corrugated steel structures and geosynthetics in road, rail and landshaping projects
Founded in 1986 in Sweden and Norway, ViaCon was originally focused on the sale, engineering and manufacture of corrugated steel structures. Today comprised of 30 companies spread across 18 countries in more than 45 locations, the globally operating ViaCon Group is a well-reputed manufacturer of flexible corrugated steel and plastic pipes as well as corrugated steel structures. Although its core manufacturing plant is based in Rydzyna Poland, where corrugated metal plates, metal and plastic pipes are produced, the group also manufactures metal pipes in six plants in Sweden, Finland, Belarus, Romania, Bulgaria and Turkey. Plastic pipes, meanwhile, are also manufactured in Kaunas, Lithuania.
"ViaCon Group's products and solutions are used in the construction of roads and railways throughout the world and mainly used for the building, strengthening and reconstruction of culverts, bridges, viaducts, tunnels, agriculture passages, animal crossings and bridges," begins Henrik Perbeck, CEO of ViaCon Group.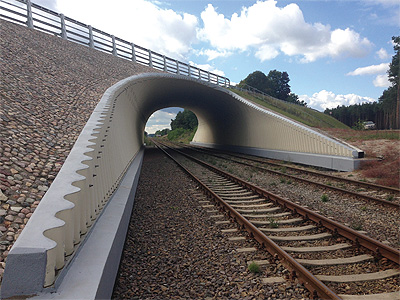 "Our core products are flexible steel structures as well as plastic, steel pipes and geosynthetics," he continues. "For our steel structures, coiled steel is cut, pressed, roll-formed and galvanised in different processes, depending on product and application. Because of the sectors we operate in, high precision and quality throughout production is a key value driver, and thus ensures installation is both fast and safe. Our product portfolio also includes a large range of geosynthetics, which are widely used in hydraulic engineering, drainage, construction, landfills and forestry. The plastic pipes are made from polyethylene or polypropylene and are manufactured on our site; these are used for culverts, gravital sewage systems, storm water and sanitary drainage. We also offer innovative solutions such as underground retention and advanced corrosion protection in addition to comprehensive investment services, ranging from technical advice through design, delivery and installation. Our people are ultimately our strength as they are well educated, loyal, professional and friendly. Many of them are also young, so our strength lies in the ability to combine experience with the desire to continuously improve."
Benefiting from three decades of experience, ViaCon Group has become a European leader in its field and is the sole producer of signature products such as large span structures. A recent example of the group's capabilities is its participation in creating the A2 motorway in Poland, as Henrik highlights: "This is one of the key transportation routes in Poland, 85 per cent of which runs through forest areas; this includes the ones listed in the European ecological network of protected areas Natura 2000. The project divided the natural habitants of flora and fauna and the challenge of this project was to maintain the continuity of the forest environments as well as enable free migration in the ecological corridors. We delivered on these challenges and erected 13 passages for animals made of steel structures and corrugated plates."
On top of this, the group is launching the world's strongest corrugation plate, UltraCor, into the European market, which will allow it to offer bridge spans and cover heights of 30 metres. "We are also expanding our sales and rental stock of temporary and permanent Acrow bridges to service our customers' need in special situations," adds Henrik.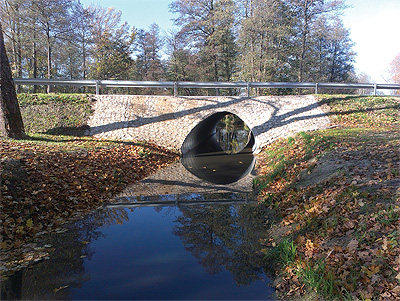 Because of its strengths, the ISO 9001, ISO 14001 certified group has an enviable customer base, including large multinational contractors, national road and railway agencies and small local businesses. However, not a company to rest on its laurels, the group remains focused on the design and engineering of new innovations. This tradition has already resulted in the group's expansion into the aforementioned plastic pipes, geosynthetics and a range of products for water and sewer systems. "ViaCon Group is constantly striving to bring new ideas and technologies on to the market that could improve the production system," confirms Henrik.
An integral part of the group's expanding product portfolio is its R&D activity, which includes active co-operation with governments and universities to create cutting-edge products and solutions. "ViaCon has contributed a great deal to the development of new technologies and has performed more than 20 research programmes on engineering structures to continuously modernise its products in terms of capacity, cost optimisation, quality improvement, new shapes and technological solutions," says Henrik. "Furthermore, ViaCon in Poland is the co-organiser of the European conference of flexible structures of corrugated steel plates in engineering communications. It has been held twice so far and we have already started to invite everyone to visit Poland for the event in 2017. On top of this, the continuous skills improvement of the current and future engineering staff is allowed by the broad-based educational activities that are focused on an engineering and academic environment. It is supported by a number of scientific engineering publications that have been signed by ViaCon employees in collaboration with scientists around the whole world."
Committed to becoming the market leader in all markets it is present in, ViaCon will remain focused on influencing authorities, designers and construction companies into understanding the competitive advantages of corrugated steel structures and the use of geosynthetics in road, rail and landshaping projects. "We will also achieve a leading position by delivering superior engineering skills, supporting our customers and finding the best solution for their requirements. We deeply nourish our tradition of local entrepreneurship to find new products and solutions suitable to our customers, first in a single market, then across the whole of ViaCon's geographical footprint," concludes Henrik.
ViaCon Group
Services: Manufacture of flexible steel structures, plastic pipes and steel pipes. Design and sales of geosynthetics solutions