Victor Buyck Steel Construction
Victor Buyck Steel Construction (VBSC) has a long history of delivering world-class steel construction projects that has led to its involvement in some of the world's most iconic buildings, including London's Swiss Re 'Gherkin' building
Men of steel
Victor Buyck Steel Construction (VBSC) has a long history of delivering world-class steel construction projects that has led to its involvement in some of the world's most iconic buildings, including London's Swiss Re 'Gherkin' building
The road that would eventually lead to VBSC leaving its mark on the skylines of the world's most impressive cities began in 1927 when the company was founded in Belgium predominantly focusing on the construction of agricultural machines. Since its inception the company has remained a family business, but has greatly shifted its focus to become what is today one of Europe's leading construction firms. During 1945 VBSC moved from agricultural machines to steel construction activities through the development of several hangars and industrial buildings, which was the first step in a journey that would see the company continue to expand and develop, as project director Ghislain van Tieghem elaborates: "During 1956 John Buyck, son of Victor Buyck, joined the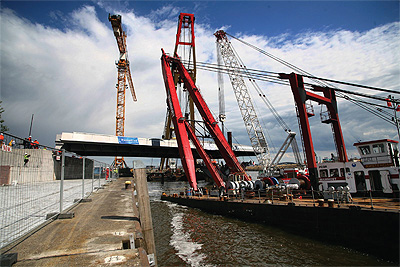 company and over time the size and nature of the steel constructions provided by VBSC grew steadily. When the company took over a production plant in Ghent near the Ringvaart canal, it was able to deliver much larger constructions up to 1500 tons and 140 metres long."
The momentum generated by the move continued and allowed VBSC to expand internationally with projects in Germany, France, Holland, Luxembourg and the United Kingdom. Later during the mid-1990s VBSC expanded beyond it European boarders and built a factory in Malaysia, allowing the company to accommodate projects within the Middle Eastern market. Today VBSC remains a well-respected international steel construction company based in Belgium and Malaysia with a proven track record in both public and private steel contracting markets.
Victor Buyck Steel Construction delivers a fully turnkey package of services to it clients including, project management, engineering, production, corrosion protection and erection solutions. The company boasts several production facilities throughout Belgium that enable it to achieve a manufacturing capacity of approximately 45,000 tonnes per year. Furthermore, a dedicated team of project managers is present wherever needed supporting all of its manufacturing and erection projects to ensure projects are executed exactly to the client's specification and to establish a close working relationship. "Our project management team concentrates all of the available knowledge of VBSC and is at the service of our clients throughout their challenging projects," says Ghislain. "VBSC has also developed its own engineering department, which means that we can assist the customer during the pre-engineering phase as well as deliver workshop and erection drawings. Our engineers use the latest calculation, planning and drawing software and use fully implemented CAD-CAM stations, which are directly linked to the computers in the factory and to those of the clents via an interchange."
In terms of fabrication, VBSC is able to do almost everything in-house with three major workshops in Belgium and a further manufacturing plant in Seremban, Malaysia that each contributes to the company's overall production capacity. VBSC has four units in place for plate cutting and two automated lines for profile work including sawing, drilling notching and blasting. Additionally, the company operates four fully automated welding units for the assembly of decks and welded profiles and all of its facilities are set up to be suitable for a wide range of projects from beams to large structures.
As a leading international steel construction company, VBSC places great importance on its culture of ingenious solutions and an enthusiastic organisation. It is through these values that it is able to contribute to the success of its client's projects by combining know-how, commitment and inventiveness  in the implementation of complex buildings. "At Victor Buyck we cherish our values," Ghislain says. "These values are the basis of our long-term relationships with our clients, civil contractors and with our employees. We like to be proud of what we deliver and our approach focuses on solutions and results. We strive for constant improvement through innovation and as such, VBSC stands out as a company that rises to the challenge."
Although the global economic downturn has led to significant cut backs in construction projects for both government and a publically funded projects, VBSC is cautiously optimistic that the market in the UK is in the process of livening up. Furthermore, the company has delivered projects to Belgium, France, Luxembourg, The Netherlands, Germany and the UK in recent years, including the BP4 building at Canary Wharf in 2013. Outside of these traditional markets, VBSC has also delivered projects in Switzerland, Trinidad, Jamaica, Africa, Quatar, Malaysia, Singapore and Australia. As the company looks to the rest of 2014 and beyond it will work to develop its presence in Scandinavia and Africa as well as expanding to carry out more projects within UK by further taking advantage of its proximity to waterways allowing it to ferry large, pre fabricated structures.
Concluding on what will differentiate as VBSC as it moves into the future Ghislain says: "Client satisfaction is essential for us and clients with several projects do come back to us, which creates a mutually beneficial relationship for all."
Victor Buyck Steel Construction
Services: Steel construction projects