Rightly viewed as one of Europe's most admired* growing companies, Vivalda Group continues to invest in every aspect of its business to stay at the forefront of the dynamic UK cladding market
Clad in glory
Rightly viewed as one of Europe's most admired* growing companies, Vivalda Group continues to invest in every aspect of its business to stay at the forefront of the dynamic UK cladding market
Vivalda Group has every reason to start the year of its 20th anniversary in high spirits. It has been a successful few years for the cladding company, in which it has enjoyed a continued growth against the backdrop of a tough construction sector. During this period, the UK's largest supplier of cladding panels, building boards, and fabrication services achieved an increase in turnover to approximately £40m, all the while investing in new technology and fleet, and acquiring a new business in Scotland. In recognition of these advances, the company was listed as one of the '1000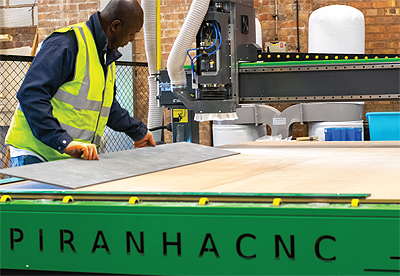 Companies to Inspire Britain' by the London Stock Exchange Group, as well as among 'Europe's Fastest Growing Companies' by the Financial Times.
"Behind these accolades are our inexhaustible drive to innovate, the belief we have in our people, and the investment we place in their development and in new technology," comments Group Chairman Peter Johnson. "As cladding, in particular, and the wider construction industry, as a whole, are going through changes, we have benefitted from the application of concepts such as off-site/modular manufacturing and (Just In Time) JIT delivery, which are giving us an advantage in the marketplace. There is still a long way to go before UK's construction market can be called 'world class', but it is definitely becoming more sophisticated and demands more of a service-led approach, which is good news for us, because these requirements play to our strengths."
Successful acquisition
To a great extent, the redefinition of the construction industry has been triggered by the Grenfell incident in June 2017 and the regulations that were introduced in the wake of the fire. "What we see now, is architects, specifiers, and building owners demonstrating a 'belt and braces' attitude to the adoption of non-flammable cladding on buildings over 18m in height," Peter notes. "Having also observed a significant appetite for non-flammable, solid aluminium and mineral-based façades in the past 18 months, we decided that we needed to focus on the non-combustible cladding market, which led to our acquisition of MSP Scotland in July 2019."
He details the plans Vivalda Group has for MSP in the future: "The company brings fantastic manufacturing capabilities to the group and the team up in Cumbernauld have such passion and skill that all they need is a strategic direction and investment to deliver. We have already driven system upgrades worth of £250,000, as we see some significant growth potential in 2020 for MSP.
"Our goal is to reposition the company's offer from that of a fabricator to a branded solutions provider, which means developing a complete, approved, and tested façade solution, as opposed to its current proposition of simply pressed metal façades supply. Following the acquisition, MSP's products are now available at an additional 11 Vivalda Group sales outlets throughout the British Isles, giving further security for the future of the 50-strong staff in Cumbernauld," Peter adds.
Complete solution
Supporting this significant change in strategy, MSP's powder coating operation will be rebranded as Prism in Q1 of 2020.
"I would be remiss if I did not mention the investment we made in a new fleet of ultra-low emission HGVs as another highlight of the past few months," he continues. "We spotted the shift in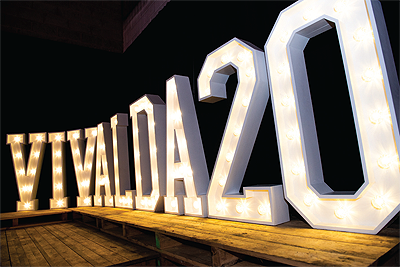 emissions legislation for HGVs (London's ULEZ standard) a couple of years ago and planned ahead to invest in a compliant fleet, so it was about getting the business ready for any potential opportunities and threats. In addition, as the vehicles consume less fuel, we contribute to the environmental cause by reducing our CO2 emissions. It is also important to say that the new curtain-sided vehicles also make it easier, safer, and quicker to deliver prepared/cut-to-size boards on-site, and that is an incredibly useful characteristic of theirs, especially in the light of what the market requires at the moment."
What Peter refers to, is the contractors' need for a 'complete solution' from their partners. He explains: "Contractors with limited on-site space do not like having to cut panels to size on-site as this can create unwanted dust and, more importantly, if they get a small measurement wrong due to a human error, this can add huge cost and time to a project. This is exactly why they are turning to us to cut panels to toolroom tolerances, with us also fitting complex brackets so façades can be delivered and erected within minutes of them arriving on-site."
Knowledge is power
To illustrate Vivalda Group's JIT approach to projects, Peter zooms in on the work the Group's Pura Facades business is doing for the Old Oak Common and Park Royal Development in West London – UK's largest regeneration scheme, sometimes also dubbed as the potential 'Canary Wharf of West London'. "Pura Facades has seen a big rise in the use of glass reinforced concrete (GRC) products from Rieder. The Old Oak Common and Park Royal scheme uses Class 1 non-combustible curved panels, which, notably, we are supplying in complete kit form, including all fixings, to the West London location when scheduled.
"JIT, Total Quality Management, and BIM are yet to truly become part of the construction sector's vocabulary, but we are getting there, which is very positive," said Peter, who moves on to share some of the lessons Vivalda Group has learned in the working process. "I would also single out the realisation that knowledge really is power. We have found out that if we can position ourselves as a knowledgeable and trusted partner within the cladding market, we will continue to grow. Of course, this takes time and investment in our people, as well as in our facilities, and this is one thing we intend to focus on in the months and years ahead."
Together with developing and training its employees, Vivalda Group is also hopeful of introducing new innovations to UK architects and specifiers, which will allow the business to maintain its steady growth and expand its customer network. Peter brings the conversation to an end by delineating his long-term vision for the company: "Clearly, I would like the business to have passed the £50m turnover mark in three-to-five years' time and to have started to look at the £100m level. At the same time, as I personally am advancing into my 60s, I am developing a deeper interest in the philosophy of capitalism, trying to learn how businesses can extend their reach from the narrow issue of customer service to providing for the greater good. That being said, I will be working to see this kind of ethos firmly embraced by Vivalda over the next decade."
* London Stock Exchange report – 2018, 2019
Vivalda Group
Services: Supplying cladding panels, building boards, and fabrication services