In less than two decades, VIVALDA Group has undergone a significant period of growth, during which time it has tackled projects of various sizes and has come to be recognised as an expert in the field of façades
Dynamic decor
In less than two decades, VIVALDA Group has undergone a significant period of growth, during which time it has tackled projects of various sizes and has come to be recognised as an expert in the field of façades
Since it was established in London in 1999, VIVALDA Group has offered a fast, efficient and reliable nationwide service, allowing it to become the UK's leading distributor of decorative rainscreen cladding panels, fixing systems and building boards to the construction industry. With a vast stock of external cladding in various colours, and building and fire boards available for immediate delivery, it is the UK's primary supplier of brands such as Trespa, Marley Eternit, FunderMax, Parklex and Cembrit.
As established façade specialists within the industry, the VIVALDA Group produces a slimlined portfolio of products and is very much recognised as being an expert within its particular field of the construction industry. This expertise has resulted in the company cultivating a customer base which extends from members of the public to blue chip contractors, such as Laing O'Rourke and Bouygues UK.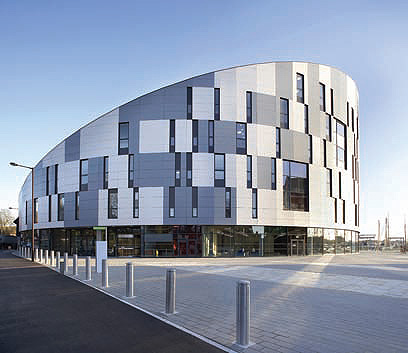 "VIVALDA Group began life in a small 4000 square foot unit in London, selling select materials to the decorative market," explains VIVALDA Group Managing Director, Ben Jayes. "In the years that followed a programme of continued investment in the business, together with an appetite for seeking out new opportunities, took the business to where we are today. Regular investment has also contributed to a wide geographical spread and the chance to develop the business from a sales volume perspective, which in turn has created increased profitability."
The growth of the business has been impressively rapid, taking turnover from £8 million in 2008 to £27.5 million in 2016. For the financial year 2017, it is on course to increase this further still to £35 million. As a result of this success VIVALDA Group now boasts eight facilities across the UK and six depots, each of which is a fully-fledged, self-sufficient fabrication facility boasting computerised cutting systems, CNC machines, a fleet of lorries, fork trucks and highly qualified personnel.
"Each of our depots has the required resources needed to act as a standalone entity, taking in materials, fabricating, machining and delivering the end products in a controlled manner to anywhere in the UK," Ben continues. "Investment in 2017 has already seen us add four new beam saws to our inventory, taking our total number of cutting facilities to 12. As we speak we are also in the process of purchasing two new lorries, new fork trucks and also carrying out the refurbishment of our Birmingham location to create 5000 square feet of head office space where we will be expanding with a view of creating new divisions."
One of the Group's newest divisions, which has experienced unprecedented success in the last few years, is Pura Façades. It specialises in supplying lightweight natural façade cladding, focusing on the raw material itself, and offers sustainable options for futureorientated architecture. "The products sold by Pura Façades, which include glass reinforced concrete (GRC) and terracotta cladding specification, are pure and organic in nature," Ben adds. "Our goal with Pura Façades was to overlap it with our existing VIVALDA Group customer portfolio and this has proven to be highly effective, resulting in a turnover of £5 million in 2016, with predicted turnover of up to £7 million for 2017."
The projects that VIVALDA Group have been contracted to carry out work on over the years have been varied, encompassing undertakings of all manner of size and scale. Projects of note include work on the Citizen M Hotel. Situated opposite the Tower of London, this 1500 square metre building is made of light coloured stone and deep sided, formed, black GRC vertical fins, with 'luce' particles added to catch sunlight. Work on this building was carried out for its contractor, Balfour Beatty.
In addition to private buildings, many examples of VIVALDA Group's work can be found throughout the education sector.Northway Infant School in Tewkesbury and The University of Suffolk are two such examples, and the respective work on each also highlights the flexibility of the Group. The former is a bright and colourful infant school building. Using over 1200 square metres of ROCKPANEL Colour and Woods, the mix of colours used gives the building a unique personality, creating an engaging learning environment.
The University of Suffolk Waterfront building, located in the heart of Ipswich, acts as a central hub for students and houses dedicated facilities for their studies. Marley Eternit EQUITONE Natura fibre cement boards in ivory and titanium were chosen to create the building. Finishing it to the highest standards RMJM Architects, Cambridge, chose to use a secret fix adhesive to ensure the EQUITONE panels created an uninterrupted façade. Furthermore, VIVALDA has completed a number of schools as part of a £150 million scheme won by Laing O'Rourke to rejuvenate schools in the Yorkshire region.
Recently included within the London Stock Exchange Group's 1000 Companies to Inspire Britain 2017 report, an achievement that Ben says as recognition for the hard work, energy and commitment of VIVALDA Group's staff and management, the group is also poised to enter a new phase of growth as it extends into Ireland this year. "Our job is to be productive in what we do and to constantly be looking at how we improve upon, and reinvent, processes within the façade market," he enthuses. "We are rightly proud of what we have achieved and the way in which we have managed to stay at the cutting edge of new market trends, driving change by introducing new products, finishes, new methods of fixing and new overlays, therefore differentiating ourselves from the competition. By continuing to lead from the front we believe our strategic vision of taking this business to the point where it achieves a £50 million annual turnover is not far away from being realised."
VIVALDA Group
Products: Façade panels and fixing systems