A few years ago Voorbij Prefab was facing closure, but a bold move to adopt revolutionary innovation in a traditionally conservative construction industry sees it leading the way into a digital future
A concrete shift
A few years ago Voorbij Prefab was facing closure, but a bold move to adopt revolutionary innovation in a traditionally conservative construction industry sees it leading the way into a digital future
Originally founded in 1935 by the Voorbij family, creating wooden piles for the construction industry and later moving into precast concrete solutions, Voorbij Prefab has amassed a long history of experience in the sector. Taken over by TBI Holdings BV in 1996, the company remains renowned in the industry for high quality prefabricated concrete solutions. For much of its recent history Voorbij's core market was supplying to the Dutch utilities market, however following the crash of this sector in 2005, the company, along with its modern facilities on the outskirts of Amsterdam, continued with a unfocused strategy supplying into a number of sectors from offices to tunnels.
"There was no focus anymore," says Jeroen Pat, Technical Innovator at Voorbij. "The factory was working hard and our people were working long hours, but the company wasn't making any money."
"There was a point when we were on the brink of collapse," the company's CEO, Jos Mulkens continues. "Our market was too diversified, our lead times had become too long, customers were losing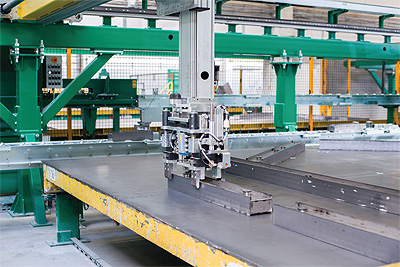 satisfaction, we were too expensive, employees were becoming demotivated and there was no strategy in place to move forward. In essence, it was do or die, and we decided to invest one last time to try and refocus by narrowing our scope of work to housing with some special works."
It was a decision that helped seal the successful fate of Voorbij as it sought to continue delivering the high quality that it had become known for whilst placing its customers right at the centre of its activities. However, at the very heart of this refocus was a cultural shift that favoured the process over the product itself, something that was ultimately delivered by what Jeroen describes as a gamechanger in the construction industry: the adoption of digital technology amd a change in corporate culture.
"We no longer need to focus on the product, because we can count on the product always being good quality," he says. "Instead we are looking at the process, and ensuring that our process is able to respond to the ever changing needs of the customer and the end user. During the design, and even the build, stages of a building many decisions may change, such as the positioning of electrical fittings in a wall, and because of our software-driven process and innovative culture we are flexible enough to be able to implement these at the 'last minute' before prefab work."
By implementing digital technology and completely transforming the production process within its facility, Voorbij has switched from a labour intensive approach to a capital intensive one. In doing so it is bringing a traditional production company into the modern age of digital technology ahead of the rest of the industry. This culminated in the 1-2-3 Casco development, a system that couples 3D architectural modelling with state-of-the-art 3D printing methods to produce precast elements far quicker and more cost effectively than anything previously capable within the sector.
"By using 'big data' inputs we are able to analyse everything we do and constantly derive insights to improve safety, quality, production and cost," Jos highlights. "Since implementing this new system we have achieved a 30 per cent reduction in cost and our preparation work takes 80 per cent less time. Whereas it used to take us two days to create casting moulds, we can now do it in six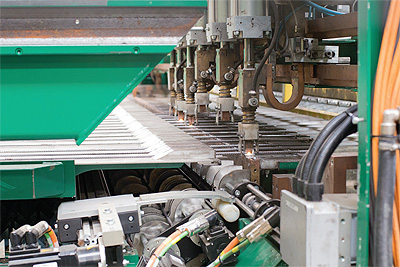 minutes."
Equal to a shift in culture in making the adoption of digital technology a success, is Voorbij's desire to form strong partnerships within the industry. "For example, we are presently making wall sections for housing projects, but are looking at the next stage to be able to make floors in a partnered facility," says Jeroen. "This is with a company that shares our knowledge and our culture to think-out-of-the-box who we can connect with our own digital processes and essentially add a second printer to the network."
In fact it is a strong partnership with software developer Idat upon which the digital excellence of Voorbij's process is made possible. "Idat's systems have a very strategic place in our factory," Jeroen explains. "The software allows us to input an architectural design and produce a 3D model complete with a detailed report of optimised design elements, such as the best type of rebar to install. It takes the DNA of everything we have in the factory and of consultants' knowledge and creates an optimised recipe for production. It then organises production, manages schedules and implements factory roles and logistical systems – all at the click of a button. We are very happy with the work that Idat do – it is not just a piece of 3D modelling software but a relationship with a partner that shares our culture to do things differently and to optimise processes by working together."
"This complete integration across the factory, which is made possible by strong partnerships with companies like Idat, is what makes the process so successful," adds Jos. "It means we can implement customer changes quickly, without the need to consult external specialists, and this provides the advantage of being able to create completely bespoke elements without altering the process or the factory at all with higher quality and more sustainable methods of production. It is part of switching to Industry 4.0 standards where we can react almost instantly to changing customer wishes."
It is a truly remarkable step forward for a company that was just a few years ago on the teetering edge of survival to now be at the cutting edge of industry progression. Voorbij has its sights set firmly on continuing the rapid development of the process whilst always maintaining a crystal clear focus on its market and its customers' needs. Over the coming months further improvements to its logistical system will allow the company and its partners full transparency of where an element is in the process, what its quality is, and where additional capacity exists. As too will continued safety developments, which centre on improving the detail of information given to site teams in preparation for a safe construction operations.
Compared to the wider manufacturing industry, construction is arguably still rooted firmly in its traditional, labour-intensive roots, but with digital technology advancing at an unprecedented rate early adopters such as Voorbij are sure to benefit over the coming years. Jos concludes with a positive vision of continuing to bring this digital revolution into the company's processes and in doing so take up position at the very front of the construction industry's shift towards the future.
"One thing seems clear," he notes. "If the construction industry doesn't deploy disruptive technology or innovation that helps it deliver to ever-challenging market demands, then it will be disrupted from the outside."
Voorbij Prefab BV
Services: Specialist prefab concrete manufacturer