As part of the world renowned VSL Group, VSL Heavy Lifting can handle extreme weights
Taking the strain
As part of the world renowned VSL Group, VSL Heavy Lifting can handle extreme weights
VSL Heavy Lifting offers custom-engineered heavy lifting solutions for projects in which conventional handling equipment cannot be used due to excessive weight, dimensions or space limitations. Armed with a flexible approach to tailor its services to specific project requirements, VSL offers a complete range of services for the planning, engineering, equipment supply and execution of any lifting project in excess of 10,000 tonnes.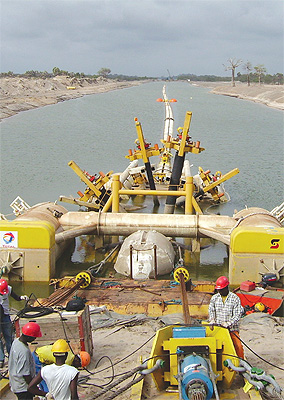 A pioneer in its sector due to its introduction of the strand jacking technique in the 1970s, the company is the heavy lifting arm of the multi-operational VSL Group which has served the global construction industry since 1956.With its management headquarters in Paris and its regional operating centres in Barcelona, Hong Kong and Subingen, Switzerland, VSL's activities include engineering, posttensioning of bridges, buildings and other structures, stay cables, heavy lifting, VSoL (VSL's Retained Earth System), ground anchors, repair and maintenance as well as the erection of bridge superstructures.
The VSL Heavy Lifting activities are overseen by newly appointed managing director Daniel Junker, who has worked at VSL for 25 years. Since he took over, Daniel has been managing major changes within the department. "Several long-term staff have retired, amounting to a substantial loss of know-how," he explains. "To ensure this transition was smooth, we employed several young people and transferred as much knowledge to them as quickly as possible. Our team has actually grown with the new intake and our workforce has increased by almost 20 per cent. Although our department has a much younger average age, many employees have been with us for ten years and are enthusiastic about our extraordinary industry."
VSL's activities are wide ranging and dynamic, as Daniel outlines: "We work mainly in three areas; with construction companies, steel fabricators, and companies that produce heavy machinery that has to be moved. Architects, indirectly, also provide us with a great deal of work because they're increasingly designing more complex structures."
VSL prefers to get involved in projects as early as possible, serving as the single point of contact for lifting, horizontal jacking or lowering operations and it designs the necessary temporary structures to suit any requirement. In terms of its market, Asia has been important but VSL has played an integral part in high-profile projects around the world."Hong Kong has always been an important marketplace and we've undertaken two major projects there in recent years including lifting two structures, each weighing 5000 tonnes, for one of the longest stay cable bridges in the world," says Daniel. "We've also lifted four steel roof trusses for the Hong Kong Convention & Exhibition Centre. Everybody is now trying to get a piece of the Middle East and in 2006 we successfully completed the erection and stressing of the cable net roof structure for the Kuwait stadium.
"In 2007, we also completed the lifting of a 7000 tonne concrete reservoir for a huge water tower in Dammam, Saudi Arabia, and we'll soon undertake similar work on a water tower in Ivory Coast.We want to further develop in Eastern Europe, where we're currently working on a power plant in Bulgaria, and have a handful of projects in Russia and the former Soviet Republics. With the exception of South Africa, where we're well established, we take more of a project-to-project approach in the African market and have recently completed work in Nigeria and Angola."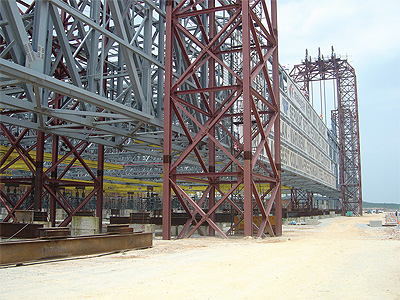 With regard to future projects, Daniel sees huge potential in the energy and aviation industries: "In Central and Eastern Europe, the Middle East – particularly Syria – and South Africa there are many projects in the pipeline for constructing new power plants.We're putting in a concerted effort to become a key player in this development as they provide great opportunities for heavy lifting work and are generally long-term. Business is good so far – prior to securing a project in Bulgaria, we started working on power plants in Malaysia and Germany.
"We're also closely following the airline industry due to the new Airbus A380, which is requiring airline maintenance companies to build new hangars at various international airports to accommodate the higher plane. Last year we successfully completed the lifting of two hangars in Toulouse, one in the Czech Republic and one in Malaysia, which was actually a world record for a steel structure as the free span was 231 metres.We've already been contracted to do the lifting of two hangars this year, one in Singapore and one at the EuroAirport Basel, near the Swiss border."
The company's expertise is based on three decades of experience and this knowledge has resulted in VSL garnering a high level of repeat business, says Daniel: "We provide a Swiss quality product and maintain high standards so that clients consistently return. Importantly, we operate within a very large network so we can count on our international VSL colleagues to deliver. It's good to be part of a bigger group because we rely on the VSL Group's purchasing department to source the right products after we provide specifications and take advantage of the logistics services of the whole group."
Considering VSL's prospects, Daniel concludes that he will be orchestrating continual growth over the coming years: "Firstly we want to consolidate our younger workers so that we maintain our highquality service. Development will be imperative but I'm not interested in growing quickly so we'll be aiming for sporadic employment and steady growth."