Established in 1924, Walter Lilly & Co Ltd has a 90-year tradition of providing highly acclaimed and specialised solutions to high-end construction projects
Prestigious undertakings
Established in 1924, Walter Lilly & Co Ltd has a 90-year tradition of providing highly acclaimed and specialised solutions to high-end construction projects
The remarkable history of Walter Lilly & Co Ltd begins with a game of cards. The business was initially established when plumber Walter Gent Lilly won the freehold to a builder's yard in St Ann's Street located at the back of Westminster Abbey, London. Capitalising on his luck, Mr Lilly decided to go into business himself and the company has continued to grow with dedication to highquality and specialist works in prestige projects and science and education. In 1955 the Lilly family sold the business to its current owners the Y J Lovell Group, now known as Renew Holdings plc and in 2001 Walter Lilly consolidated its holdings to more suitable accommodation in Waddon near Croydon. 2014 has been a crucial milestone for the company with Walter Lilly continuing to trade under its own name after 90 years in operation and a further move to a new location, this time in central Croydon, which was completed in July.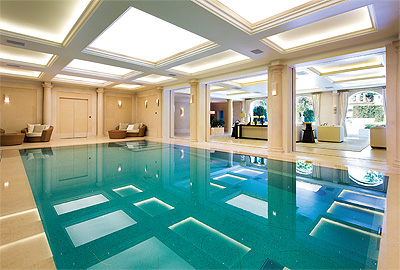 Today the company continues to deliver prestigious projects to customers, principally private clients and esteemed organisations such as Grosvenor, Eli Lilly, Imperial College London, the Kew Royal Botanical Gardens and many others. The scope of projects undertaken by Walter Lilly ranges from a value of three quarters of a million pounds to £40 million. Most of the company's work is focused in the super prime residential areas of London and the Home Counties including Belgravia, Mayfair, Knightsbridge, Kensington, Berkshire and Surrey. During early 2014 the company announced the completion of a luxury residential project in Wimbledon Village and the award of a new contract relating to a substantial country home in Burnham Beeches, Buckinghamshire.
The completed residential project was to create a four-storey extension to an existing family home comprising a new leisure suite, master bedroom suite, music room, garage and self contained staff accommodation, as well as refurbishment and moderate alterations, including a new dining room extension to the existing house. The work was carried out to an extremely high standard and encompassed extensive landscaping, including several substantial water features located at the front and the rear of the property. The clients were able to move into the home shortly before the New Year and the work undertaken by Walter Lilly received praise from both the client and the project architect.
On-going projects include a £6.7 million contract to demolish a house and construct a substantial country home including the creation of a large basement with facility for an indoor swimming pool and additional attic accommodation, as well as new entrance gates, an external swimming pool and soft and hard landscaping works. For the most part the project's elevations will be constructed using Richemont Crème stone with a granite plinth. All of the works and finishes will be undertaken to a high standard utilising the experience and expertise of Walter Lilly's long-standing supply chain partners. Teamwork and co-operation are core to the operation of Walter Lilly and the company is proud to work with a wider project team comprising Quinlan & Francis Terry Architects, RBA Project Solutions, Vector Design and Price & Myers. Work is currently underway on site and is due for completion during May 2015.
More recent project awards include the £9 million high quality fit out of a 27,000 square foot private house in Hampstead and the £28 million subterranean extension and full refurbishment of a 30,000 square foot Grade 1 listed house in Mayfair.
The Walter Lilly business is built upon the collective experience of its team, drawing on the values of trust, teamwork and respect for what each individual adds to the company. It enjoys long-standing client and consultant relationships and welcomes the opportunity to meet new clients and build new long-lasting friendships. As such, Walter Lilly engages with a fully integrated supply chain and has built up strong relationships with subcontractors and suppliers including Halstock Joinery and Locker & Riley. Before being considered for inclusion in the Walter Lilly supply chain, potential subcontractors must submit acceptable health and safety information and proof of financial credit worthiness, complete a pre-qualification questionnaire and receive a visit to their place of work.
The synergies and relationships with subcontractors are complemented by the company's core of in-house specialities and skills, including its own engineering, M&E and design management expertise. Walter Lilly benefits from strong lines of communication and a high rate of staff retention with an average length of service per employee approaching ten years, which is a figure that includes the company's first year trainees and all of the new staff who have joined to support the company's recent growth. Its pre-construction staff includes estimators, planners, revit technicians, engineers and design managers with between five and 30 year's experience with the company, while its project delivery team includes agents and managers with between one and 35 years of experience. The company also sponsors nine graduate trainees and the majority of its production and commercial staff are members of the Chartered Institute of Building.
Walter Lilly managing director Andrew Crispin, himself a 30 year man, puts the strength of the business firmly in its people. "We have dedicated, highly experienced and loyal staff who make Walter Lilly the dependable and successful business we have become. We invest heavily in training and, for our size, we have a high proportion of trainees and sponsored students, who we nurture to become our future senior managers. There are many examples of the success of this investment in our management team today."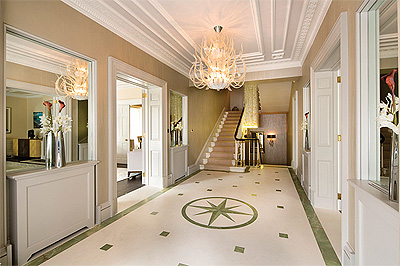 In terms of values and business ethos, Walter Lilly maintains the core values of integrity, honesty and fairness in all of its dealings with its customers, staff, subcontractors and suppliers. It considers all of its customers and supply chain to be knowledgeable, demanding and entitled to have their projects managed efficiently, to a high standard and free of defects in a way that reflects a positive perception of Walter Lilly. As such the company is a CIOB training partner and a Chartered Building Company and is accredited to BSI ISO 14001:2004 Environmental System, BSI ISO 9001:2008 Quality Management System, CHAS Registered Contractor, Considerate Constructors Scheme National Site Awards – Silver awarded for Park Lane site, Constructionline, EXOR SAFE Contractor, Construction Industry Training Board (CITB), The Construction Health and Safety Group (CHSG), British Institute of Interior Design, National House Building Control (NHBC) and the Royal Society for the Prevention of Accidents (RoSPA).
Furthermore Walter Lilly fully recognises its responsibility to manage the impact of its activities on the environment and is dedicated to good environmental practice as typified by its ISO 14001 certification and several sustainability awards. The company maintains a comprehensive environmental policy, environmental management plan, waste management plan and other documents that clearly outline the minimum standards that Walter Lilly expects for all of its sites. When choosing materials and technologies Walter Lilly is keen to ensure that its projects incorporate a high level of sustainability and as such, the company has been recognised by the award of both 'excellent' and 'very good' BREEAM and Eco-Homes ratings.
The company's on-going dedication to the environment is further emphasised by its encouragement of its staff to attain CIOB Chartered Environmentalist (CEnv) status. Currently three members of the Walter Lilly team have achieved CEnv status, placing them amongst only 5000 chartered environmentalists in the UK. Several other members of staff are presently studying to achieve this qualification, which will further highlight the company's dedicated approach to best environmental practice.
As its new financial year begins, Crispin is quietly confident about the future with a record order book. "We have a secured and probable workload for 2014/2015 of nearly £75 million and even more encouraging is secured and probable of £40 million for 2015/2016."
With a proud tradition of delivering first-class quality and highly specialist projects, Walter Lilly has an industry-leading reputation and a strong base of long-term client relationships that will ensure that the company remains active for many years to come. Although the company's story began with a game of chance, today Walter Lilly is defined by the hard work of its team and its dedication to best practice in all areas.
Walter Lilly & Co Ltd.
Products: Specialised solutions to high-end construction projects