With over 30 years of industry experience, Warmafloor is a leading name in the provision of innovative building surface heating and cooling solutions
Optimum conditions
With over 30 years of industry experience, Warmafloor is a leading name in the provision of innovative building surface heating and cooling solutions
Since the company was founded in 1986, Warmafloor has grown into one of the UK's largest suppliers of integrated surface heating and cooling systems. Over the years the business has distinguished itself as a recognised market leader that provides a turnkey solution that encompasses full design, manufacture, installation and commissioning services.
This has allowed the company to work on a number of prestigious national projects including the British Museum, the Olympic Park, the Mary Rose Museum, the National Gallery and Portcullis House, as well as to collaborate with the Building Research Establishment.
Warmafloor was previously featured in Construction & Civil Engineering in July 2015, during which time challenging market conditions, the firm's diversification away from school projects and its continued success in an ongoing Berkeley Homes project in Goodman's Field were discussed. Today, while the market continues to offer unique challenges and tough trading conditions, Warmafloor remains able to provide a comprehensive turnkey solution that is supported by three decades of industry experience and market-leading innovation.
"It is still a very challenging market in which everybody is looking for the very latest technology while also looking to meet the highest standards of energy efficiency integration but unfortunately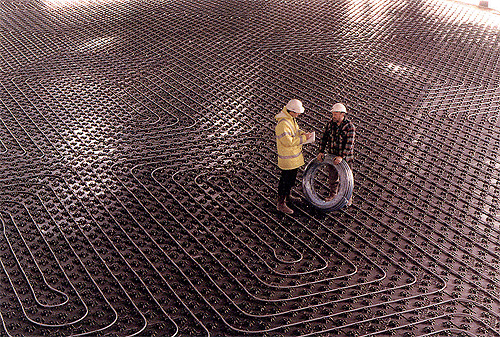 their purses haven't grown," reveals Controls & Project Management Consultant, Neil Walker. "Customers are trying to achieve a great deal more quality and technology without actually having the budget to cover the cost of it. This creates a very challenging situation, however we are always looking to maximise the quality and efficiencies of our systems and to minimise the cost implications to allow us to offer the most cost effective solution to clients."
By providing a comprehensive service offering in terms of its product portfolio and the dedicated aftersales support capability that the company ensures, Wamafloor is able to deliver a level of service that differentiates the business from its competitors regardless of the challenges that may exist within the wider market. "Our success comes down to the fact that we provide a service and vitally that it is a full service," elaborates Operations Manager, Wayne Jennings. "This includes the work undertaken by our dedicated sales and design teams, as well as our commissioning, install and control services that allow us to deliver a full turnkey package. We also offer a complete range of floors, whether that be Mojave flooring or acoustic wooden floors."
"In a nutshell, we offer a service that lasts from conception to commissioning and beyond. We also have a very strong after market service response, which is something that a lot of other companies do not have," Neil adds. "In these instances the communication between the contractor and the clients ends once the installing staff leave the site, whereas we engage the client for the entire lifetime of the product."
In recent years, Warmafloor has continued to grow despite the challenges facing the construction industry. In April 2015 for example, the company opened a new office in Doncaster to allow it to better service its clients within the Midlands, north of England and Scotland. With the further development of its international presence, the company has also continued to win important new contracts and agreements.
"We have recently had a major success with the signing of a framework agreement with Essential Living and we are currently working on their Arch Way and Berkshire House towers," Wayne says. "We have also completed a major development for Berkeley Homes at the Northwest block of its Goodmans Field site in East London and are beginning work at its north east block. Each of these projects incorporates our innovative Total Integrated Control Strategy (TICS) solution."
The TICS system is a core technology for Warmafloor and was developed during 2010 as a cost-effective, energy efficient control system that offers full integration with the existing mechanical devices within the host building. "TICS was developed with the specifics of being able to control a radiant heating and cooling system in the most energy-efficient manner while meeting all the control characteristics i.e. the hysteresis of a radiant system, as opposed to a convection system," Neil explains. "We developed this in house from a blank piece of paper and manufactured the product specifically to meet the market requirement of surface heating and cooling."
Further to its success with several prestigious and high profile projects, Warmafloor has collaborated with the Department for Energy and Climate Change to demonstrate how it is possible to achieve the sustainable temperature control of buildings to limit the construction's impact on climate change. Moving forward, the company will seek to use this expertise to further develop its existing products and increase market share. "We are keen to secure more framework agreements, as this is a positive approach for us and innovation is always a big thing. We are working on some new systems and are essentially always looking at how we can continue to be better at what we do," Wayne concludes.
Warmafloor
Services: Integrated surface heating and cooling systems