Recognised for supplying some of the best construction machinery and delivering fantastic service levels, Willowbrook Plant is looking to preserve its reputation as an exceptional customer service provider by continuously engaging with its own employees and keeping them motivated and highly rewarded
Clear vision
Recognised for supplying some of the best construction machinery and delivering fantastic service levels, Willowbrook Plant is looking to preserve its reputation as an exceptional customer service provider by continuously engaging with its own employees and keeping them motivated and highly rewarded
Willowbrook Plant's savvy in adding the right products to its portfolio of construction equipment explains the successful first ten years of the company's history. Founded in 2008, the business has
since become a main dealer for four of the most prominent manufacturers of plant machinery – namely, Takeuchi, Hyundai, Mecalac, and Merlo.
"We only want to add products we will be proud of," claims Andy Greensmith, Sales Director of Willowbrook Plant. "It is important to ensure that the possible additions to our portfolio are of the highest quality and will be demanded by our customer base, and I am convinced that the mix of machines we offer at the moment captures this vision perfectly."
In 2009, Willowbrook Plant was awarded the Takeuchi excavator dealership and Andy confirms, "due to the long-established Takeuchi brand being recognised as an industry leader, this has allowed us to continuously develop within our territories.
"The reliability of the Takeuchi Mini and Midi excavator is what has made them the machine of choice," Andy maintains. "Customers really value equipment that is reliable, has fantastic build and performance quality and that is capable of delivering all this with few or no technical issues at all.
"We also have a long-established relationship with Hyundai Construction Equipment, which is a fantastic, premium product to be able to offer our customers and the heavy excavators we provide, complement the Takeuchi products excellently. The Hyundai brand offers a great combination of operator comfort alongside pioneering technology and fantastic productivity. Furthermore, since Mecalac's acquisition of Terex, we have seen a real increase in product innovation and a focus on company branding that is helping to take an already well respected and established manufacturer, to the next level."
New location
Right at the beginning of 2019, Willowbrook Plant announced that it had been appointed as dealer for Merlo for the East Anglian region to handle its market-leading range of telehandlers. "The new partnership has contributed to the fantastic start to the year we have had, as we are now able to offer our customer base Merlo's fixed and rotating turret telehandlers," Andy enthuses.
Andy explains that the timing of Willowbrook Plant's relocation to its new headquarters in the summer of 2017 was perfect. "As a ten-year-old business, we had outgrown our previous location, so we decided to move to our bespoke headquarters at the old Rockingham Motor Speedway.
"We now have a vast yard space at our disposal and we can do absolutely everything from the new site. There are two fully kitted-out workshops, a parts distribution centre, admin offices and a bespoke demo ground where we can not only display our equipment but where customers can demonstrate the machines themselves and discover exactly what Willowbrook has to offer."
For a decade now, Willowbrook Plant has built an enviable reputation for delivering exceptional customer service, and one of Andy and his co-director's priorities is to make sure that it maintains its self-imposed high standards in the future. To this end emphasis is placed on training the team and providing employees with ample opportunities to develop professionally.
'We have such a fantastic team of people who all go over and beyond in their efforts in pushing the company forward in all areas. However, if we want to maintain the highest level of customer engagement then first and foremost we have to ensure that all of our guys are pulling in the same direction and working for the greater good of the company," Andy says. "To give you an example, we recently introduced an engineer appraisal programme where we have created a portfolio for each of our engineers that states what their future requirements are, what level of employment or qualification they would like to reach, and what training they would like to receive to get to this level. Our job, then, is to put a strategy in place to help the guys hit their personal targets. It is a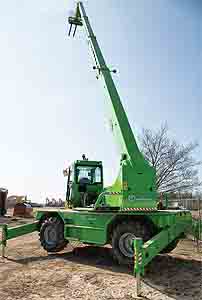 great way of ensuring that all members of staff are engaged with the business and are assured that they are being valued by the management team."
Positive prospects
Another key characteristic of Andy's staff development vision, is his willingness to promote from within as many employees as possible, especially in the sales department. He explains: "In an industry like ours, hiring salesmen can sometimes be a difficult task. One time you get it right, the other you may get it wrong and in the latter case, you have to go over the same process again and again. My future vision for this is to bring sales people through internally when possible and provide them with all the training needed, so that at some point in the future they will be ready to go out on the road, able to work to the standards that we set.
"In fact, we have recently taken on a new sales representative who has been promoted internally and he is already showing promising potential. Our whole concept revolves around training him, and our future employees to work to the company ethos, exactly the way we want to be known as a company. There is a whole team for us to grow, taking each and every staff member to the next level. After that, we want to bring new people and do the same with them. Our ambition is to be a self-generating company where we are in full control of who is working for us and, more importantly, how they are doing it," Andy outlines the Willowbrook philosophy.
Finally, even though he admits that investment in big projects has been cautious due to lack of clarity over what direction Brexit will take, he speaks positively of Willowbrook Plant's prospects for the months ahead. "Like I've said earlier, we had a very strong start to the year, having already sold and delivered multiple machines as well as also taken numerous new orders. I am hopeful now though, it is about time that major programmes really take off and I believe that if we continue in a similar vein, we will no doubt have an extremely productive year."
Willowbrook Plant
Services: Supply and servicing of construction plant and machinery