Russell Hand looks at how windows vitally impact commercial project design, and the aspects that should be considered by specifiers on these builds
By their very nature, large-scale commercial projects require a high degree of consideration at all levels, from design and construction to on-going maintenance. Selecting products capable of enabling best possible performance and durability is therefore a huge priority for developers, and windows are increasingly being identified as an area in which to make marginal gains.
Arguably more than any other part of the building, windows must strike a balance between form and function. Their ability to impact multiple building characteristics, including performance and appearance, has led to growing numbers of architects, specifiers and developers placing further emphasis on window specification. Taking into account the amount of considerations that must be made around selecting and installing correct windows for commercial projects, it is therefore crucial that specifiers make as informed a choice as possible
Safe occupants
The role windows play in fire protection is key, and has resulted in a generation of solutions that act as effective fire protectors and smoke ventilators in the event of a fire. There are many product features, testing conditions, and legislative requirements, which come into play for specifiers of commercial windows.
The material used in a uPVC window is 'self-extinguishing,' removing the heat source so the window will not burn or act as a fuel. As such, suppliers can provide fire-rated fixed uPVC windows,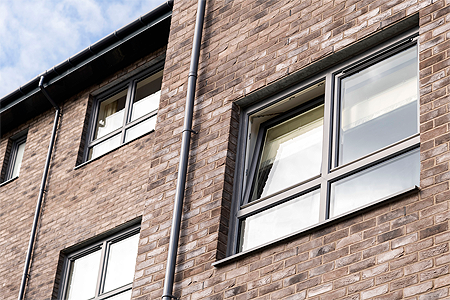 tested and certified with various fire rated glass solutions from the major glass producers.
Energy consumption
With people becoming increasingly conscious about the impact their actions have on the environment, there is more pressure than ever to reduce energy consumption. For this reason, windows play a vital part in ensuring a building is suitably insulated with the added benefit of keeping heating costs down
To measure how effective a building is at transmitting heat between the outside and the inside of a building, the U-values have been established. The lower the U-value, the slower the heat can transfer through the material in question, and therefore the better an insulator it is. Approved Document L of the Building Regulations state that developers should to achieve a minimum U-Value of 1.6 W/m2K for windows installed in a retrofit scenario, or 1.4 W/m2K in new-build dwellings. To achieve future Government targets, window and door U-Values are also set to be reduced in the near future.
Sustainability
Due to these environmental considerations, a growing number of developers are going further than insulation alone. Specifically, they are looking for manufacturers and suppliers that approach product development, delivery, and installation responsibly.
Contrary to myths, uPVC or 'plastic' windows can be highly sustainable. UPVC can be recycled and reintroduced into the supply chain to conform with Circular Economy (CE) requirements, proving a perfect solution for developers looking to ensure their commercial building is eco-friendly.
Key sector stakeholders have also further overhauled their PVC recycling offering, so fabricators and installers can access a responsible, cost-effective method of environmental protection. REHAU's subsidiary PVCR recycles old uPVC windows and doors, allowing businesses to manage their waste effectively while minimising disposal costs and reduce their impact on landfill.
Aesthetics
A window's performance goes hand-in-hand with its appearance – as part of the building fabric, they need to contribute positively to the building's aesthetics. Architects therefore often seek windows with minimal sightlines, so the break between the external building material and any expanse of glazing is reduced.
It is also important to factor colour into building design, as it can reduce the impact of sightlines. White window frames tend to contrast with the building fabric or the glass, whereas darker shades often appear far subtler, reducing their impact on the building's appearance.
Additionally, while it is commonly thought that aluminium windows achieve significantly slimmer sightlines than uPVC, there is actually very little between the two. Advancing foil technology means uPVC ranges enjoy greater colour choice than ever before, and includes certain options that have been designed to simulate aluminium. Consequently, polymer-based window profiles continue to endure as an attractive option for specifiers, architects and building designers.
Minimising noise
A key, final consideration to look at when choosing windows is the appropriate sound levels required. The World Health Organization (WHO) guidelines for community noise specify less than 30dB in bedrooms during the night, and less than 35dB in living spaces to allow for adequate living and working conditions.
It is unsurprising that the constituent parts of a window all have a part to play in acting as an effective sound barrier. Generally, the thicker the glass, the better the level of sound attenuation. However, thicker, heavier glass may not always be suitable for certain types of window or installation.
The level of ventilation required within a building can also dictate a window's sound acoustic performance. For example, trickle vents allow small amounts of ventilation through the window to negate concerns like condensation, also allow certain levels of noise through as well. Modern buildings boasting a Mechanical Ventilation with Heat Recovery (MVHR) system are more likely to have windows that don't open; making them much more soundproof.
The window frame itself will tend to enhance the performance of the glass up to around 37-38dB, and this usually comes down to the frame material. Multi-chambered uPVC frames, for example, can help reduce noise levels coming through the window. However, specifiers must still select solutions that have undergone stringent performance checks. This can include testing up to 47db using a triple glazed unit with varying thickness of glass, all contained within the window itself.
Finally, while every window enjoys its own performance characteristics, it will ultimately only perform as well as the quality of its installation. Using expanding foam tape to seal the perimeter around the window enhances both energy and sound insulation.
Russell Hand is Head of Product Management and Technical at REHAU Windows. The REHAU Group is a polymer specialist and one of the world's largest extruders of PVC-U window profiles. It offers a range of high-quality profiles for windows and doors in an array of colours, and boasts one of the industry's first co-extruded profiles, using 100 per cent post-consumer waste in the core.
For more information, please see: www.rehau.com