As a wholly owned subsidiary of Wirtgen Group, Wirtgen Limited specialises in the sale and servicing of equipment, vital to the construction of roads throughout the UK
Paving the way
As a wholly owned subsidiary of Wirtgen Group, Wirtgen Limited specialises in the sale and servicing of equipment, vital to the construction of roads throughout the UK
The business was started by Reinhard Wirtgen in 1961 and remains a passionate, family owned enterprise whose roots were planted in the back yard of its owner as he began developing cold milling and planer technology. It was during the 1970's that the business first paved its way into the UK market, establishing itself in Lincoln, where it continues trading today. Initially operating as a contracting business, the company gradually began selling greater quantities of milling machines, eventually dropping its contractor status. Wirtgen Limited was officially formed in 1995 targeting sales, servicing, repairs and overhauls of road construction equipment.
Over the last 12 years the Wirtgen Group has acquired several more brands such as Vögele, Hamm, Kleemann, and most recently Benninghoven, incorporating manufacturing specialisms in paving, compaction, crushing and screening equipment, and asphalt plant. "We have effectively added on those brands in the UK, establishing and developing each one within our market," says Paul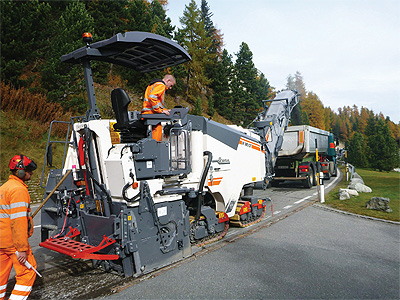 Holmes, managing director. The successful acquisition of Benninghoven completes the circle of offering from Wirtgen Group as he explains: "Being able to produce everything related to road construction has put us in great stead to gain on, and maintain our market position. Through Kleemann we process minerals, which can go into the Benninghoven plant to be made into asphalt, to be laid by the Vögele paver, before final compaction with the Hamm range. The Wirtgen milling machine is then available to recycle the pavement and go back through the circle."
As diverse as its product range is its extended customer base, ranging from individual SME contractors, through to local authorities, large quarrying companies and contracting organisations working on major highways, quarries and airports. "We have the benefit of German engineered, market-leading products, and we constantly strive to develop that technology, holding our status as market leader in milling and planing, in pavers, and compaction. Furthermore, the new diesel electric MC 110 EVO jaw crushing machine that we have recently introduced has had a dramatic impact, doubling our market share. This will soon be followed by a more compact MC 100 R EVO jaw crusher, which should appeal to recycling contractors.
"Part of our philosophy is striving to provide exceptional customer service, offering support with technical issues, spare parts and application technology, our aim is to be approachable and straightforward. For our customers, their machines are their livelihood, so the whole business is focused on servicing the customer to the best of our ability," says Paul. In 2015 Wirtgen Limited launches two new milling machines into the UK market, welcoming the W 100 CFi, one metre front-loading track machine, available from March. Already well received by contractors at a factory open day, it boasts Tier 4 final compliant technology, and focuses on providing a faster and easier operation. In addition to the W 100 CFi, the new series of onemetre machines also includes two further, innovative models – the W 120 CFi and W 130 CFi – with working widths of 1.20 m and 1.30 m, respectively. With these three new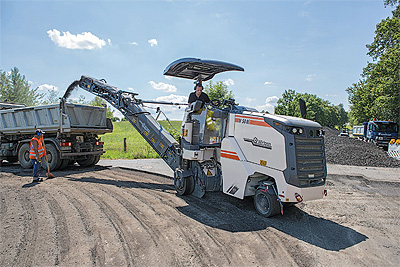 front loaders, the new generation of small milling machines now comprises a total of five models, following the successful launch of the W 50 Ri and W 60 Ri half-metre milling machines. These rear loading machines benefit from the same level of technology, offering greater maneuverability for a wide range of applications.
With the indicated spend in infrastructure investment, clients are recognising that after years of maintaining their existing fleet, now is the time to replace old for new, and gear towards the future. As a business, it has doubled in size in the last 18 months, with most of that coming from gaining market share. Such growth has ultimately led to the increase in staffing levels, achieved through laying the seeds for its own grass root talent, as Paul highlights: "Getting people in place with the speed of the growth is challenging. As a result, we are investing very heavily, employing close to 25 people in the last 12 months, and through acquisition we have doubled staff numbers to 115 in the UK. We very much believe in an apprenticeship programme and we continue to invest in this way, with apprentices helping us to overcome the lack of specialist engineers. We are big promoters of bringing people through the business, developing strong product knowledge and the ethos of the company.
"Having increased our mobile engineer workforce by 60 per cent we are now introducing a new 24/7 workshop capability, enabling a faster turnaround in service, maintenance and repair." As the business seeks to expand the size of its premises it remains focused on the needs of its clients. The full time appointment of an in-house trainer allows Wirtgen Limited to provide operator and engineer training for its customers, opening its premises to customers to use and learn about the machines in a safe and controlled environment.
Developing the business to provide the full spectrum of road and mineral technology equipment, plays key to it is future, as Paul highlights: "Simply put, we want to be the market leading provider of road and mineral technology equipment, remaining close to our customers and focusing on products that satisfy the needs of our customers. It is a question of how can we help customers deliver these projects. It is clear that finding a skilled workforce and providing the amount of training required is an immense task, given the planned government infrastructure investment. Ultimately as the ones that are producing the infrastructure, we offer our clients support as a partner, delivering our service to ensure they are able to deliver theirs."
Wirtgen Limited
Services: Road construction equipment