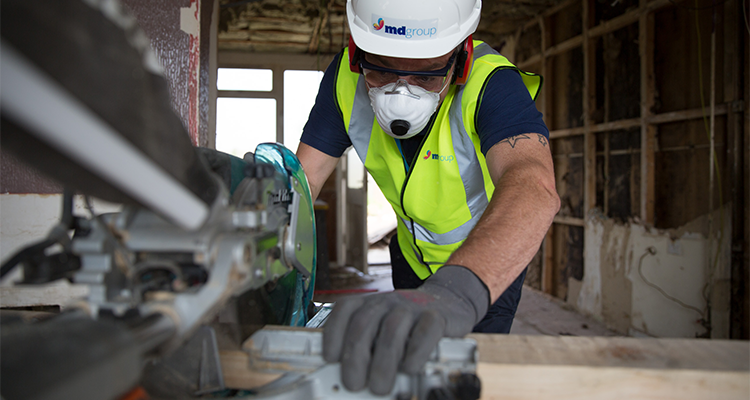 With a passion for working within the public sector, MD Group delivers what it promises 
Founded in 1998 in Bristol, MD Group is a leading building services specialist, providing repairs, maintenance and compliance services to the affordable housing and public sectors. Its approach is simple. By working with clients and residents to deliver quality work, on-time, and within budget, MD Group is able to guarantee everyone's safety.
Its core services include 24/7/365 reactive maintenance, planned and cyclical programmes, passive fire protection, electrical and gas services, disrepair work, retrofit and decarbonisation work and special projects. In fact, MD Group completed over 101,000 repairs last year and numerous retrofit projects. For example, in 2022, the company completed a £1.2 million Social Housing Decarbonisation Fund demonstrator project.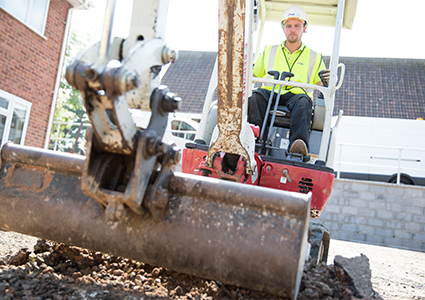 "We completed an entire refit, including ground source heat pump installation, solar photovoltaic panels, inverters and smart battery storage and cavity wall insulation. It was one of only 16 demonstrator projects in England and Scotland to improve the energy efficiency, reduce the carbon footprint and reduce fuel costs for residents," explains Steve Devlin, Executive Director, and Owner of MD Group.
MD Group's history stretches back to the late 90s. It won its first social housing contract in 2006, and following the 2008 housing crash, the business recognised the opportunities within the public sector. "Subsequently, we put all our resources into growth within local authority and public sector contracts. That's now all we do. We're public sector experts and we've grown from five employees to over 300," shares Vince Bradbury, Operations Director for MD Group.
Prosperous partnerships
This year, the business celebrates its 25th anniversary. In commemoration, Steve and Vince want to thank their team and clients for all their support over the years. "Our people are at the heart of our business, and we're grateful for their hard work and commitment to make MD Group what it is today. We're grateful to everyone who works with us, our supply chain and, importantly, our clients. They've remained faithful to us over the years, particularly through the height of the Covid-19 pandemic, where they were worried about the future themselves. We helped them by continuing to provide emergency repairs to keep residents safe, secure and warm, and refurbish empty homes to provide much needed new homes – and they helped us, through early payments to maintain cashflow. Going forward, we'll continue to work with our clients by being open and honest, and delivering our promises," says Steve.
Despite the current economic turbulence, the leaders want the business to remain authentic.  "We are not a corporate PLC, we're an open and honest, medium-sized company. We deliver what we say and do it on time, because we prioritise our clients, and have great relationships with them. That's what being in business for 25 years means for us, and it's been such a pleasure," Steve reiterates.
Social value
As an expert in the public sector, the business has developed an understanding of client requirements, and the need to continually adapt its service. "We work in thousands of homes each month, and make sure we adapt how we do things to different resident requirements, like allowing extra-time when working in vulnerable resident homes or providing information in different languages," he adds.
In the current climate, both the private and public sectors are under strain. "For me, I'd say the challenges are similar between the high-end private sector and public sector markets. The biggest issue is finding the right people, from tradespeople to contract managers and quantity surveyors. It is very difficult to mitigate the labour shortage at the moment and retaining staff can be just as difficult," shares Steve.
Nonetheless, MD Group continues to align its practices with new government guidelines to build safer, more dependable homes. The Grenfell tragedy, for example, is one such disaster that engineers and contractors alike are determined to never let happen again. This takes shape in areas like new fire regulations and greener practices. "You can understand that clients are so cautious now, which is great because it means that expectations are higher. We are going above and beyond to ensure that we find solutions to problems. This goes back to what we discussed earlier regarding being a dependable name. An example of this is that we have one factory that specialises only in manufacturing fire door sets to keep our customers safe," Vince highlights.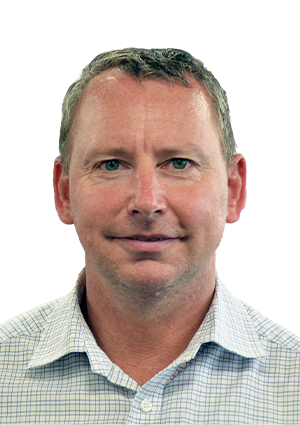 Another issue within the sector is tackling damp, mould and condensation problems. "This is a result of the condition of the property, which is the real issue. So, I think that has a long way to go. It isn't new, but there are ways of resolving it that comes back to the fundamentals of the building, rather than resorting to a temporary solution," shares Vince.
This is why, moving forward, MD Group is determined to grow and strengthen its team. "In the construction industry alone, there are at least 70,000 vacancies that need filling right now, and the CITB outlook for the industry is that we will need an additional 217,000 personnel to join the industry in the next three years. As part of our commitment, there is an element of social value and reinvestment into the community. For us, the best way to do that is through apprenticeships," shares Vince.
Commitment to community
Steve emphasises this by explaining that the company is looking to the local community. "An apprenticeship nowadays doesn't necessarily mean we are limiting ourselves to 16-year-olds. We're expanding this age group from 30 years and older, to those who don't have the skillset and who we can train. We feel this is the best way of helping the local communities and also helping ourselves at the same time, so it's a win-win for everyone."
And it's not just apprenticeships. MD Group is working to help tradespeople with skills improvement by offering a variety of labour classes. "What we have been doing recently is gutter maintenance for example, to enable people to develop another skill. Part of what we are trying to do is help people to upskill themselves. It creates a sort of mentorship programme for the staff that have been with us longer. I think we are up to about 15 apprentices at the moment, and it's looking really good," says Vince.
With these processes in place, MD Group seems well-equipped to solve the challenges that are currently impacting the UK's construction industry. The company's commitment to community means it offers the capacity to decrease the labour shortage, while improving skills, and serves as a great example to other businesses.