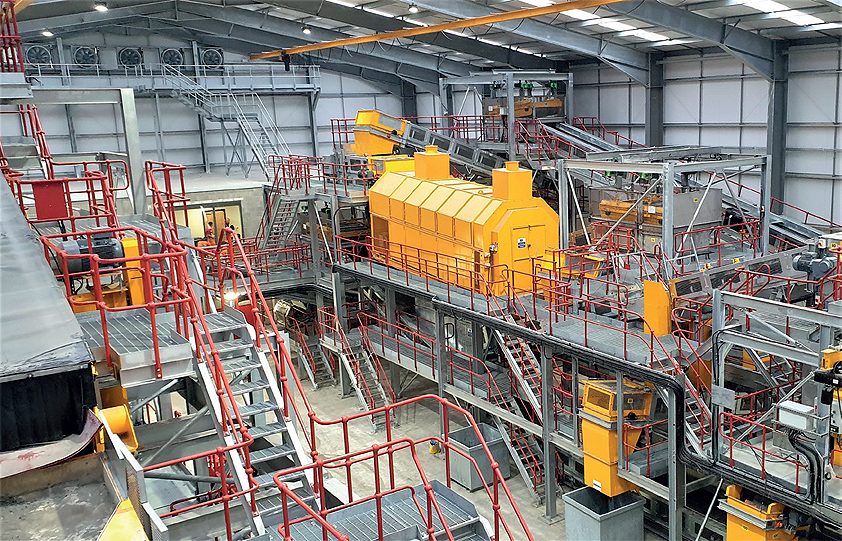 Making the Wright connections
After over 30 years in business, Wright Engineering has built a formidable reputation for delivering innovative materials handling solutions and developing long-lasting customer relationships
Having undertaken work for major clients such as British Sugar, Siemens and EDF, Wright Engineering has acquired specialist experience in the delivery of bulk materials handling systems on a wide range of engineering projects. The considerable industry knowledge that the company has amassed means that, today, Wright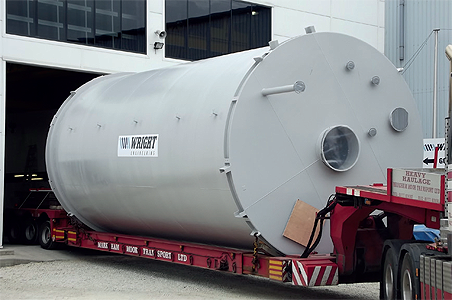 Engineering leads the way in providing a variety of products and services, from structural steelwork to ducting, project management to site installation.
Traditionally, Wright Engineering has mostly operated in the aggregate and hardstone building products sectors, but over the last 13 years, the company has expanded into the power generation and waste handling industries. "We've had many projects in the new build, energy from waste (EFW) sector, for companies such as CNIM and HZI," Managing Director Chris Boden-Hook says, discussing how the organisation has adapted to modern trends. "During this time, we've not just maintained, but expanded on our core sectors for building product manufacture, working with companies like Ibstock Brick, British Gypsum, and Etex. In addition, we still carry out a lot of work in the quarrying and aggregate sectors, working with many key players, including Tarmac, Hanson and Cemex." Tarmac, Hanson and Cemex."
Established in 1986, Wright Engineering was founded by Chairman Stewart Wright. The company has experienced consistent growth over the years, leading it to move to its current premises in 1999, before adding a new head office onsite in 2011. When Stewart Wright stepped aside to enjoy retirement in 2018, Chris took the reins and tasked himself with continuing the company's long history of success.
"The organisation has always placed quality of service and lasting relationships over short term gains or losses," Chris explains. "We have a fantastic team, who are highly skilled and experienced, but like any company, that doesn't mean we get everything perfect every time. We understand this and we focus on ensuring that, if things can be improved, we do everything we possibly can to improve them. From our experience, this is the best way to build long-term relationships."
Wright Engineering's refreshing approach to business is, no doubt, part of what has helped it secure work from such high-profile clients over the years. In February 2020, the company completed a project for Blue Phoenix, a world-leader in incinerator bottom ash (IBA) processing. Tasked with some elements of structural design, fabricating, installing and commissioning a state-of-the-art processing plant, at the time of order, the value of the contract was the largest in company history. "The project duration was very tight and put our considerable resources to the test, but we are happy to say that the plant was completed to an extremely high standard," Chris reports. "Most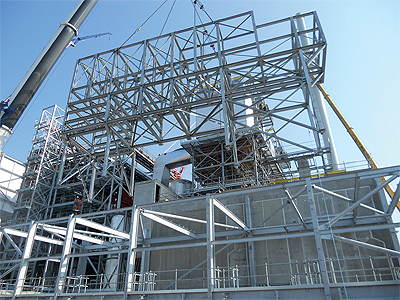 importantly, we have maintained a strong relationship with the client, executing a number of smaller packages of work at various locations, following the main project."
A long-standing relationship with Saint-Gobain also paid off for Wright Engineering recently. Having worked with British Gypsum – a member of the Saint-Gobain Group – for over 30 years, the company was awarded a contract for a project with Isover, another business from the group. The work involved the redesign, manufacture and installation of around 70 tonnes of large diameter, stainless steel ducting.
"It was extremely rewarding to be recommended for the project," Chris states. "The work was completed safely, to the highest standards, and well before the required end date. This enabled the team of 30 engineers, who had been working around the clock, to undertake and complete further works which had arisen during the project."
Saint-Gobain's satisfaction is reflected in the numerous orders it has placed with Wright Engineering since the project was completed. The work, which will take place throughout the remainder of 2020 and includes mechanical maintenance, structural repairs and major turnkey process upgrades, is further evidence of how Wright Engineering's emphasis on fostering client trust helps to stimulate future work.
"The orders from Saint-Gobain range in value from small to medium scale projects, equating to around 10 per cent of our targeted turnover," Chris declares. "The relationship is a prime example of our business model to build and maintain long-term relationships with partners who share the same values. It's a model that recently led to us receiving our largest single order value to date in a deal with Tarmac, a CRH company."
Despite all the recent success, Chris is determined to keep the company grounded and maintain its positive growth trajectory. "We have some exciting work coming up in 2020, but we need to continue securing further projects and ensure we keep our teams busy moving forward."
One way the organisation is preparing for the years ahead is through continued investment in talent. "Investing heavily in personnel has helped us to secure new industry experts, which in turn has seen the creation and growth of our separate Parts and Drives Division in the last 24 months," Chris notes. "We also remain focused on the training and development of our current teams and this approach extends to every part of the business, from the development of apprentices through to executive education courses for our next generation of management and directors."
With a growing track-record of success, a steadfast commitment to its core values and a number of intriguing projects on the horizon, Wright Engineering is looking to the future, resolute and optimistic. "The company is very much focused on continued growth," Chris asserts, "but we don't just measure this in turnover. Our goal is to be the market leader for the services we offer. We want to be our clients' first choice."
Wright Engineering
Services: Materials handling solutions