DMC Contracts
---
Providing a holistic approach to demanding projects over a wide range of industries and market sectors, DMC Contracts specialises in the supply and installation of all types of wall and floor finishes
Leading from the front
Providing a holistic approach to demanding projects over a wide range of industries and market sectors, DMC Contracts specialises in the supply and installation of all types of wall and floor finishes
While chiefly known for floor tiling, DMC Contracts offers a range of services including screeding, platform paving, pre cast stair units and rendering. The company was founded in Tilbury in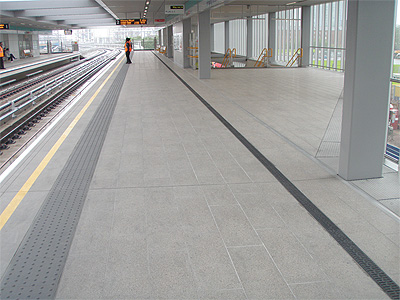 Essex around 1999 by David McCartney, and Sales Director Conor McCann states he is still very much a hands-on part of the organisation: "We went from focusing on the commercial sector to 70 per cent infrastructure. David has had a lot of influence on the business, he very much leads from the front. We have a low tier management structure and the ethos is very collaborative and this is crucial to the success of DMC."
Contracts
The company website is very explicit in terms of its vision and values, guiding the way the organisation approaches its work: 'Our mission is to safely deliver all our projects to a high quality, defect free in a safe and environmentally conscious way, whilst providing value engineering and programme solutions. Our vision is to become the sub contractor and employer of choice within our industry by safely and consistently delivering successful and innovative projects and services'. This approach is clearly paying off as DMC has a number of high profile customers, the most significant being a contract with London Underground as well as seven of the nine major Crossrail stations. Alongside this the company has also been working on Birmingham New Street Station, the Cambridge Welding Institute and Gatwick, Heathrow and Bristol airports, with a number of glowing testimonials on its website.
Conor believes that it is the collaborative approach that the business has with these organisations that means not only attracting projects but also getting previous clients coming back for more: "Essentially business is about relationships – if you deliver in the right manner people will ask you to do further work. Our experience within the sector means our customers know that this means getting the job done while also offering value for money," he explains. He then goes on to further elaborate on this: "The commitment is instilled on site at the work face, with everyone responsible for the results. This is communicated through the project manager, while there is also an inspection to check for quality and workmanship. It is important to offer value for our customers where we can, because sometimes a specification will go for a very expensive option when there are adequately more suitable less expensive options."
The effectiveness of its work has been reflected by the testimonials from clients with Paul Forrester from Ardex describing DMC as; 'a dynamic and progressive company' while Robin Oxborough of AATI points out how it can; 'complete any size project to the highest quality.' Conor believes this praise partially comes through how DMC puts its bids together for its clients: "Transparency is crucial. It is important to provide information about details such as pricing, methodology and design alongside mock up drawings for them to consider. Our aim is to give people a one-stop shop, for example, with the Underground, as well as tiling we can offer skirtings, drainage, handrails, staircases and so forth," he lists. The company is also strongly committed to its environmental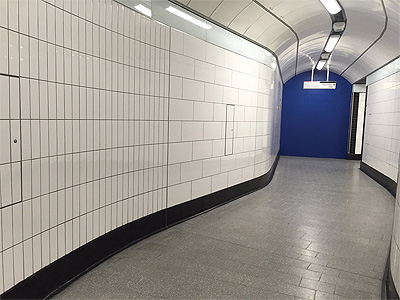 policy: "DMC have ISO 14001 accreditation, giving us a framework to follow regarding waste management and reducing emissions, which is something that needs to be taken very seriously. A lot of work is subcontracting, but when collaborating with m in contractors part of this conversation involves encouraging the use of environmentally sound resources. Our company always strives to use sustainable materials but it can also depend on the specification by the architect," he reiterates.
Development
There are some concerns regarding conditions in the future that could potentially prove more challenging for DMC, its suppliers and competitors: "The sector showed the first signs of non-growth in September this year so there are some concern about what will happen in the future. On the one hand HS2 and Crossrail 2 are big projects coming up in the next three to five years but there is also the Brexit issue that could affect the market, time will tell," Conor muses. This has meant that the company is looking at new sources of potential projects: "As well as the Crossrail projects there are also major works at Heathrow, Stansted and Gatwick so there will be work for the next few years and DMC is exploring options regarding the commercial and residential sectors." The company has also been engaging with the local community, DMC not only sponsors the non-league football team Billericay Town and the ladies team St James Swifts but also helped to arrange a number of charity football matches in aid of suicide awareness charity organisations.
The vision that DMC has seems to be shared across on the board. On its vacancy page the business talks about 'a unique opportunity for highly motivated and client focused people' who can handle a 'demanding, fast moving environment'. In many ways these words seem to reflect the challenges that the organisation faces. While there are many potential obstacles ahead there are also some massive opportunities, and it is likely that DMC has the motivation and the focus continue building on its success.
DMC Contracts
Services: Contractor specialising in wall and floor finishes
---