Lignacite
---
Family owned and founded in 1947, Suffolk based Lignacite has developed a strong reputation for quality, innovation and sustainability, with blocks present in high profile projects such as the Gherkin, the Olympic site, the Shard and Heathrow Airport
Block by block
Lignacite's commitment to sustainable innovation supplemented by quality product and service has ensured its successful history, and looks set to secure more of the same in the future
Family owned and founded in 1947, Suffolk based Lignacite has developed a strong reputation for quality, innovation and sustainability, with blocks present in high profile projects such as the Gherkin, the Olympic site, the Shard and Heathrow Airport. With a focus on sustainability the company produces a full range of blocks, from grey concrete commodity blocks to architectural facing masonry made from limestone, granite, glass and other recyclable materials. Making the company's products stand out as unique is the use of wood as a component to create a sustainable material. Indicating the central importance wood has in the company is the name Lignacite, which comes from the Latin for wood, 'lignum'.
"Sustainability is key for us," explains chairman and grandson of the original founder, Giles de Lotbiniere. "Both in terms of the impact we make on the environment and what we put into our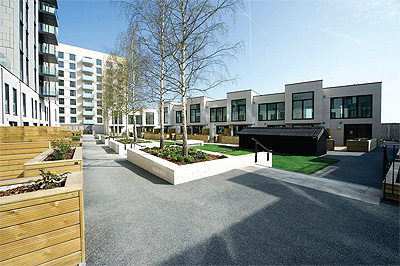 blocks." Lignacite's main plant in Brandon, Suffolk includes its main quarry, which reduces the need for major lorry movement. Giles estimates that this has eliminated 38,000 lorry movements over the last ten years. The company also uses recyclable material wherever possible, and makes the point of recycling all of its own waste.
In terms of its products, all of Lignacite's blocks contain at least 30 per cent recycled materials. At the top end is the 'Waste Not Warrior' block that comprises of 92 per cent recycled material, with the cement being the only component that isn't recycled. Reinforcing the company's position as a leader in sustainable innovation is a block called 'Carbon Buster'. "It is the first genuinely carbon negative block in the UK, and we think the world," highlights Giles. "This comes from a combination of the use of wood and another material. Wood locks up an enormous amount of carbon dioxide, a cubic metre locks up 800kg." Lignacite has been working with a company called Carbon8, which takes the pollutant waste from domestic burners and locks it up with liquid carbon dioxide collected from sugar beet processing to produce a lightweight, inert, aggregate pellet. "We put these pellets into the blocks with the wood and produce this unique block. We can transport the blocks up to 100 miles and they are still carbon neutral," says Giles.
Innovation, however, extends beyond sustainability. "We are very keen to work closely with architects and engineers to develop products for most projects," emphasises Giles. "Most of the interesting projects that we have worked on have come as a result of collaboration and working closely together with our clients." The recently completed Tower of Love on Blackpool's seafront makes use of innovative Lignacite Blocks. Giles explains:"dRRM architects not onlyspecified a glass block, but they wanted luminescent, powdercoated glass. We made a block with this glass, which warms up during the day and glows at night." In a similar demonstration of its willingness to create bespoke blocks is its work on the Athlete's village on the London 2012 Olympic site. "The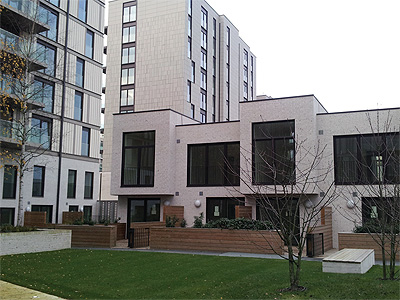 architects wanted green glass, but at the time we were having difficulty getting hold of this glass," he adds. "So we got all of our staff to save all their beer and wine bottles to smash up and put in the blocks."
Following the recession many of Lignacite's customers were forced to close plants, opening up a significant opportunity for the company to take advantage of renewed demand. To accommodate this it has recently invested £2.5 million in to its second plant in Nazeing, Essex. "Last year we put in a completely new batching plant for handling the aggregate, and at the beginning of this year we had a new Columbia block machine installed," notes Giles. "This has more than doubled our capacity at the plant. We have also built additional ovens giving us 75 per cent more capacity there. This means that the blocks can go in for longer and use even less OPC to cure."
The extension at Nazeing has been critical for the company to react to the changing market conditions and taking advantage of this expansion defines part of Lignacite's future. "We are very keen to consolidate the additional market share that we have won from other companies closing down their plants," says Giles. With ongoing projects for Crossrail and Battersea Powerstation illustrating a strong footing as it moves forward, the company is also focused on maintaining its reputation for innovation. "There are opportunities to continue discovering new and attractive recycled materials to put into our products," he continues. "Over the next three to five years we hope to secure some more raw material supplies and find some new sources of these materials."
Despite industry challenges from increasing legislation and transport regulations, Giles is confident about the future of Lignacite. He points out the desire to explore the idea of a third site, which only serves to prove how committed the company is to expanding. Lignacite has very much been ahead of the game in terms of producing sustainable building materials, and in light of the current trend towards that very issue the company is well placed to continue its success.
Lignacite Ltd
Services: Produce sustainable facing masonry and commodity blocks
---