SDH Project Services
---
SDH Project Services is utilising its exceptional capabilities in the telecoms sector to gain prominence in the electrical, and oil and gas markets
Becoming connected
SDH Project Services is utilising its exceptional capabilities in the telecoms sector to gain prominence in the electrical, and oil and gas markets
Established just after the dawn of the new Millennium, SDH Project Services has evolved into a full-service operator in the telecommunications space, providing blue-chip clients with fixed and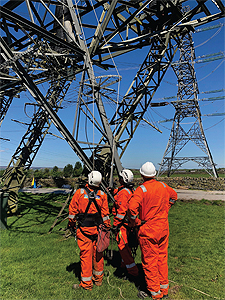 mobile network design, construction, network services, security and surveillance systems, preventative maintenance support, managed services and project management.
The company is focused on implementing the highest levels of fibre optic technology, and Mark Hulin, one of SDH's founders, and head of the Managed Services Division, emphasised that it is this that unites the business: "Fibre is the common denominator that flows through everything we do," he stressed.
This of course means that SDH is involved in the drive to expand the UK's fibre optic network. "In terms of fibre, we provide a range of services, from survey design, to planning and installation, to civil engineering and then maintenance operations thereafter. That's seen tremendous growth in the past 18-24 months, because Britain 'becoming connected' is a buzz phrase," Colin Brown, SDH's second co-founder and head of the Contracting/Special Projects Division elaborated. With the Government backing a lot of the work, there's a massive race between the major suppliers and telecoms to get higher speed of broadband services and data to the end user, with companies such as Virgin Media, Open Reach, City Fibre, Vodafone and Gigaclear investing enormous sums in the roll-out. But getting there requires the construction of a core network in the key towns and cities identified for 2018/2019 and 2020. "We call these Metropolitan and PON (Passive Optical Networks)," said Colin. "We are involved in some of their work, a small cog in the machine so to speak, and that is what I call the 'terrestrial side of telecoms'."
While Colin may regard this side of the business as the 'bread and butter operations', that is not to downplay the sophistication of its technology and the prestigious contracts in which it is involved. "Last year, SDH, together with Morrison Utility Services, worked on the GFAST Trials in the North East and North West of England. As a direct result of the successful trials, we won the 2018/19 delivery in both regions. We will now be delivering over 2000 GFAST Structures on the Openreach network, with the possibility of a contract extension for another year," said Colin, giving an example of how SDH's hard work and dedication is increasingly being recognised by big telecoms players. "We're in the delivery period and exceeding expectations," he added.
Keeping the network alive
Alongside these day-to-day activities, over the past 12 months SDH Project Services has been looking to diversify its activities, to spread its operations over a wider field and to create a more sustainable business, that is able to weather any economic storms. "Diversity is key," agreed Colin. "Our aim is to have three or four other divisions that can support us through monetary highs and lows."
As a result of this forward-thinking strategy, SDH Project Services has seen new areas of business open up, including in the overhead lines/energy market where the importance of its activities is hard to overemphasise: "We keep the network alive," Colin stated simply, before elaborating further on exactly what this entails. "Most transmission and distribution companies have pylons and overhead distribution lines, and now they all have fibre optic networks on their overhead lines too. They utilise this existing right of way for the commercialisation of telecoms and via this network they provide services to other operators. Working for Arqiva, Vodafone and National Grid, our engineers provide 24/7 maintenance services on the 275kV and 400kV Overhead Optical Infrastructure belonging to National Grid.
"But we are also working increasingly within the power environment, based on the telecoms side, but moving into a more industrial type of application," Colin continued. "We have found this to be a natural fit for the business, as within generation, distribution and transmission, there's now a need for fibre optic monitoring technology, as it can give an owner or operator real time information on their asset, so they can take action when it is needed, with cable theft as an example. Without that data, they are always behind the curve."
This need for instant information is also prevalent in the oil and gas sector, and this market is proving another valuable source of business for SDH. "Operators are recognising the benefits of using fibre optic technology for oil and gas on pipeline monitoring, whether that is onshore, offshore, or downhole," Colin explained. "Following the oil price crash two and a half years ago, we positioned the monitoring side of the business as the fibre optic integrator of choice, offering support to vendors, which lets them concentrate on creating the hardware and software. Providing the service offering side is a critical factor and is widely accepted as needed in the marketplace, so early in 2017 we brought in a specialist to carry out the development side, and we will bear the fruits of that investment in the months ahead."
Pivotal projects
This ability to monitor situations in real time is a benefit that is also finding applications onshore, such as where transmission and distribution companies are using fibre optic solutions to deal with the issue of SF6 gas leakage. "Operators are fined based on estimates of how much gas has leaked, where our technology will give them precise figures -thus we have found ourselves selling a lot of technology and installations services into that space, and I expect further growth there."
In fact, leak detection was also the focus of a pivotal project in Nigeria that SDH undertook for Shell in 2011, where Shell was trying to qualify a fibre optic system for leak detection. "Our expertise in understanding the terrain, our experience to predict how the cable is going to work, and our knowledge on the best way to physically get the cable into the ground in such a way to maximise its efficiency under difficult conditions, proved extremely valuable, and our White Papers on the project were recognised with an award from the Society of Petroleum Engineers (SPE) and Shell rolled out that solution in a variety of locations. That was before the crash, and we are now seeing more investments coming through in oil and gas, as the industry realises that they have been behind the curve with digital, and that fibre optic solutions can play a massive part of their operations," stated Colin.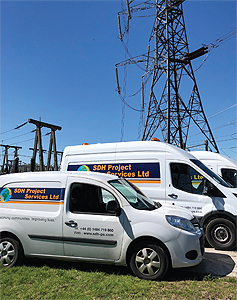 Indeed, Nigeria's flourishing oil and gas sector is looking promising for further work for SDH, with the possibility to work on Shell's Bonga North West development offering the potential to 'change the landscape of our business hugely over the next 24 months' according to Colin. "We communicate a lot with global EPC contractors around the world who work for the IOCs, and they are starting to see capital projects come back on line again, in the North Sea, the Gulf of Mexico and the Far East. There are definitely signs that the oil and gas is making a return," he asserted.
Transferable skills
This can only be good news for SDH, as one of the standout benefits of fibre optics is their ability to be used on or offshore, and as a result subsea communication cables are becoming much more common in oil and gas, as players are connecting their land based operations to their platforms, vessels, and FPSOs with fibre. This helps them work smarter and be more efficient in their production operations and output. "Through our monitoring business we are involved in the submarine cable world, and in a mark of how our business is regarded we were invited to join and have been accepted into the International Cable Protection Committee (ICPC), the world's governing body for submarine cables owned by operators, governments or whoever may own them around the world," Colin noted proudly.
Looking forward, the future looks bright for SDH – Colin and Mark would like to see each division of the business grow substantially within the next two years. This ambitious plan will be assisted by another business area where the company foresees great possibilities for its talents. "We see big potential in electrical vehicle charging (EVC) buildout, where our civil engineering capabilities are a major transferable skill, in terms of set values and site builds," Colin detailed. "The Government's recent announcement that it will ban the sale of new diesel and petrol cars by 2040, to encourage people to switch to electric vehicles, makes us optimistic about our prospects. There is little to no infrastructure in the UK, and we have entered into the market at the very front end of the rollout, making us one of the first ones through the door. We are already working with Centrica Innovations as a major blue-chip client, and we now have the ability to roll out EVC networks for major blue-chip clients, retailers, and other companies. It's going to be a big growth area for us."
Working with Centrica is bringing SDH's technical skills to play in other spaces too – Centrica has a division handling energy performance, which is working with the NHS to refurbish its power systems. "At most of the major hospitals around the country, we are installing very key and up-spec power supply systems," said Colin. "This involves a lot of civil engineering works, which is not just changing the profile of staff employed by SDH, but is also helping to widen our Project Services brand."
As SDH enters the second half of 2018, its growth trajectory is on a solid upward trend. "Last year we achieved a £23 million turnover, while the year before we had £11.4 million, so we had 100 per cent growth," ended Mark. "This not only coincides with the telecoms market opening up in 2017 and but also reinforces the fact that we have the capabilities needed by these sectors, and once we're given the opportunity, we can deliver the solutions to their needs, on time, and on budget."
SDH Project Services
Services: Delivers telecommunications services and solutions to the terrestrial telecom market and power distribution & transmission markets
---