The Thompsons Group
Issue 195
---
In tip-top shape
Having produced over 30,000 tipper bodies since 1973, The Thompsons Group sees ongoing success as a leading manufacturer in the construction, waste and environmental industries
Working for over 50 years as an in-house UK manufacturer, The Thompsons Group (Thompsons UK) is known for its attention to detail, quality, and lifelong customer support. With a network of ten factories across Croydon, Blackburn and Edinburgh, Thompsons UK provides full body cover for a variety of commercial vehicles, ranging from 3.5 to 44 tonnes. Now extending its range to include trailers, The Thompsons Group UK looks forward to entering new sectors, and making use of the most cutting edge technology, as it steps confidently into 2022.
As a company with a long legacy, Thompsons UK found strength in its loyal workforce and effective supply-chain infrastructures, as it worked through the unprecedented conditions of a global pandemic. "Covid-19 made everyone reconsider the way their business operated; and the changes we had to make have improved the company considerably.
"I think one of the biggest highlights of the last year is retaining our full workforce, and being able to keep them busy, without additional factory shut-downs. A lot of credit for this has to go to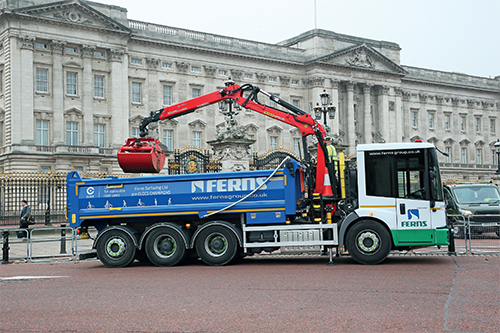 the sales team. It's easy to get orders when there is plenty of work around, it is really difficult when work is scarce and everyone is competing for it.
"I also think we have done well with material supply. Due to our long-standing relationships with a couple of key material stockholders, we have at no point run out of material. They have worked hard to ensure that we have what we need, when we need it, so we owe a big thank-you to them as well," discusses Neil Griffin, Group Engineering Director at Thompsons UK.
Despite its ongoing success, The Thompsons Group has been subject to the same difficulties faced by the entire industry over the last few years. "2021 has been a challenging year for two reasons: Covid-19 and supply issues. Covid has caused problems with the workforce, due to quarantining from track and trace, or after journeys abroad. We have a lot of employees from Eastern Europe and their visits home all led to self-isolation upon their return, which in turn affects productivity.
"The second problem is with supply and costs. All of our steel has risen in costs by around 100 percent due to demand in Europe, and some of the high-performance steel has risen by 250 percent. Lead times on materials have gone out to months in some cases," explains Neil.
Supply chain issues have made the sourcing of materials more complex, and expensive, as Neil highlights: "We have continued giving quotes and have taken orders, but since then prices of steel have continued to rise. This, along with price increases on almost all other equipment, means our costs have risen by up to £2000 per vehicle, something that to-date, we have not passed on to our customers.
"The other part of the supply problem is chassis availability; at the end of the day we need chassis' to put the bodies onto, and the OEM's have been suffering badly due to the shortage of semiconductors. This has led to delays, and as a result fewer trucks are arriving."
Even in the face of these challenges, The Thompsons Group has successfully fortified itself, and found new ways of succeeding under difficult circumstances. The company's long-standing supplier relationships have proven themselves especially valuable, as Neil affirms: "Having good suppliers is critical.
"We have long standing relationships with our suppliers and this has allowed us to secure the material we need, whilst, at the same time, not having to compromise on what we put into a body.
"The purchasing department have also had to work especially hard in sourcing items and agreeing prices with suppliers; all of that has helped us to limit the effect of cost increases on the business. In some cases this has meant moving away from existing suppliers, which is a lot of work, but pays off in the end as you get a better service at a lower cost," he adds.
Also ensuring the continued prosperity of The Thompsons Group is the company's dedication to high-quality, reliable manufacturing. Almost all Thompsons UK bodies are manufactured using steel, in order to provide both the maximum operating versatility, and an optimal balance between strength, reliability and payload capacity. The company's flagship range of rigid bodies has produced over 20,000 units in the last 20 years. To ensure consistent product quality, The Thompsons Group is committed to making use of the most cutting-edge manufacturing technology available.
"Our continued investment policy has seen the arrival of two new Bystronic presses at £500,000. One of these is in Croydon and one in Blackburn. This means that all programs for the presses can now be written offline with the same capability at each site. These presses came with bending aids, to help lift parts whilst bending, and tool holders that relieve much of the effort in lifting the tools onto the press," details Neil.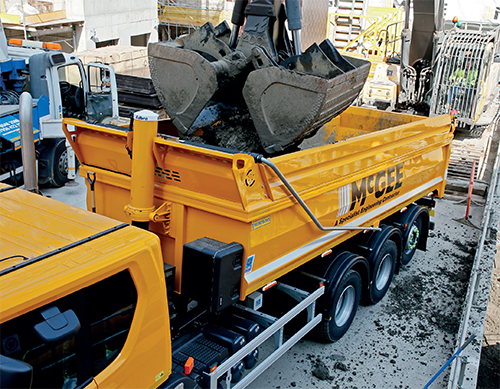 Emphasising the importance of technology, not only to the end product, but to Thompsons UK's entire manufacturing process, he continues: "Both options were chosen to try and make the work less strenuous for the operators. We also purchased some other equipment, including an additional paint booth in Blackburn, and a rumbling machine that is used to remove sharp edges on parts, and improve the overall paint finish as a result."
The company is also involved in exciting new developments in electric vehicle technology, in support of an industry-wide drive toward net zero. "I think one of the most exciting projects is the imminent arrival of a 27 tonne electric tipper vehicle. It is the first tipper in the UK that will be purely electric, so it is a bit of an unknown. We have been working with Volvo to try and ensure that the equipment going on the truck complements the electric nature of the vehicle and limits the power requirements," Neil states.
As The Thompsons Group steps into its 52nd year of business, Neil ruminates on the exciting road ahead: "2022 will be a challenge. At all the factories we have a full order book for many months, which is very good, and we are certainly going to be busy. We are also waiting on a number of new trucks to be manufactured. It might be a challenge if there are delays, but, fortunately, the omen seems to be good, as we have started to get a number of vehicles coming in over the last two weeks.
"In the longer term, we are looking towards adding more technology into the factories. We are looking at manipulators, to be able to rotate bodies around, thus making welding quicker and easier, and we have also been looking into the addition of robot welding cells to produce smaller assemblies. These would allow our welders to concentrate on building the actual bodies, rather than being drawn off to make other necessary assemblies.
"With order books full, and many of our previous jobs now requiring a lot of extras to be fitted, it is always difficult to be find the man-power to finish everything on time. That being said, we are optimistic that we are up to the challenge," he concludes.
The Thompsons Group
http://thompsonsuk.com/
Services: Manufacturer of tipper bodies
---