Thomas Plant Hire
---
Family-owned Thomas Plant Hire is having the best time of its life, thanks to actively investing in fleet and constantly proving the reliability of service it has become known for
All about quality
Family-owned Thomas Plant Hire is having the best time of its life, thanks to actively investing in fleet and constantly proving the reliability of service it has become known for
Not many companies exemplify the term 'work ethic' better than Thomas Plant Hire. Year after year, the Welsh company's founder, Wyn Thomas has stuck to his principle of 'getting the job done',
which has enabled his venture to grow from a one-man business to a group employing over 200 staff and regularly generating a healthy turnover of over £25 million.
The real history of Thomas Plant Hire began in 1997, while Wyn was still working at Jennings Plant Hire, when he decided to purchase a second-hand JCB 3CX backhoe loader. It was with this machine that he completed his first project a year later, when he had already parted ways with his former employers. In the months following the successful completion of that maiden project – a Rhuddlan cycle path awarded to him by Daniel Contractors, Wyn realised that his attitude to take a job to a professional finish, regardless of the circumstances, was winning him numerous contracts.
In a relatively short period of three years, he would buy half a dozen small excavators, dumpers, and rollers, as well as his first 13-tonne excavator, continuing to carry out every project, maintain all the equipment, and process all the paperwork, entirely by himself. Soon enough, it became clear that running the whole business from home was no longer possible, due to the increased amount of work Wyn needed to take on. This led to him setting up an office in Colwyn Bay, which consisted of a portacabin and a small storage area, in 2002. Just two years on, Thomas Plant Hire had outgrown its capacity, and Wyn purchased a new yard in Holywell.
"We were growing rapidly up until 2008, when the recession hit," Wyn himself recalls. "In 2007, we purchased 40 new Komatsu diggers, but the crisis slowed our growth down for a year or two. Nevertheless, we recovered quickly and started to grow again after the recession. We continued buying lots of Hitachi and Volvo diggers over the years to expand our fleet."
The acquisition of a company called Anglo Plant Hire in 2014 is considered a stepping stone to Thomas Plant Hire's geographical expansion, as it provided a gateway to the North West of England, and, together with that, the upgrade of the fleet would continue at full steam ahead, with Wyn's company investing nearly £12 million in plant. "Today, we own an extensive range of excavators – from micro diggers to 40-tonne excavators, and we constantly invest in bringing in new equipment from manufacturers like Komatsu, Hitachi, and Volvo. In fact, I just placed an order for 30 new excavators with Kobelco worth £2.5 million. In total, we operate around 1500 vehicles," Wyn clarifies.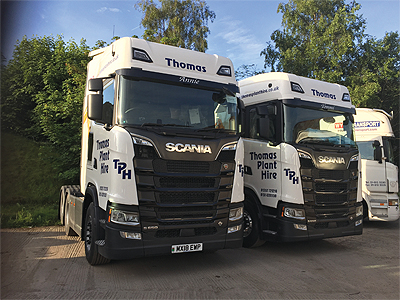 The pattern of conquering new peaks every year did not change in 2017, as Thomas Plant Hire reached new milestones in its business development. Last year marked the completion of the company's new workshop and concrete yard, just off the A55, which was called Tai Hirion, after the farm Wyn was born and grew up on as a child. The Managing Director also took the decision to buy SOS Hose Services – a Deeside-based hydraulic repair service, later on forming Thomas Tool Hire to provide small tool hire services.
"Our projected turnover for 2019 is £30 million as a group," he predicts, "and we are planning to spend around £20 million on new equipment. We are pleased with the growth we have overseen recently, both in terms of fleet volume and turnover. Some of the latest additions to our vehicles include eight brand-new Bell 20-tonne dump trucks this year, as well as two Volvo a30 dump trucks. We have also taken delivery of ten new Volvo EC140E crawler excavators and two 40-tonne class Liugong 939E hydraulic excavators. It is vital to keep on building our fleet and make sure that we extend our ability to supply our customers with high-quality equipment, because this is essentially what they need."
Wyn is also extremely satisfied with the current market conditions for the business. "They are very good, at the moment. We had our best-ever month last month. House building is a booming market, presently, representing a significant percentage of our work. We are involved in a couple of substantial projects in Wales, where we take part in the building of 140 houses," he reveals.
Commenting on the reasons for Thomas Plant Hire's continuous growth, the Managing Director highlights the company's excellent customer service. "I believe that our clients come back to us, because they know that we treat them fairly, and because of the wide range of machines we can provide, of course. Another of our key strengths is that we are capable of delivering a critical backup to what we do. We have 15 low-loaders at our disposal, we can deploy, when necessary."
The story of Thomas Plant Hire has been one of a company imposing high internal demands for its operations, steered by its perfectionist Managing Director, whose philosophy that promises need to be kept and expectations exceeded, has enabled the Welsh provider to steadily increase its footprint over the years.
Thomas Plant Hire
Services: Plant hire and groundwork services
---