Updates and information from the construction and civil engineering market
Building wellbeing
Following approval to build a £250 million wellbeing resort in Manchester, Therme Group has revealed plans to develop the concept in other major UK cities. The roll out will create over 3000 new direct jobs and represents a major investment in the health and wellbeing of the population.
The development plan includes projects with a similar concept to Therme Manchester in Wales, Scotland and London. Work begins on the 28-acre Manchester resort next year. All of the projects will be developed at sites located near to city centres.
UK Chief Operating Officer, James Mark, said: "Our resorts provide a vital piece of social infrastructure in our cities, creating relaxing and fun places to meet whilst also nurturing mental and physical health. Our aim is to ensure that a Therme Group wellbeing resort is within easy reach of 90 per cent of the UK population."
The concept, combining nature, sustainable technology and culture, has been phenomenally successful in Europe for over 20 years. The UK development will be a significant driver for economic growth, also enabling new technology and R&D partnerships. Therme Group aims to contribute to the health and wellbeing of the populations it serves, an issue that has received increased focus and urgency in 2020.
Site protection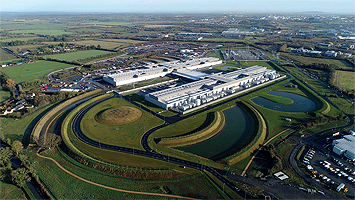 A global social media giant opened new data centres late last year in County Meath, Ireland. One of just six such data centres across the world, they handle the data of their 2.5 billion users globally. With bases across Europe, site security specialists VPS Group were selected by the international building contractor Mace, to help protect and secure the construction of the massive data centres.
Built on a 250-acre site, VPS deployed its award-winning VPS Smart Towers – state-of-the-art CCTV towers that are purpose-built to cope with the dynamics of ever-changing building sites. Comprising day and night cameras, sensors and alarm systems, networked to an on-site monitoring station run by their partners, Provincial, the 20 towers covered the site 24/7, and were independently powered by hydrogen cylinders, with zero emissions, apart from water.
The VPS Smart Towers incorporate vandal-proof pan-tilt zoom (PTZ) and fixed cameras, supplemented with infra-red illuminators, a variety of movement detectors; digital recorders, and a public-address system can also be fitted.
Primed for entry
The award-winning Dutch hotel and lifestyle brand citizenM has entered into an exciting collaboration with German project developer GBI. citizenM is looking for prime locations for its entry into the German hotel market. True to its philosophy 'affordable luxury for the people', citizenM is offering guests all the luxuries they would expect from a high-end hotel in a prime location, yet without sky-high prices. Since June, citizenM is also offering contactless stays powered by its new app.
The focus for citizenM's expansion in Germany will be on four cities: Munich, Hamburg, Frankfurt and Berlin, where citizenM plans to open several hotels in each city. GBI and citizenM will search for suitable properties and plots of land for the brand to acquire, and then develop turnkey citizenM hotels together.
With its owner-operator model – delivering a high profitability per square metre – lean operational cost structure, and a robust tech-forward approach, citizenM has been expanding its global portfolio smoothly and continuously across Europe, North America and Asia in prime locations.
"It had been clear for some time that Germany, as Europe's strongest economic country and a sought-after travel destination, would be one of our next targets," says Klaas van Lookeren Campagne, CEO at citizenM, "but we needed the right partner and consultant for our expansion. We are delighted to have found this with GBI."
Plans submitted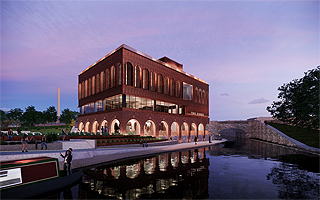 One of the biggest city centre regeneration schemes in the UK moved a step closer in July as a planning application for the first phase of The Island Quarter development was submitted to Nottingham City Council. Conygar is the developer behind the scheme, and Richard Watson, director of Conygar Nottingham, explained that the business has been working closely with the architects Jestico+Whiles and the design team to develop the detailed plans. "We have undertaken a lot of research over the last few years, not only with Nottingham City Council, but also the people of Nottingham to ensure that we are creating a development that is fit for the city and the UK," he added.
Phase 1A, known as Canal Turn, will include a three-storey 2,000 sqm pavilion on the waterfront, featuring two restaurants, circa 500 sqm of events space with panoramic views and a large rooftop terrace, and signifies the opening phase of the £650m development.
The detailed planning application also features provision for a bandstand and a substantial area of new, attractive public realm.
The overall plans for the site, which has been derelict for many years, will bring new homes, grade A office space, creative spaces, a lifestyle hotel, PRS apartments and co-working space, a 'linear' park and vibrant community and event space as well as student accommodation to the city.
Safer surfaces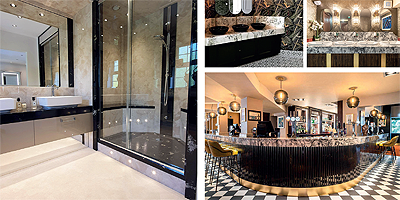 Versital, the creator of handmade solid surface material known as 'cultured marble' or 'imitation marble', has reached out to antimicrobial specialists SteriTouch in order to provide peace of mind and added safety for its customers.
Versital surfaces are extremely hard wearing, and as a result of their protective gel top coat, they are 100 per cent water proof, stain proof, nonporous and easy to clean. SteriTouch antimicrobial additives have been incorporated into the gel material, in order to provide 24-hour protection against harmful bacteria such as MRSA and E. coli. The antimicrobial properties of Versital have been verified by independent laboratories using the ISO 22196 test method, and independent testing has verified that SteriTouch additives do not exhibit any discernible loss of efficacy over a period of 10 years.
Greek expansion
Leading international property and construction consultancy McBains has moved into new premises in Athens as it looks to expand the scale of its work across Greece and the Mediterranean region. McBains Cooper Hellas Technical Consulting S.A., a wholly-owned subsidiary of McBains, has re-located to larger premises, reflecting its ambition to build on its successful projects including those in the hotel and leisure sector, commercial office sector and public private partnerships (PPP).
Its Athens office will provide services including project monitoring, PPP/concessions advisory services, technical advisory services, risk assessment, due diligence, surveying and engineering.
McBains has already worked on a number of significant projects in Greece, and among those in the wider region it is now acting as Lenders Technical Adviser of the Trilogy Limassol Seafront Development, a €350m mixed-use development of residential, leisure and retail areas developed across three towers each of 150m in Cyprus.