Updates and information from the construction and civil engineering market
A floating space for London
Construction has begun on the Royal Wharf Pier – a new riverboat terminal incorporating a large new public space on the Thames – designed by London-based architects Nex—. Royal Wharf Pier, located in Ballymore and Oxley's Royal Wharf development in London's Royal Docks, will be the most distinctive pier on the Thames with unique river views, and marks the practice's first major venture into infrastructure.
Commissioned following an invited competition in 2016, Nex— was selected for its innovative response to the site's unusual constraints, creating a solution that harnesses infrastructure as an integral part of valuable public realm. As a result, Royal Wharf Pier uses strikingly contemporary design to replace an existing derelict jetty, addressing the practical requirements of MBNA Thames Clippers' traffic while also providing a unique and generous public space that can be enjoyed by all.
The shelter's design showcases a contemporary response to more traditional pier design. The elevations are based on a regular rectangular form, cut and folded to align with the angles 27established by the pier's path into the river. Similarly, a skewed and cut back roofline slopes to direct views down the river towards Canary Wharf and The O2. The layout creates increased open space around the shelter, allowing boats to dock easily and providing ample space for passengers. The large structural elements supporting the pier are concealed behind diagonal timber battens, enhancing an impression of weightless floating.
Urban regeneration masterplan
Initial Approval has been granted to the urban regeneration project 'Madrid Nuevo Norte.' This is the first stage of a three-phase planning approval process which should be concluded in 2019.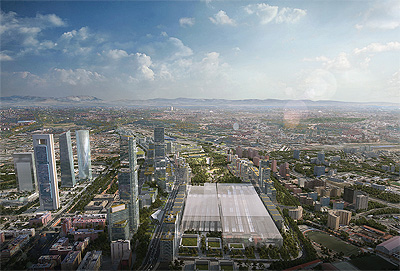 Working alongside client Distrito Castellana Norte and a large team of consultants including Arup, landscape architects Grant Associates, JH Asociados and Juan Alayo, the objective of this ambitious scheme is to close a major split in the city where the railway alignment running north out of Madrid divides the city in two.
The creation of a new CBD is squarely aimed at enhancing the commercial competitiveness in Madrid and of Spain. It will be located at the nexus of a number of existing corridors of economic activity, including the 'Paseo Castellana' and the A1 and A6 – two of the key routes out of Madrid. The Madrid Nuevo Norte masterplan therefore aims to unite these commercial areas into one single, coherent entity.
Special techniques
Staticus, one of the largest façade contractors in Northern Europe, is set to design, manufacture and install nearly 9000 square metres of high-quality façade at Two New Bailey Square, a prominent new sustainable office development in Salford, Manchester. Over the next 12 months, Staticus will install a combination of unitised timber and aluminium stick façades across a total area of 8700 square metres.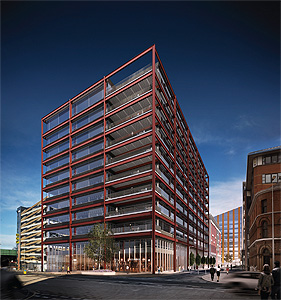 Staticus will manufacture the unitised façade panels in its factory in Lithuania, equipped to operate up to 12 simultaneous production lines, before delivering them to Two New Bailey Square for installation. "An interesting aspect of this project is the external structural steel frame with its visible connections and splices left exposed and protruding from the façade," said Staticus' UK MD Paulius Gurksnys. "Whilst this is unique and looks extremely striking, it means that we will need to use special sealing and prefabrication techniques to build the cladding units and overlay the façade panels. It is an extremely complicated installation."
Timber features heavily in Two New Bailey Square's ground and first floor, at a scale which is unusual for an office development, however, Staticus welcomes a challenge of this nature.
New training initiative
National trade body the Property Care Association (PCA) has launched a specialist trade apprenticeship, geared up to the unique needs of the structural waterproofing sector. The Structural Waterproofing (Below Ground) Apprenticeship Programme forms part of the CITB suite of new entrant programmes (SAPs) for the specialist trades. Developed with and supported by the CITB, the training is open to both PCA members and those in non-member companies. After completing the course, apprentices will be issued with an NVQ Level 2 in Sub-Structure Work Occupations (Structural Waterproofing).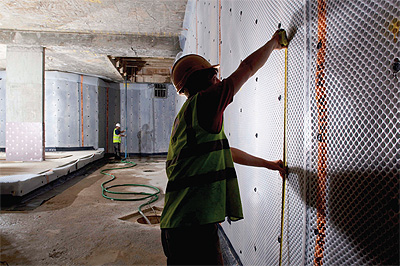 James Berry, Technical Manager of the PCA, said: "Structural waterproofing is a dynamic and highly-skilled area of construction and, as the trade body representing the industry, we identified the need for an apprenticeship programme to create a defined career path for new recruits.
"As people look to more ways to make the best use of freeing up space in their home, office or commercial development, then structural waterproofing will continue to develop, and we need to attract a new generation of professionals into the industry to ensure high standards are retained."
Tools on the move
Speedy Hire, the UK's leading provider of tools and equipment hire and services, has launched a new mobile app for customers as an extension of its digital strategy. The app makes it easier for customers to do business with Speedy by enabling them to complete a full end-to-end transaction from their mobile device. Customers are now able to view products and pricing, find a depot, hire and buy products for collection or delivery, as well as off-hiring equipment in a single click, thereby saving time and money.
The app, downloadable from the Apple App Store or Google Play, enables customers to review which products are available for immediate collection from depots in their area, or alternatively order them to be delivered to their location. In addition, customers can create shortlists of frequently hired or bought items.
Speedy's industry leading service promise, Capital Commitment, where same day delivery is guaranteed on selected products if ordered by 3pm (or within four hours if within the M25) through same day click and deliver is also available on the app. Customers qualify for one week's free hire if Speedy fails to deliver in the stated time.
As part of the launch, Speedy is donating one per cent of every digital transaction undertaken through the app for a limited period to its charity partners; WellChild and the Lighthouse Club.