The Contract Merchanting Division at Travis Perkins ended 2017 with a remarkable profit growth, thanks to its extended product range and close collaboration with its customers
Ready with a solution
The Contract Merchanting Division at Travis Perkins ended 2017 with a remarkable profit growth, thanks to its extended product range and close collaboration with its customers
Staying on the top in a competitive industry like construction requires mastering the ability to adjust your strategy to what customers need, and the Contract Merchanting Division (CMD) at Travis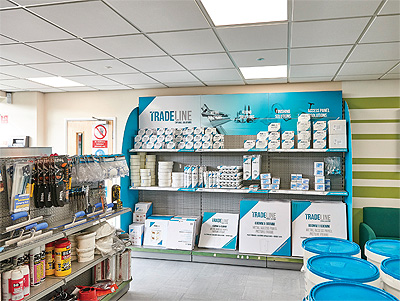 Perkins spent a fair amount of time in 2017 developing its customer proposition according to the insights it generates all the time while working on different projects. "We are committed to the principle of continued evolution of everything we do, and one of the aspects we are particularly mindful of, is developing a service that reflects exactly what the customers want," Divisional CEO, Frank Elkins claims. "We are seeing certain changes in customer behaviour. We are being challenged to offer solutions that improve onsite efficiency and tackle skills shortages. There are a lot of factors in the construction market that force us to adapt and adopt different approaches to what we are doing. We endeavour to offer complete solutions, which add real value to customers, rather than simply one-off products," Frank explains.
The UK's largest product supplier to the building, construction, and home improvement markets, the Travis Perkins Group reaches its customers through over 2000 branches and stores across the country. Overall, it is comprised of more than 20 different businesses divided into four divisions – General Merchanting, Consumer Plumbing and Heating, and Contract Merchanting (CMD).
Recent growth
The three businesses brought together under the CMD umbrella – BSS, CCF, and Keyline, performed well in 2017, and the division achieved a double-digit profit growth, compared to its results a year before, also increasing its market share in the process. Frank discusses the reasons that led to this achievement: "We applied a very focused approach towards the areas that we want to trade in, making sure that we have a wide range of solutions in every category that interests us. Our rich catalogue guarantees that we are able to offer working alternative solutions to clients." The business' recent growth can also be linked to the advances the CMD made in its technical specialisation. "In order to serve the customers in the most efficient way, we made sure that we have the right team of people who speak the right technical language to our clients. We placed emphasis on training and developing our colleagues, so they are well-versed in providing technical support and expertise at all times," Frank comments. "Another all-important practice we established that has definitely helped us grow last year, was to engage early on with the main contractors and subcontractors of various projects. This kind of project tracking brought us closer to what was happening onsite, and gave us a better idea of the products and solutions we had to design that would be specific for every job."
Understanding clients
A perfect example that confirms the workability of Travis Perkins' strategic decisions, could be found in the rise of Keyline to the number one supplier of civils, drainage, and heavy building materials. Putting together all of the aforementioned practices has accommodated the progress Keyline has made in the past four years. "Together with expanding our range of products, we also paid attention to our logistics and infrastructure. As a result, we developed a new model branch for the business, which is a lower-cost service but with a higher product availability. We intend to continue extending our branch network and provide a better access for clients to the civils products we offer," Frank asserts.
"We have also been working with a number of strategic suppliers, looking to get involved in their projects at an early stage. Again, this allowed us to understand clients' demands better, so we were able to develop more customised propositions, taking into account health and safety measures, requirements for safe offloading, and also environmental requirements and how we would reduce the carbon footprint of the products we had to deliver to specific supply chains," Frank points out. "We won a number of projects by doing this, the Thames Tideway being a notable example. Other major ventures we were part of, are the Aberdeen bypass, and the A14."
Frank singles out the enhanced variety of tool hire offerings, as one of CMD's product development highlights in 2017. "We introduced a new range of low-level access equipment to our portfolio in the category. We have been providing tools for the specialist trades mechanical engineers work in, such as pressing, grooving, and electrofusion welding, but we can now offer more specific low-level access products for them to more easily reach the areas they need to get in."
Training and skills
Known for its dedication to cultivating talent, Travis Perkins offers plenty of training opportunities to its employees, and regularly runs award winning apprenticeship schemes for aspiring youngsters. "We want to embrace the Government's initiative regarding apprenticeship schemes. The Group has opened a multitude of opportunities, from day-to-day warehousing, all the way through to management training. We also pride ourselves on the in-house training academy we have founded. It teaches our employees technical and product knowledge skills through on-line learning courses, but sometimes we would invite some of our supplier colleagues to provide training on specific products. In addition to this, we have done a lot of work on developing our people's sales technique," Frank remarks.
Over the past 12 months, he has observed a shift in customer demands with regards to the way they communicate with Travis Perkins. "Our clients want to be able to manage their accounts, look at quotes and stock availability, and talk to our branches online. This has led us to start examining our opportunities to develop IT and digital capabilities for them to benefit from," Frank notes. "We are developing a cloud-based platform at the moment to make our IT platforms fit for the future, and enable customers to reach us anytime, anyplace. The digitalisation of customer's journey will reduce transactional costs and effectively extend our hours of trade. Under the new programme we are running, we hope to have replaced some of our back-office systems in the next year and a half.
"Looking into 2018, it is clear that we are operating in an uncertain market, and Brexit is not helping in any way, especially when it comes to the commercial segment. However, as I monitor the market dynamics, I notice that the demand for housing is still very strong. Driving more affordable homes into the UK market is on the Government's agenda, and I believe that Travis Perkins Group is well-positioned to capitalise on this trend, and continue to provide its customers with good solutions in the market," Frank concludes, sharing his expectations for the coming years.
Travis Perkins Ltd
Services: Builders' merchanting and home improvement retailing