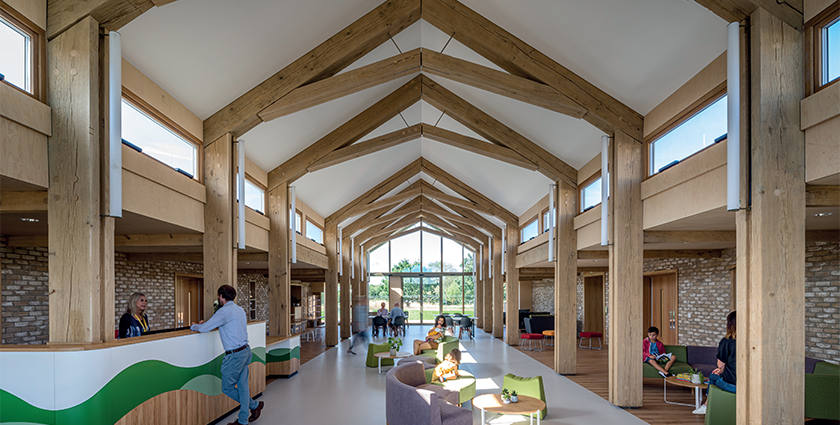 Infinite possibilities
On track for record turnover, main contractor 8build is expanding its reach, with exciting projects in the pipeline across commercial, life sciences, higher education, and aviation sectors
When 8build was established in 2005, the fit- out specialist set itself a clear goal: to reach £25 million in turnover within the next five years. Just two years later, that target had been achieved. In doing so, 8build became a blueprint for relationship-driven growth. Punching well above its weight, the company forged partnerships with blue-chip clients including JP Morgan, British Land and Ashurst LLP, and distinguished itself thanks to a hands-on approach and rigorous attention to detail. As a result, 8build has seen its business soar, with turnover reaching a staggering £80 million less than eight years since its inception.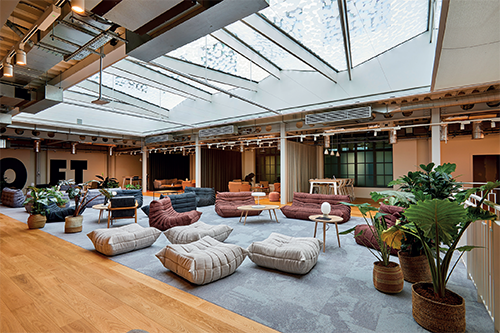 Fast-forward to 2022, and 8build is fresh off of a major rebrand. As demonstrated by its new tagline, 'infinite possibilities', the company is now far more than a fit-out contractor, with expertise in heavy and light refurbishment, new builds, and more. It's a breadth that continues to drive 8build's popularity among developers.
"When a client comes to us with a unique project, we don't shy away," insists Paul Norman, Commercial Director at 8build. "We have the experience to tackle opportunities, however tricky, and to provide our clients with the visibility they desire to be able to know that everything is being completed to the highest possible standard."
Commercial fit-out remains 8build's primary focus, but the company is no stranger to new ventures. Life sciences and higher education are just two examples of sectors that 8build has embraced in recent years, working for clients including Imperial College London, the London School of Economics, and King's College London.
"We're still the same people, delivering exceptional projects for our client base," Paul reflects, when asked about the company's rebrand, which includes a revitalised communication strategy and a brand-new website. "Now, we're coupling that with a voice that clearly and concisely presents exactly what we're about, and a distinct vision for how we, as a company, wish to grow."
8build has delivered a number of significant projects in the last few years, including its work at the London headquarters of global fashion and beauty retailer, ASOS. As a BCO Regional Award-winning project, with the BCO National Awards to follow this October, it's a clear indication of 8build's pedigree when it comes to commercial office fit-outs.
"This month, we're also due to hand over The Lantern, Hampstead Road, set to be our largest mixed-use new build project to-date," Paul reveals. "We've also picked up our largest higher education scheme for the London School of Hygiene and Tropical Medicine, which should conclude at the back end of October. It's a project that consists of a new build in a completely landlocked site, and will include a number of research facilities and laboratories."
As Paul explains, the onset of Covid-19 in 2020 provided fresh impetus for 8build, as the company sought to further diversify its portfolio. After successfully securing a place on the Crown Commercial Services framework, the company is now undertaking exciting new projects in both London and Oxford for Central Government and Life Sciences clients. But not all obstacles have been avoidable. 8build's aviation team entered into a contract to deliver transformation works at one of London's signature airports, shortly prior to the pandemic. Hampered by the closure of global aviation routes, 8build has nevertheless demonstrated its resilience, having adapted its service to support its client through the pandemic. The company now stands to complete the works and is poised to re-engage on the main project with a phased approach, which supports the airport's requirements.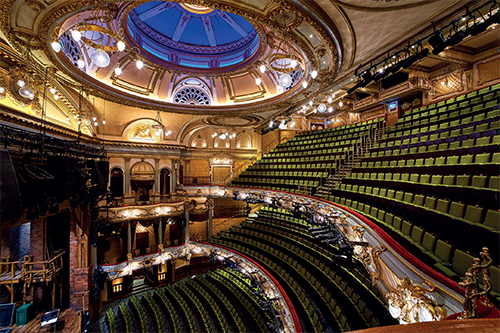 "As we all know, the whole tourism industry was decimated by the pandemic," Paul reflects. "Now, footfall is starting to increase, and with that, more work is being released. Our ability to withstand the challenges of the last few years has helped us to form a great relationship with the client to make sure we're one of the first contractors under consideration for any new work."
Underpinning 8build's work across all its projects are its employees, to whom the company affectionately refers as '8builders'. "To be described as an 8builder means that you embody all the great things the company believes in: an open and honest approach, communication, and a client-first attitude," Paul says. "We expect to deliver those on every one of our projects."
It's a difficult environment at present, with complex trading conditions defined by long lead times for materials, and significant price volatility. For 8build, it means working with clients to ensure cost plans remain realistic. "I can't see materials dropping back to the prices we saw last year," Paul confirms. "So, we'll have to adjust to a market in which we're paying considerably more for products than we used to.
"Likewise, the recruitment market is tough," he continues. "There aren't enough resources out there, so retention becomes more important than ever. We've just gone through a whole round of salary reviews, and reassessment of the benefits for our employees. We don't want to lose people, and we don't tend to – hence, we have a fantastic core of employees who have been with us for a number of years."
As it moves into the second half of 2022, 8build is looking forward to what is set to be a record-breaking year in turnover. "In a heated market, the challenge is to try and determine how we can add value to our projects," Paul tells us. "Is this the right opportunity? Is it in the right sector? Is it the right type of work? Have we got the team available? These are the questions we need to consider.
"As a contractor, we also need to be mindful that we can deliver on our promises," he concludes. "We don't want to overstretch ourselves – we want slow, contained growth. We've just got on to the Wellcome Genome Campus framework in Cambridge, and we're delivering a number of projects in the life sciences sector. Meanwhile, the great work we've been doing with Argent and British Land is beginning to have a ripple effect, opening doors with other leading developers such as Great Portland Estates. In all, we expect to see steady growth over the next five years."
8build
www.8build.com
Services: Commercial, Higher Education, Life Sciences, Aviation, Arts & Leisure, Aviation, Healthcare residential, and public sector fit-out contractor