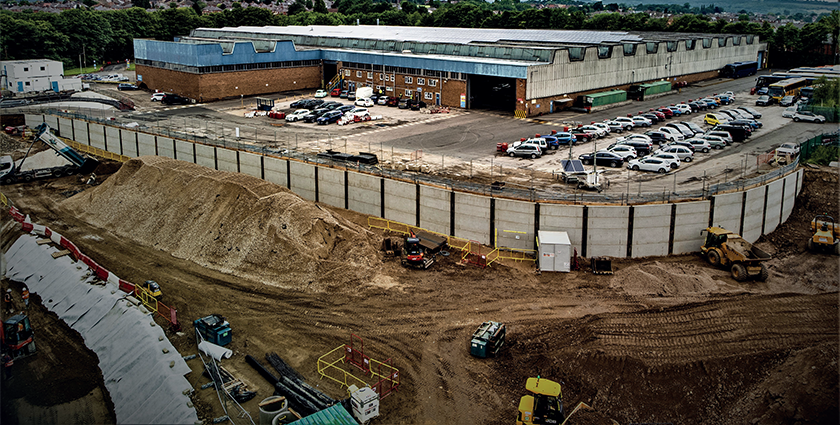 Aarsleff Ground Engineering
Putting in the groundwork
Established in 1991, Aarsleff Ground Engineering has gone from strength-to-strength year-on-year, becoming one of the UK's most preeminent piling, sheet piling, and ground engineering contractors
When we last featured Aarsleff Ground Engineering (Aarsleff) in Construction & Civil Engineering, the world had just been put on hold with the arrival of the pandemic. However, while many companies did not make it through the ensuing storm, Aarselff ostensibly operated under its own weather system.
Indeed, it did not so much weather the storm as it did channel it, hoisting its sails and driving forth to tackle the uncertainty head on. As Kevin Hague, Managing Director at Aarsleff, explains: "Over the last two years, we have actually experienced our strongest period of growth. We have gone from a business employing about 130 staff and turning over 28 million to somewhere closer to 250 staff and 65 million. So, our exit from the pandemic has been strong, particularly in the UK. We always knew the hardest part of the crisis would be coming out of lockdown. Entering was easy since the decision was made for us; immediately, the country ground to a halt and trading changed forever. During that time, though, we were planning our route out of lockdown. There was no secret formula; we just communicated effectively, planned efficiently, and cared for our staff.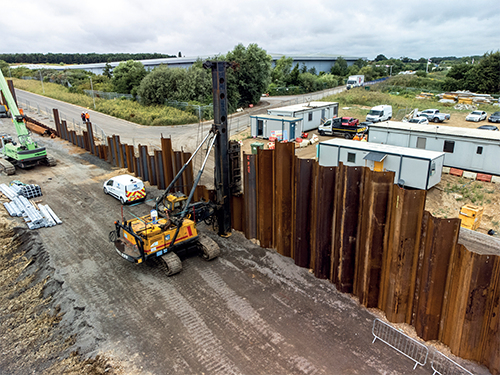 "It is also important to note that we benefitted from the boom that one of our core markets – logistics and distribution – experienced alongside the rising online retail experience in the UK," he goes on. "In that sense, then, we were fortunate; it certainly bolstered our financial rebound. However, that was not all. Our work in the civil sector also showed a strong upswing. The government had two slogans – Build Back Better and Levelling Up – both of which meant a demand for massive upgrades to existing infrastructure and the construction of additional buildings."
Aarsleff is a subsidiary of the Danish construction company Per Aarsleff A/S. Since entering the UK market in the late 1980s, the firm has shown an incredible aptitude for growth, expanding rapidly with every year of business. Since then, it has become a go-to provider of piling, geotechnical work, sheet piling, retaining wall construction, and general ground engineering contracting.
More specifically, the firm works closely with driven precast concrete piles, steel and timber piles, ground anchors, soil nails, drilling and grouting, mini piling and SFA, bored piles, in-situ concrete structures and walls, sheet piling, king post walls, crib walls, reinforced soil walls, and gabion walls, as well as offering equipment fabrication and manufacture, and plant and rig hire. Aarsleff offers these services to the rail, commercial, civil, infrastructure, energy, maritime, and residential sectors.
Its sister company, Centrum Pile (Centrum) operates from an advanced pile manufacturing facility to ISO 9001 standard. Though it is a distinct entity, the two businesses work together to maintain integrity in relation to supply chain and procurement across the wider Aarsleff Group.
In terms of overcoming long lead times and supply chain issues, which have arisen in the aftermath of the pandemic, Kevin contends that there is no secret to what the company has achieved. "It is all about precise, early engagement with customers," he says. "We knew that we had to protect both our position and that of our clients – while being very clear in terms of costs. Again, though, there is no hidden methodology to speak of. We practice good communication and work closely with our customers to avoid any surprises, something not many of us enjoy these days! Instead, we are zeroing in on finding value through innovative solutions and smart design. In turn, this enables us to pass on savings to the customers."
When trying to determine factors behind the success of Aarsleff over the last two years, another reason we might point towards is the company's continuous improvement programme. On average, it invests around £2.5 million in its processes and procedures every year. "We focus on renewing our equipment and all our capital investment goes straight into machinery," says Kevin. "Indeed, by bringing them back to life, we are pushing ourselves to the forefront of the industry in terms of technology. We have an annual budget, and every year it goes up a little bit. Currently, it is approaching £3 million, which funds new technological improvements as well as upgrades to our factory in Centrum, thereby ensuring that breakdowns and delays are minimized.
"Linking back to the pandemic, another key facet of our recovery was maintaining that yearly investment model," he continues. "For instance, we invested over £500,000 in our new manufacturing and fabrication centre in Newark, which is four times the size of our former facility, and that allowed us to increase our in-house capabilities. The investment upgraded our capacity for manufacturing tooling, drilling, and casing equipment, which we design and produce for Aarsleff and the general market across the UK and Europe.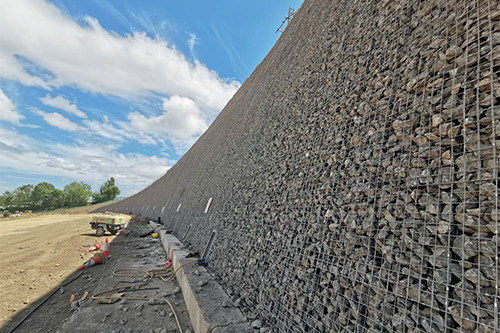 "As part of that investment, we also built two large training rooms within our new facility, through which we offer internal staff and operative training. The rooms are also available for external training purposes under our new rental programme. So far, it has been a resounding success. Furthermore, we will be adding to our portfolio of training courses as part of a new partnership with the YMCA, which seeks to address the current skills gap and attract young people to the industry."
Recently, Aarsleff also partnered with a Finnish machining manufacturer named Junttan. In doing so, the Newark-based piling expert is putting itself in the advantageous position of being able to quickly upscale operations through the addition of new technology and machining equipment.
Acquisitions have also proved to be an integral factor behind Aarsleff's bounce back from Covid-19 and the ensuing success it has achieved. Though he cannot name the company, Kevin is eager to note the positive operational impact the latest Aarsleff acquisition will have.
"We had been in talks with this specific company for about 12 months before we acquired it earlier this year," he reveals. "It is based in London, which will help us expand our business since we are predominantly spread across the north. The company focuses on Continuous Flight Augur (CFA), boasting annual sales of around £14 million. The acquisition is bound to enhance our growth, too, which is part of our long-term strategy. As it stands, we are almost at our organic limit across our core markets, industries, and disciplines. More growth, then, is dependent upon the expansion of our existing infrastructure through strategic acquisitions. In turn, this will ultimately add value to the company."
Another part of Aarsleff's long-term strategy is a plethora of enhancements to its sustainability credentials. "Last year, we started a project with Planet One Point Five," details Kevin. "Through that consultancy, we commissioned a report that will tell us our carbon base line. We do not want to be a business that green washes; hence, we wanted a strong starting point: the truth. The survey will assess our business – warts and all – from our supply chain to our on-site operations. Once we have that, then we will work on putting together a sustainability plan; though, quite evidently, we are in the early stages of this green transition, we are eager to get the wheels in motion and thus become a more sustainable business.
"Outside of that, we have just placed an order for approximately 1000 solar panels, which will be fitted to our facilities in Newark," he adds. "At Centrum, we recycle all our rainwater and use it to manufacture our piles. We have also spearheaded the electric machining revolution with the first battery-powered piling rig, which was built through our partnership with Junttan. We are always exploring modern technologies and alternative fuels; however, we remain cautious about the latter since the infrastructure is not quite there. When it is, though, we look forward to the benefits of less polluting fuels."
As it looks forward towards that green future of possibility, Aarselff finds itself assured with a well-stocked pipeline of projects for the next six months. "Business as usual: that is our plan for the rest of 2022," Kevin reflects. "Everything we are doing is focused on enhancing our short-term delivery. Looking further ahead, we will be aiming to dilute risk and become more sustainable across our operations, while adding several new core markets to our portfolio. In doing so, and by approaching these various sectors with different construction techniques, we will balance out our concentration risk.
"You will see us carrying out more CFA, board piling, and establishing more of a presence in the Southeast and London markets, which was not tenable before our recent, aforementioned acquisition," he concludes. "It will all prove to be a balancing act – between our markets, regional working patterns, techniques, and revenue streams – but we are incredibly excited about the potential that striking a good balance might offer."
Aarsleff Ground Engineering
https://aarsleff.co.uk/
Services: Piling, ground engineering, retaining walls, and foundations contractor