Boasting a stock holding of over 18,000 lines of construction supplies and equipment, ADA Fastfix Limited has provided its services to countless contractors and projects for more than two decades
Supply and demand
Boasting a stock holding of over 18,000 lines of construction supplies and equipment, ADA Fastfix Limited has provided its services to countless contractors and projects for more than two decades
Beginning life as a tool making company specialised in creating press tools for the likes of Gillette, Robert Bosch and Martin-Baker, High Wycombe-based company ADA Fastfix Limited now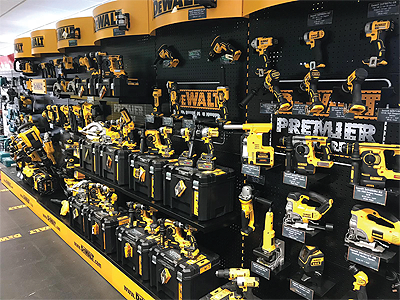 boasts over 20 years of experience in the supply trade. Today, it is an industry leading supplier of fastenings and fixings, power tools, construction site supplies and equipment – which it is able to provide via next day delivery to all customers in London and the Home Counties – with the aim of offering the best trade rated products at competitive prices, whilst also providing expert advice.
"We presently hold over 18,000 lines in stock, including a huge range of fastenings and fixings, dry lining supplies, power tools, construction site supplies and personal protection equipment (PPE), all at a fantastic price," explains ADA Fastfix Limited's Managing Director, Alan Todhunter. All of the company's items are from the very best brands in the industry, and have been carefully selected to offer the best performance possible. Its power tool range, for instance, features products from well-known names such as Makita, DeWalt, Festool, Pulsa, Paslode, and many others. As well trading throughout the UK, the company is also proficient in exporting its range to a number of countries across Europe, including Ireland, the Netherlands, Sweden and Switzerland.
"When it comes to our customers – which are predominantly construction and interior fit out subcontractors – we have worked extremely hard to earn a strong reputation amongst them for service," adds ADA Fastfix Limited Sales Director, Tony Ravlic. "They have come to recognise us as being a dynamic operation, staffed with dynamic people, and with our immense range of stock and our ability to deliver goods quickly through the use of our own fleet of vehicles, we have become something of a one-stop-shop, which is a huge strength. With this, though, comes a great deal of responsibility, and we make it our mission to get the right product, at the right price, to the right person on time, so as to keep sites and projects moving. We have also become the go-to party when it comes to sourcing stock that is not readily available, so we really do go that extra mile to make all of our customer's lives easier!"
New partners
Housing such a large collection of products and suppliers naturally makes the relationships between the company and its suppliers absolutely critical. "It goes without saying that without suppliers we have nothing ourselves to supply our customers with," Alan declares. "Therefore, we ensure that we treat every single one of our suppliers fairly and with the greatest respect, working closely with them, whether they are new to us or have been with us for 20 years."
Among the newer supply partners are the likes of Green Rhino – trading under the name Capture Green Limited – a designer and manufacturer of pollution prevention products. "Green Rhino is a great example of a new range of products that players across the construction industry are jumping at the bit to get into the hands of contractors," Tony states. "It is also a range that fits in very nicely into the civil construction sector, which we have been pushing into more in the last several years."
The push that Tony speaks of really began to take off when Anthony Salter joined ADA Fastfix Limited as its Construction Manager in May 2015. "Prior to my joining the business, it was much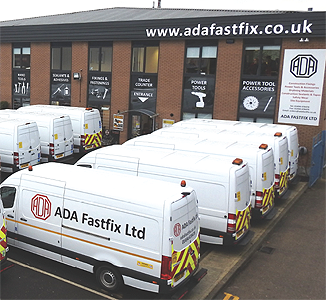 stronger in other areas, and one of the first things we identified was how a number of the products we stocked – whether it be PPE or electrical leads, sockets or lights, for example – could cross over nicely into the civil engineering arena," Anthony details. "From there, we have put in the necessary time and work to cultivate relationships with the best manufacturers so that we can supply civils customers with the products that they need, and thus give us the added growth that we have targeted. The result today is a good, healthy mix of suppliers and a growing number of civils accounts on our books, which is good news for all parties."
Business performance
Such is the importance that ADA Fastfix Limited's customers place in the company that its efforts have actually helped to contribute towards the development and construction of numerous eye-catching and internationally recognised landmarks. These include – to name a few examples – the construction of Wembley Stadium, the Emirates Stadium and the new White Hart Lane Stadium, The Shard, London's famous 'Gherkin', 'Cheese grater' and 'Walkie Talkie' skyscrapers, the United States Embassy building, and the Queen Elizabeth University Hospital.
"Every year, we look to sustain what we have achieved to date, while also examining the best way that we can continue to invest in the business to ensure that our people enjoy safe, rewarding employment," Alan adds, before going on to highlight ADA Fastfix Limited's performance in 2019 to date. "In the first six months of this year we have seen revenues increase by around 20 per cent, putting us on track for a full year turnover of approximately £27.5 million. However, while these are good figures, we will not be resting on our laurels as we retain a company-wide focus on aiming for higher returns in the coming years."
A proverbial cherry on top for the company is also its recent inclusion on the London Stock Exchange Group's '1000 Companies to Inspire 2019' list. "Such an accolade is obviously a great piece of recognition of all of the hard work that has been put into the company over the years, and is further justification of our belief that we have the right people in place, doing the right things at ADA Fastfix Limited," Alan declares. "This has not always been an easy journey, but it is fair to say that recent times have been very good for all of us here, and that success represents the fruits of our perseverance."
ADA Fastfix Limited
Services: Supplier of civils and construction equipment, tools, fastenings and fixings