Armac Group is ready for anything
With an unrivalled reputation for service, safety and reliability, Armac Group has become one of the UK market leaders in demolition, land reclamation and remediation, rail & civils and asbestos removal
Founded in 1982 by Adrian and Noel McLean, Armac Group has diversified operations over the years to become an organisation with the long-term experience and capabilities to meet the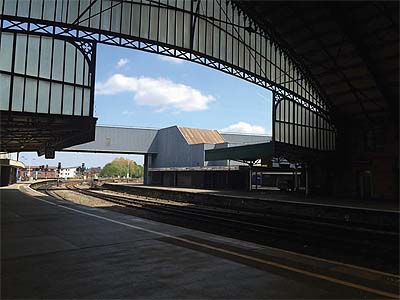 complex needs of an increasing customer base. "I joined ARMAC Group 17 years ago when it was achieving a turnover of £1 million, since then we have expanded into group activities and generate a turnover of £15 million to £20 million per year," says Mark Dudley, Managing Director at Armac Group.
He continues: "Our main services are asbestos removal, for which we hold a full license,land remediation and demolition, the latter of which is split into three categories. These include bridge or rail, which is comprised of large-scale demolition projects for highways agencies or main contractors in conjunction with Network Rail, however it predominantly revolves around road infrastructure and the demolishing of motorway bridges, overhead gantries and rail bridges; this operates as a bolt-on to the main demolition operation. The other aspect of our demolition activities in in the public sector where we work for the Ministry of Defence, Ministry of Justice, the education funding authority, and the NHS in various guises. We also work in the private sector for developers doing large scale projects for industrial or housing regeneration. The more specialised a project is, the more interested we are."
Committed to its mission statement of meeting or exceeding expectations by promoting the highest levels of safety, health and environmental standards, Armac Group has gained a solid reputation in the market that has resulted in a number of particularly complex or challenging projects. Looking back on recent projects, Mark notes: "We recently removed an overhead conveyor bridge in Bristol Temple Meads with an innovative rolling scaffolding system that shortened programme times and demolished the bridge link far quicker than originally expected. This was a great project for both ourselves and the client."
Another notable project for the group was the dismantling of a seven-storey building that was connected to Birmingham Children's Hospital. With just nine inches of wall separating the group's engineers from theatres and offices, this project required delicate surgery to separate the two buildings while keeping the theatres wholly operational. Explaining how this project was executed perfectly, Mark comments: "Because susceptibility to infection and dust was absolutely critical, we developed a scheme where we treated the water that we were using as a dust suppressant to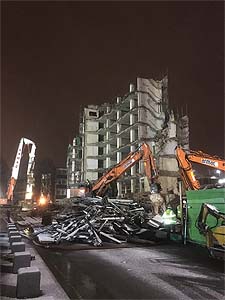 ensure there was no risk of legionella or any other bacterial emissions from the dust suppression used. It is a matter of not only pre-planning, but also constantly modifying what you do to in relation to the specific risks of that project."
Indeed, to ensure it is wellequipped for the job in-hand and wholly prepared for any potential issue that could come up, Armac Group continuously invests in the most modern technology and plant. Recent examples of this include a new 3D modelling system that enables the group to project how a structure is to be demolished, a £1 million 41-metrehigh- reaching piece of equipment for high rise building projects and the latest equipment to ensure the easy removal or connection of attachments. "Ten years ago, it could take up to two hours to change an attachment, and if you have to change an attachment four times then you lose a day of productivity. With this new technology that we have invested heavily in, we have complete flexibility in the plant that we have got and the work we need to do."
This technology is particularly helpful when it comes to working on or near structures which are adjacent to rail and roadnetworks, that are not only past their sell-by-date and are susceptible to vibration, but also located in close proximity to residential areas. "With thisnew technology, we can change attachments within 30 seconds, so if the real-time monitoring of vibration equipment we have in place alerts the contract manager that we are getting peaks in vibration, we can stop work and investigate what is happening before changing the method, the style or different configuration of jaws and pressures with ease."
With the latest technology and equipment in place, Armac Group is ready to face a turbulent and slightly depressed construction industry by focusing on specialistand complex projects that are above the capabilities of its competitors and less likely to be centred around price. "It is an interesting industry that continues to move at a fast pace; you need to look at your market place, where it is going and stay ahead when it comes to technical capabilities. We have the technology and experience in place, now we need the workload to sustain it," concludes Mark.
Armac Group
www.armacgroup.co.uk
Services: Demolition, land reclamation and remediation, rail & civils and asbestos removal