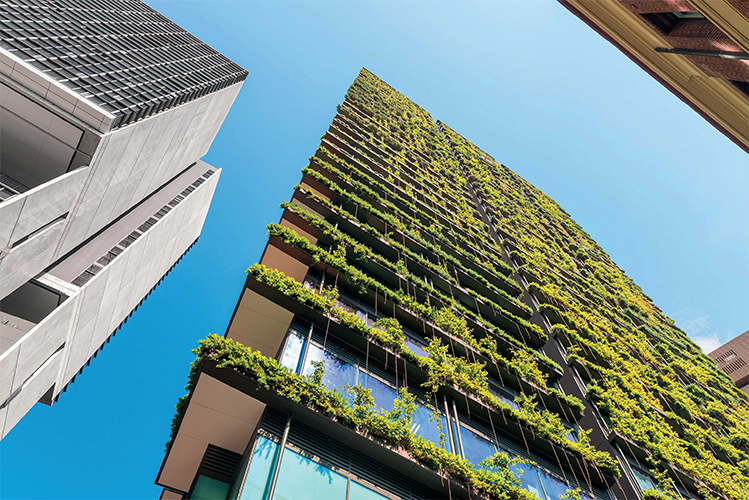 Concrete is one of the most popularly used construction materials globally – after water, it is the most consumed substance on earth. But its reputation struggles to rise above the misperceptions it often receives at the hands of the media in relation to its environmental impact.
According to the Concrete Centre, however, the concrete industry's emissions are 55 percent lower than in 1990 due to manufacturing improvements such as a move away from fossil fuels, plant improvements and material formulation. In addition, new product innovations are setting new standards by significantly reducing CO2 emissions.
Global building products manufacturer Sika is among companies aiming to reimagine the way concrete is composed and used. As a result, it's created a concrete repair system that, when compared to other concrete repair solutions, uses less carbon emissions – up to one ton of CO2 per 100m2.
Suitable for both new-build and refurbishment projects, Sika's new MonoTop®system rewrites the rule book in terms of low-carbon concrete repair. With 45 million buildings in the UK thought to be in need of refurbishment, MonoTop® is the ideal repair solution as it uses less embodied CO2 than other repair mortars. The sustainable composition of MonoTop® is also noteworthy, with each British Standard-approved product within the system, including the bonding primer and the concrete and levelling mortars, containing recycled waste materials.
Dust busting solution
In addition to its superior CO2 performance, MonoTop's dust-reducing properties limit particle emissions by up to 70 percent during application. This outstanding characteristic not only helps create a safer, less-polluted environment for site operatives and the surrounding environment, but it also helps to protect the ecosystem by preventing particulates from soiling plants and greenery, and reduces material waste.
The issue of construction dust emission continues to go under the industry's radar. According to a CITB survey of builders, more than half of responses (56.6 percent) indicated that workers had no awareness of the significance of particles caused by cutting, drilling, sawing and mixing of materials. However, occupational risk factors – a term used to describe the harmful effects of breathing in various particles – reveal the toll it can take, with a reported 1.4 million workers suffering from work-related ill health due to long-term exposure to airborne particulates.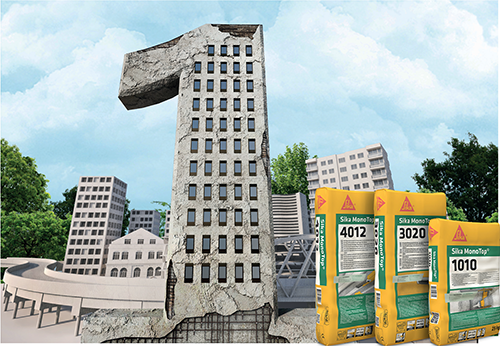 Sustainable contribution
The causes of concrete deterioration are numerous and if not treated appropriately, can put a building's structural integrity at risk. Corrosion, water infiltration, freeze/thaw cycles, seismic activity and reactive aggregates are among the issues that have a debilitating effect on concrete over time. Refurbishment, rather than demolition and building anew, is the sustainable option when structures become blighted by wear and tear. Indeed, with the UN's recent issue of a code red warning emphasizing the need for an urgent response to the global warming crisis, any contribution from the construction industry in terms of introducing smarter working practices to limit pollution would be most welcome. The sector is responsible for more than a third of energy and process-related CO2 emissions worldwide, therefore sustainably innovative solutions in MonoTop's model will help the global energy-saving effort.
To provide a clearer picture of how the MonoTop® system's performance compares to other concrete repair solutions, the amount of CO2 it saves – based on a ratio of 1 tonne of CO2 per 100m2 of material – is the equivalent of:1
An average petrol car driving for half a year
One car on electricity driving for one year
72 trips by train between Amsterdam and Paris
2.6 economy flights between Amsterdam and Rome
Additional benefits
MonoTop®, due to its simple, rapid-install qualities, reduces site working hours to improve the likelihood of projects being completed on time and to budget. Minimizing on-site labor times also means fewer emissions are released by plant and other heavy machinery, leading to less pollution and a more environmentally-friendly application.
MonoTop's sustainable performance is facilitated by three environmentally-friendly products: Sika MonoTop® 4012, a durable concrete repair mortar; Sika MonoTop® 3020, a smoothing and levelling concrete repair mortar, and Sika MonoTop® 1010, a bonding primer and corrosion protection slurry.
As well as measuring a concrete repair system's environmental performance in terms of CO2 and particle emissions, perhaps the greatest advocate for its sustainability is its long-term effectiveness. Quality repair eradicates the need for further maintenance, meaning vital structures such as bridges and tunnels can remain operational. It's an outcome that prevents the type of traffic build-ups which are proven to have a detrimental effect on pollution levels.
Therefore, by introducing MonoTop®, an eco-friendlier concrete repair product to market, Sika's emission-reducing solution is not only good for the environment, it's helping burnish the reputation of the world's most widely-used building material.
1: Figures supplied by Climate Neutral Group
John Baron works at Sika. Sika Limited and Sika Ireland Limited are part of the global Sika Group, specializing in the manufacture and supply of chemical based products. Sika has a leading position in the development and production of systems and products for bonding, sealing, damping, reinforcing, and protecting in the building sector and the motor vehicle industry
For more information, please see:
www.sika.co.uk