Ambitious Burdens Limited is looking at the possibility of expanding operations globally in the long-term, while offering a competitive service that helps solve many contractors' supply chain needs
Shouldering the burden
Ambitious Burdens Limited is looking at the possibility of expanding operations globally in the long-term, while offering a competitive service that helps solve many contractors' supply chain needs
Burdens Limited is the UK's leading supplier of civil engineering and building materials to the infrastructure, construction, environmental and industrial markets. From drainage and hard landscaping to gas and water pipelines to environmentalmanagement systems such as rainwater harvesting, the product range spans more than 18,000 lines.
Burdens provides service and support from a national network of over 50 specialist distribution depots covering the UK and Ireland. Its depots are typically three to four acre sites with fully concreted yards on which the unloading, loading and bulk stockholding of civil engineering materials is carried out using specialised handling equipment. Internal storage is provided in warehouses equipped with the latest racking and storage technology and backed by company-wide integrated stock management control systems.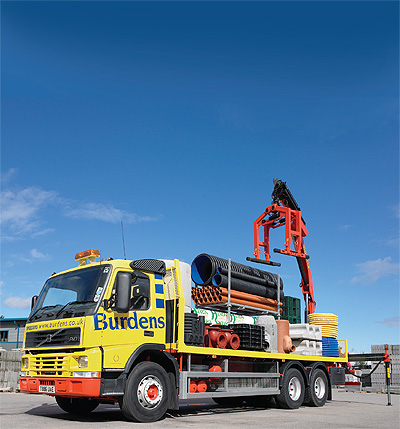 "What is our key strength?" asks Jeremy Burden, the company's chief executive. "Well, we remain focused on supplying the products our clients want – it's as simple as that.
"In expanding our product and service offering we take great care to ensure that we do not compromise our focus on the civils market. Rather, we seek to increase our offering to this area, which often involves 'selling' the value we add in the supply chain to not only our existing customers but also clients and manufacturers in this sector. Our strategy is that of a solutions provider – we offer materials together with technical and logistical support.
"We concentrate on a particular field and offer specific products," agrees Kevin Hancock, sales and marketing director. "Our whole business is geared towards delivering products and services that our customers need. We have specific infrastructure in place – such as the types of depots we operate and the logistics we run – aimed specifically at the markets we serve. In fact, we are probably the only company, which I know of, that offers a true one-stop shop for civil engineering infrastructure materials. Historically, this market has been served in a very fragmented way, but we have brought a level of consistency, sustainability and high levels of service to the sector."
A key part of Burdens' success can also be put down to the company's unique ownership structure. The majority shareholder in the business is actually a charitable foundation – Burdens Charitable Foundation – which owns around 40 per cent of the shares. In addition to this, the Burden Family is responsible for 15 per cent, with remaining shares divided almost equally between current and former employees.
This 'spread' of the company's ownership helps to ensure the business' prosperity going forward and helps to make Burdens a caring, as well as successful, organisation.
As an example, business is currently booming for Burdens. There is currently large scale deregulation occurring in numerous sectors and the potential of supplying materials into these areas is huge. This phenomenon is something Burdens hopes to tap into.
Indeed, growing demand for utility infrastructure and transport services across the UK has resulted in industry deregulation and reforms in sectors such as gas, water, electricity and rail. Deregulation will drive change and presents an opportunity for Burdens to expand as Jeremy explains: "As far as the UK market is concerned there are emerging markets for us, which include gas, electricity and rail, which are becoming more deregulated and we are developing products and solutions for those sectors."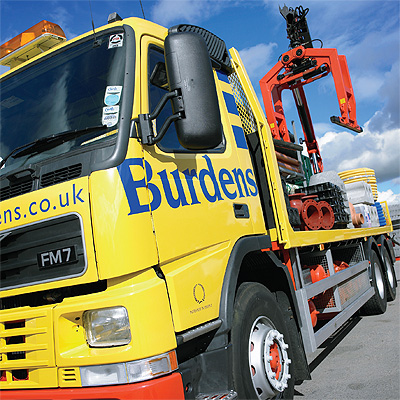 Another area of growth for Burdens is the niche market of administration and supply chain solutions, yet this is a service in its infancy: "At Burdens administration and information technology go hand-in-hand, with the aim of reducing administration costs in the supply chain," says Kevin. "We can customise administration, accounting, purchasing and selling to suit individual supplier and customer needs. Although this isn't a large part of our business at present, it is certainly a growing area for us.
"We welcome competition to a certain extent in this field because it will enable us to measure ourselves against others that are offering a similar service. What we are trying to sell is something quite new and this can be tricky if you are the only person offering it."
There is a danger in any business that you begin to neglect customers, but not at Burdens. Jeremy is aware of this potential risk and works tirelessly to ensure the customer is the top priority: "We frequently meet with customers to determine their needs and tailor solutions to address them. In a way, a proactive approach permits us to pre-empt changes in the market, rather than dictating to customers what they should be buying, which is an added bonus for us," he says.
"On the whole, the customers calling us are likely to have most of their problems solved and because we are focused on specific areas, we should, in theory, be able to provide everything that the customer will need. We are proud of this and invest continually to ensure we maintain this very high level of responsiveness and customer satisfaction."
Looking to the future, Jeremy believes there are a couple of areas to watch with interest, least of which are the company's attempts to move into new markets abroad and the growing demand for environmental products. He explains: "We have a fairly full market share in the UK and we now cover just about every inch of it. This means we can offer a pretty comprehensive service to customers in the UK.
"To keep growing as a private and independent, sustainable business, we have got to start looking at export markets or other world markets. We are looking at opening small offices globally in Australia, the US and the Middle East and within these markets we are looking to get a feel for things and gauge the potential for growth."
He adds: "We have got to be cautious in how far we go. We aren't planning to go mad – I don't see turnover from overseas being a huge proportion of our business in the foreseeable future. However, we will be sowing the seeds for potential expansion over the next ten or 20 years.
"I think that most growth over the next few years will come from pushing additional products and services into the UK through our extensive depot network," comments Kevin.
In addition, Burdens will also watch the environment with great interest going forward and is currently addressing this area via its Burdens Environmental brand (www.burdensenvironmental.com).
This division of the organisation will help Burdens to play a central role in the promotion of environmental goods and services. Burdens has identified key growth areas of energy management, renewables and waste.
This approach to environmental products and services builds on the company's core role in environmental products relating to clean water supply and dirty water treatment. It is also yet another example of Burdens' ongoing commitment to corporate responsibility – an underpinning value of the entire business.