With over 110 years of pioneering innovation, Friedola, a leading German coated fabrics manufacturer, is now focusing on increasing its penetration in the construction industry
Fabric of life
With over 110 years of pioneering innovation, Friedola, a leading German coated fabrics manufacturer, is now focusing on increasing its penetration in the construction industry
Friedola Gebr. Holzapfel GmbH is at the forefront of producing coating solutions, which can be used on a variety of fabrics, as well as in other applications. The company's solutions are recognised in numerous industries as being dependable and value-driven. Founded in 1888 as the Holzapfel Oilcloth factory, Friedola, a family company in the fifth generation, has been a consistent technological pioneer in the provision of coated fabrics, working alongside thousands of customers worldwide to create the best solutions. The company is truly global in operation, exporting to 75 countries, and employing 450 people.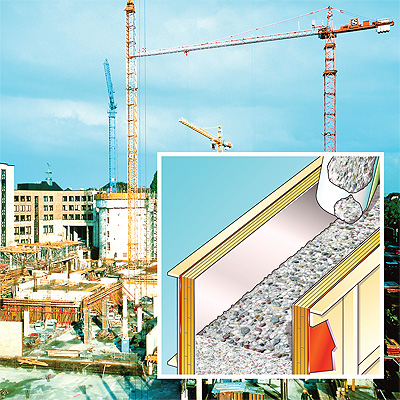 Friedola is today a fast growing company, whose concept for success is flexibility and customised solutions combined with high quality service.
"This once small company now employs over 450 people in Germany," explains Martin C. Derin, international sales director. "We are continually expanding, launching high quality ranges and developing new innovations. Our products are interesting niche products, and we enjoy tremendous success. We are at the forefront of the industry and are renowned for our quality, attention to detail, flexibility and ability to listen to the needs of many different customers, tailoring solutions that meet their very special requirements."
With the capacity to manufacture anything from bathtub mats to leather car interiors, the German coated fabrics manufacturer is now launching a range of robust, high
quality products, which lend themselves very well to the construction industry. Indeed, Martin sees a lot of potential in these products, believing that they are great solutions to a number of construction problems.
As a result, the company is now targeting new customers, and growth, within the construction sector, looking to persuade them of the benefits of using their products, highlighting their strengths, key attributes and potential uses.
"There are a number of new products we have launched, or will be launching, in the construction sector," says Martin. "We are looking to market our inliner for canalisation pipes, protection foil for concrete shuttering panels, and softy-pearl bath mats to customers in the construction industry and believe these products are ones that are full of potential and will enjoy a lot of success."
He continues: "Our inliner for canalisation pipes, a popular range, which we are hoping to market further in the construction industry, consists of three products: polyurethane covered felt for used water pipes and polypropylene or polyethylene covered felt for fresh water pipes and hot water pipes. In all three instances, the felt backing is soaked with epoxy resin or similar resins before being shot into the pipe. Once in the pipe the liner is pressed to the interior of the pipe by air- or water pressure and the resin is dried by heat (of the hot water or hot air) or UV-rays. The final result is a extremely new inner surface in the old pipe."
COST SAVINGS
The unique benefit of employing this sort of trenchless pipe renewal system is both time and cost-effectiveness: no expensive and disruptive excavation is required. Eliminating the need for excavations can lead to cost savings up to 30 to 50 per cent, contributing to a considerable decrease in the overall cost of maintaining a piping system.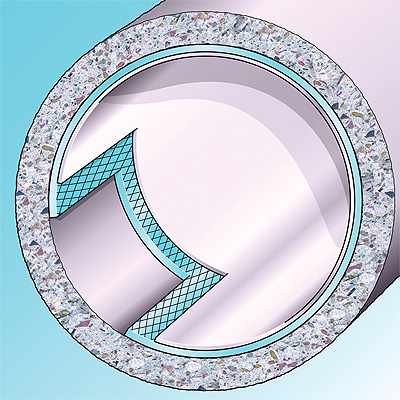 "Inliner is much more beneficial," agrees Martin. "It is cost-effective and saves a lot of time. There are many construction companies who work with this kind of product and the biggest part of them gives a warranty of 50 years or more. And, of course, we are not the only producer, but we believe we have found some unique variations that are very appealing to certain niche customers.
"This is one business field where we want to expand. It is a growing market in Europe, as many canalisation systems need renewing. For instance, in Germany, many systems are over 100 years old now and need upgrading or renewal. It is a very interesting sector for us. The market for this kind of inliners is stable for a few years, but the potential for the upcoming decade is massive."
Friedola has also developed a range of protection foils for concrete shuttering panels, which will surely be a hit with consumers in the construction sector. Talking further about this, Martin continues: "We have developed two protected foils for concrete shuttering panels. Concrete shuttering panels are made from high quality plywood and therefore are quite expensive. The fresh basic concrete (pH 14) is aggressive in contact, so the wood surface has to be protected. The current standard is a sealing with melamin resin. Our new technology pp-sheet with fleece backing is applied to the plywood panel by glue systems and increases the resistance to concrete and damages in daily use dramatically. Our target customers are the producers of concrete shuttering panels who want to prolong the lifetime and attractiveness of their products. A panel protected with our foil has an approximately 400 per cent prolonged lifetime in comparison to standard melamin resin protected surfaces. With a maximum width of 204cm, it is ideal, but can be easily cut to size if required.
"Besides that we are also developing a protected, water absorbing and draining polypropylene fleece, which is applied to surfaces that have already been protected. This material is extremely flexible for over the edge uses and can be used twice. It is easy to attach and to remove and is best applied to edificial concrete surfaces."
HYGIENE & COMFORT
A third range targeted at consumers within the construction industry, includes a number of top of the range bath mats, ideal for those looking for wet-room solutions, as Martin explains: "This is a fantastic range and has proved to be very popular. Firstly, we have a Softy-Pearl bath set. It is a hygienic, antimicrobial and fungus proof soft foam, which is 6.2mm thick and pleasantly soft. It is nice to the touch and has perfect draining abilities; it is even machine washable.
"Then we have the Softy-Pearl bath tub mat. Again, it is a hygienic mat, with antimicrobial and fungus proof soft foam. It has new, strong and flat XXL-size suction cups for more safety and comfort in the bathtub. "Finally, we have the Sympa-Nova Floor covering, which is our most established range. It is 5.8mm thick and extremely durable. Typically it is used indoors but it can be used outdoors as well. This soft foam flooring is resistant to UV-rays and any weather condition or temperature from -40 to 95°C. It has anti-slip abilities as well as superb drainage. Like the other models it is also machine washable."
With these products now available to consumers in construction, the future is looking bright for Friedola, a company whose products are used in numerous industries around the globe. "We try to develop the right product for the market, and we are excited by what the future might hold for us," concludes Martin.